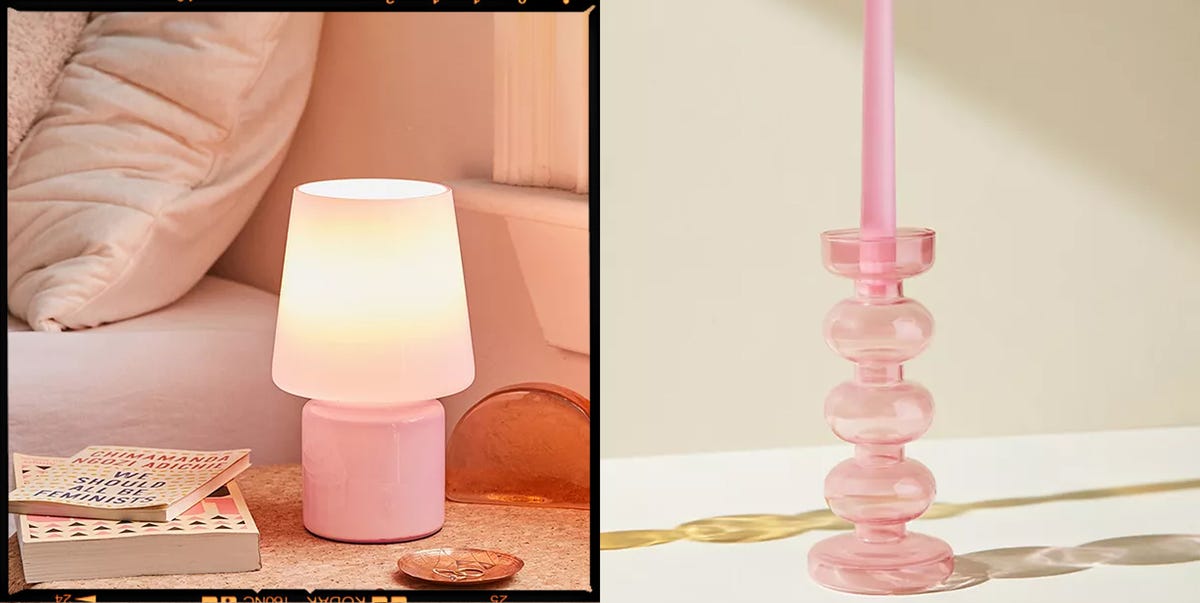 Best pink home accessories for a serious #Barbiecore vibe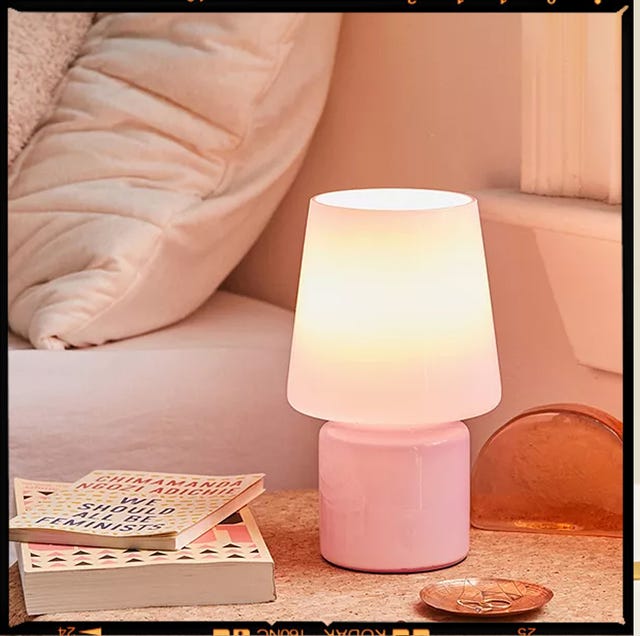 Urban Outfitters / Anthropologie
If you hadn't noticed, pink is having a serious moment. The buzz around Margot Robbie's upcoming live-action portrayal of Barbie has cemented the former cheerleader, astronaut, tour guide, dentist and pet stylist's signature shade as the colour of summer, with the sheer ~aesthetics~ in the film's sneak peeks inspiring a flurry of uber-girly looks on the red carpet and your Insta reels. People, it's #Barbiecore season.
Our rose-tinted aspirations haven't stopped with a desire to replace our entire wardrobe with fuchsia trouser suits, either. Etsy has reported a 21% increase in searches for hot pink home and living-related items since our feeds were first graced with that picture of Ryan Gosling as Ken. Keeping the Barbie Dreamhouse fantasy alive, one twisty candle purchase at a time.
If you're feeling inspired, this isn't a difficult trend to follow. Just think pink, pink and, uh, more pink. "Barbiecore is all about embracing vibrant hues in your everyday life," says Etsy's trend expert, Dayna Isom Johnson. "Don't be afraid to incorporate as many different shades as you can into your space."
So, if you want to bring a bit of Barbie's truly iconic energy into your house, we've found 23 beaut pink home accessories to shop right now. Here's to living your best Barbiecore aesthetic life forever.
Advertisement – Continue Reading Below
Best pink home accessories: Bust
Pink Flocked Apollo Bust
Punk & Poodle
notonthehighstreet.com
£49.50
We didn't know how much we needed a flocked Apollo bust until we saw this one. Adding to cart immediately.
Best pink home accessories: Footstool
Fluffy Pink Hairpin Footstool
Best pink home accessories: Kitchenware
Always Pan
Our Place
fromourplace.co.uk
£125.00
You'll 100% have seen the Always Pan on your socials, and you'll be pleased to know that it is actually worth the hype; we rated it when we tried it. As an extra win for those in tiny flats, this beaut skillet will actually look good out on display, meaning one less thing to try and cram into your heaving cupboards.
Best pink home accessories: Candlestick holder
Delaney Candle Holder
We are loving all the coloured glassware in the shops for 2022, so naturally we can't resist this cute blush pink candlestick holder. Add some pretty tapered candles – or not; it would look equally gorgeous housing single long-stemmed flowers as well.
Best pink home accessories: Storage baskets
Tassel Baskets, Set of 2
Instantly hide clutter away in these adorable tasselled storage baskets – or use them as Barbie-approved plant pot covers for all your house plants.
Best pink home accessories: Tapered candles
Pink and red marble tapered candles
NinaBombinaArt
etsy.com/uk
£15.99
Pop a few of these on your dining room table to up the romance factor on dinner dates, then you'll be all set for Ken or Barbie to join you.
Best pink home accessories: Garland
Eucalyptus Pink Garland
It's official: garlands aren't just for Christmas. This pretty pink eucalyptus number will look gorgeous draped across a mantelpiece or bookshelf.
Best pink home accessories: Art print
Pink Lady Art Print
Shady Prints
iamfy.co
£13.00
This pretty art print is giving major Grease feels – and inspiring us to invest in a pair of fluffy pink mules ASAP.
Best pink home accessories: Pampas grass
Pink Pampas Grass
So'Home
laredoute.co.uk
£11.25
These uber-fluffy pampas grass stems will look cute on their own or you could mix them into a larger bunch to create some added drama for your shelf.
Best pink home accessories: Table lamp
Mini Glass Table Lamp
This little pink glass lamp is so sweet, with a tapered shape that's almost-but-not-quite mushroom-shaped (perhaps a bit more classic?), like we've been seeing everywhere the past few months. It's half price at the mo, so you can splurge on one for each bedside table – your room is about to get the rosiest glow.
Best pink home accessories: Artificial flowers
Artificial Roses Arrangement in Pink Vase
Pop this pretty pink arrangement on your side table, dressing table or bathroom windowsill for a girly refresh.
Best pink home accessories: Glass vase
Rose Glass Vase
Day Birger et Mikkelsen
coggles.com
£49.00
We love the way that this muted pink vase is styled in the picture – the single stem makes for a real classy minimalist look.
Best pink home accessories: Wall print
Mean Girls print
MoonshinePrintsUK
etsy.com/uk
£5.99
If Regina George had a gallery wall, this cheeky print would take centre stage. It's available in six sizes, so you can customise it depending on your own wall at home.
Best pink home accessories: Bedding
Linen Bedding Bundle
Best pink home accessories: Rug
Rose Rug
Adding a rug under your coffee table is one of the easiest ways to make a room feel a little more pulled together (and it'll help cover up any dodgy carpets you might be stuck with, too). To help fully transform your living room into an actual dreamhouse, this pastel pink option will make a great focal point in your space.
Best pink home accessories: Armchair
Scalloped Dusty Pink Velvet Armchair
Scalloped design + dusty pink hue = a fantastic combo. This armchair is a little pricey but it's the perfect place to curl up with a good book and a cuppa.
Best pink home accessories: Kettle
Stainless steel kettle
SMEG
selfridges.com
£140.00
Ditch your boring silver kettle and brighten up your kitchen with this baby pink Smeg number instead. Who knew that pouring a brew could look so aesthetically pleasing?
Best pink home accessories: Velvet cushion
Ombre Cushion with Filling
Etta Avenue
wayfair.co.uk
£30.99
We're obsessed with this boujie-looking velvet cushion at a pleasing price. That fringing adds a lil extra texture and interest, too.
Best pink home accessories: Noticeboard
Piloua 10-Clip Noticeboard
La Redoute Interieurs
laredoute.co.uk
£28.50
Hang this in your WFH space to pin up important reminders and ideas or use it to display pics of you and your pals. Embarrassing drunk photos optional.
Best pink home accessories: Plant pot
Hand-Painted Plant Pot
Hannah Drakeford Design
made.com
£39.00
This hand-painted plant pot is giving real retro vibes and we're 100% here for it.
Best pink home accessories: Glassware
Pink Stemless Champagne Flutes, Set of Four
Come on, Barbie, let's go party…with these fancy champagne flutes from Ollie B. They'd make the perfect addition to any gals' night in.
Best pink home accessories: Candle
Love you lge candle
Damselfly
harveynichols.com
£43.20
We love all the candles from Australian female-led brand Damselfly, but this one is our personal fave. With notes of fresh roses, violet and a touch of musk, it smells amaaaaazing and it looks v cute, as well.
This content is created and maintained by a third party, and imported onto this page to help users provide their email addresses. You may be able to find more information about this and similar content at piano.io
Advertisement – Continue Reading Below