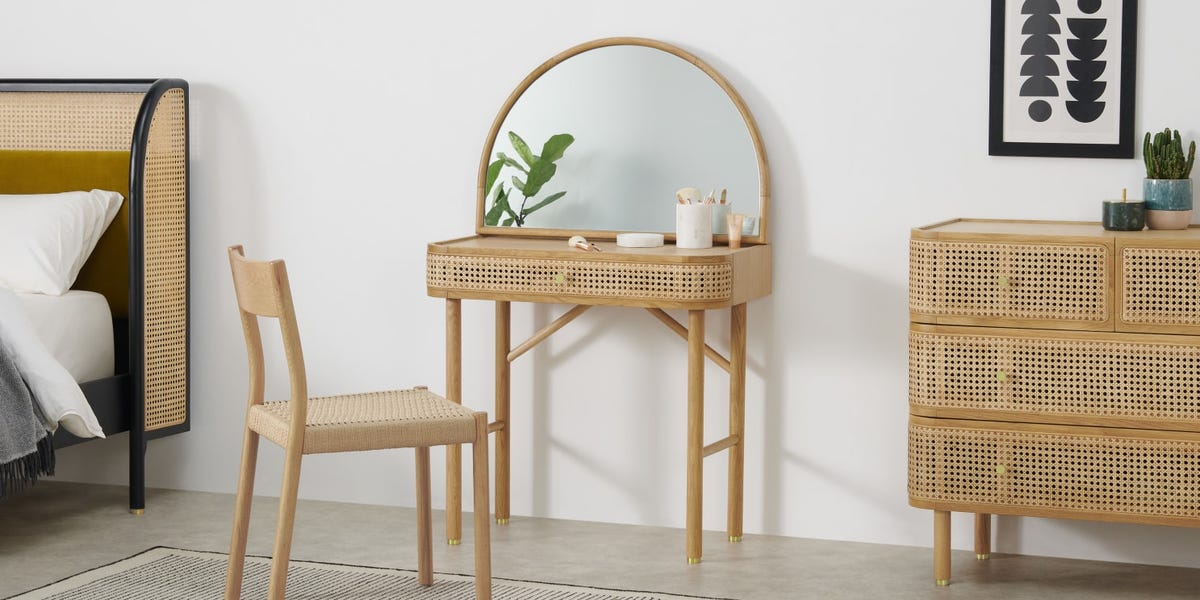 16 Stylish Dressing Tables To Suit Every Interior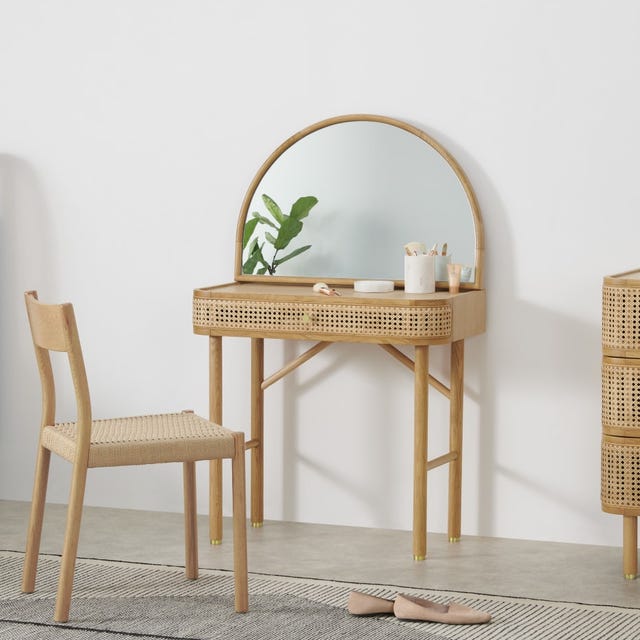 Mad About Mid Century Modern
If getting ready in the morning feels more like a chore than a treat, it's time to upgrade your dressing table. We think your daily routine will be instantly improved with the addition of a sleek new dressing table with storage to fit all your day-to-day essentials.
Styling your dressing table and creating a curated look is also a great way of adding personality to your bedroom or dressing room (lucky you). Dressing table mirrors also help to brighten your room by reflecting light and adding depth.
---
What size dressing table should I buy?
If you have a lot of floor space to fill, invest in a large dressing table. Due to their multifunctional nature, a large design can work for a whole host of uses aside from being the spot where you get ready in the morning. A sizeable dressing table with storage – in particular concealed drawers or shelves – helps to keep your bedroom clutter free.
Small dressing tables can be ultra-functional too, doubling as petite writing desks and the perfect spot to work from home. To save space, dressing table stools can be tucked neatly underneath to keep valuable floor space clear.
Alternatively, corner dressing tables are brilliant space-savers, filling empty corners to make the most of otherwise unused spaces.
Where should I put a dressing table?
When it comes to choosing a location for your dressing table, light is everything, both in terms of getting ready, as well as how you can maximise the feeling of space in your bedroom.
'The most important considerations when choosing the perfect dressing table are the lighting and space available in your bedroom or dressing area,' explains Dimitri Pappas, Managing Director at My Furniture. 'Can you position your dressing table in front of the window to maximise natural light on your face? If not, position a mirror to reflect the light back at you. Using mirrored dressing tables reflect the light and add an extra feeling of space to the room.'
How should I style my dressing table?
Dressing tables are not only functional pieces of bedroom furniture, but a great place to show off your personality, too. ​​
Ally Dowsing-Reynolds, CEO at home décor brand Dowsing & Reynolds, suggests: 'Style an uneven assortment of smaller items alongside tall or oversized items to create height and layers. Bedside books that reflect your interests alongside meaningful sculptures and your favourite perfume bottles make great focal points.
'Add ambience and pockets of light with table or mirror lamps, and repeat textures, shapes and colours around the room. A piece on your dresser could be the same texture and material as your bed to add consistency, for example. But don't be afraid to add the unexpected too – a colour that clashes or a pattern that stands out, these add interest.'
How do I choose a dressing table mirror?
You can have a dressing table without a mirror – but you'd be missing out on a great opportunity when it comes to getting ready. Kate Salmon, Head of Homeware buying at Oliver Bonas, says: 'Transform any table into a free-standing vanity with a dressing table mirror. Choose from simple round designs for a minimalist look or channel some old-school glamour with an elegant tri-fold mirror. Or, if you have a small space a dressing table mirror with jewellery box storage will maximise your storage.'
1
The Nordic Dressing Table
Murphy Dressing Table with Drawer
housebeautiful.co.uk
£421.00
Tuck away all your beauty essentials in the handy drawer of this pared-back dressing table. Inspired by the clean lines of Nordic design, this is a great dressing table for similarly minimalist interiors. It's also available in black.
2
The Retro Dressing Table
Cavill Desk & Dressing Table
There's lots to love when it comes to this retro desk that doubles as a dressing table. First of all, the kitsch combination of dark mango wood with the playful pink drawer. The lifting mirror table top is perfect for last minute touch ups.
3
The Oak Dressing Table
Essence Dressing Table
A solid construction of European oak and oak veneers, this spacious dressing table has surface space aplenty. There's room for everything you need for your nighttime routine, plus three drawers for extra storage space. We love the timeless design and natural finish.
4
The Marble Dressing Table
Tiziana Dressing Table
Caramel-coloured marble gives this curved dressing table a refined look that is perfect for contemporary interiors. Hairpin metal legs keep things understated, whilst the addition of a raised shelf adds extra depth. The dressing table mirror comes included. Lovely.
5
The Small Dressing Table
Greenwich Compact Dressing Table
Small, but with everything you could need in a dressing table. This compact design features a spacious single drawer and a stylish circular fixed mirror. We love the contrast between the mango wood desktop and the metal frame.
6
The Grey Dressing Table
Grey Dressing Table Desk
This design features romantic curved lines and a pretty grey finish, making it a genuinely charming dressing table. This is just the thing for bedrooms with traditional interiors. It's a budget-friendly option, too.
7
The Black Dressing Table
Bergen Black Painted Oak Dressing Table
chilternoakfurniture.co.uk
£219.99
A solid pine frame and an oak top combine to create this black dressing table, featuring three small drawers. The understated nature of this table means it'll blend seamlessly into both pared-back and vibrant interiors.
8
The Corner Dressing Table
ELEGANT Corner Makeup Dresser Set with Stool
A modern corner dressing table with plenty of drawer space. The mirror captures every angle, which is ideal for getting ready. The high-gloss finish is perfect for contemporary interiors.
9
The Traditional Dressing Table
Matilda Dressing Table in Natural
housebeautiful.co.uk
£455.00
Bring a romantic look to your bedroom with this classic dressing table, straight out of the pages of a fairy tale. We love the detailing of this table, from the carved legs to the ring handles on the drawers.
10
The Rattan Dressing Table
Ankhara Dressing Table
madaboutmidcenturymodern.com
£425.00
A refined combination of oak and rattan gives this dressing table real textural appeal. We love the curved edges and arched mirror, which bring a softness to the design. Tuck everything away in the useful drawer.
11
The Grey Dressing Table
Hallingford 3 Drawer Dressing Table
Make the most of your bedroom space with this contemporary dressing table. Three drawers mean you'll have plenty of room to store everything you could need to get ready for the day ahead. Plus, it comes with an in-built mirror – what more could you need?
12
The White Dressing Table
Samira Dressing Table
This petite white dressing table is perfect for compact spaces and boasts two handy drawers for all your bits and pieces. The structured finish is contrasted by ornate carving on the front; a pretty detail which we think adds an extra special touch.
13
The Metal Dressing Table
Christo Dressing Table
Make a statement with this bold dressing table, crafted from brass in a sleek gold finish. The concealed cupboard offers four shelves, so there's plenty of room to tuck things away. Better still, it comes with a dressing table mirror attached. Talk about getting your money's worth.
14
The Small Dressing Table
Rutland Painted Oak Dressing Table
chilternoakfurniture.co.uk
£129.99
If you're looking to save space, this small yet sturdy dressing table should fit the bill. At only 72cm wide, this will tuck neatly into even the most compact of spaces. The sleek chrome handle adds a stylish look to this classic dressing table.
15
The IKEA Dressing Table
Malm Dressing Table
No list of dressing tables would be complete without featuring this cult classic from Ikea. Ultra-versatile, this dressing table also doubles as a desk. Plus, it couldn't be easier to assemble. If you like the streamlined look, there's a similar version from John Lewis' ANYDAY range.
16
The Mirrored Dressing Table
Harper Dressing Table – Champagne Gold Details
Check out all your angles with this glamorous mirrored dressing table. Seven spacious drawers mean there is room for even huge stashes of makeup and skin care. Getting ready never looked so good.
This content is created and maintained by a third party, and imported onto this page to help users provide their email addresses. You may be able to find more information about this and similar content at piano.io