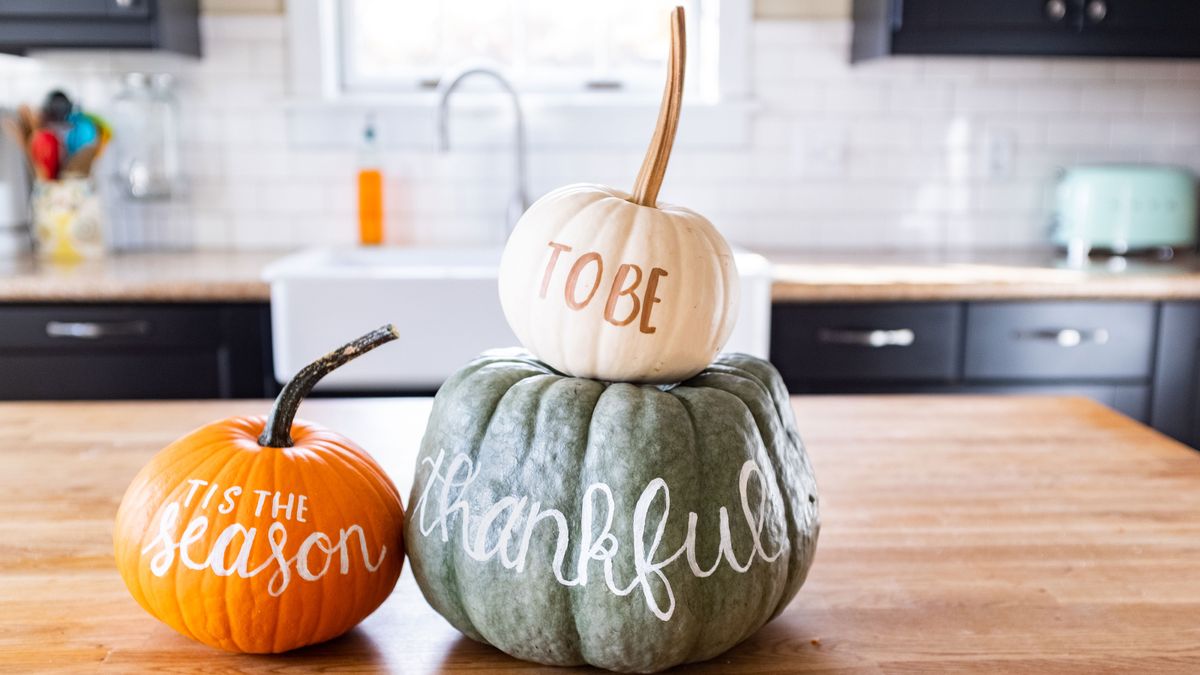 8 DIY fall decorating ideas for an autumnal glow at home
Ready to make your home extra cozy this season? We've discovered the best DIY fall decorating ideas to bring in all the best parts of fall into your home. From burnt orange and terracotta colors to pumpkin-shaped everything, if you needed another excuse to give your home a fall refresh – this is it. 
Just like the best fall decor can give your four walls an autumnal glow-up, even the simplest DIY fall decor ideas can bring your home to life. Plus, since all these looks are easy to craft, you can do so for much, much less and, it's always super satisfying to see your own design come to life before your eyes. 
DIY fall decorating ideas for an autumnal glow
Whether you want to weave some cute home makes into your current display, complete with your favorite fall wreath, try to make a garland with the kids or just spend more time getting creative without spending a fortune, turning to a little DIY is always fun. 
To help you make the most of our DIY fall decorating ideas, we turned to the experts of craft to find out what's trending now that a new season is in full swing. Here are some DIY ideas to create this fall. 
1. Create a simple fall hoop wreath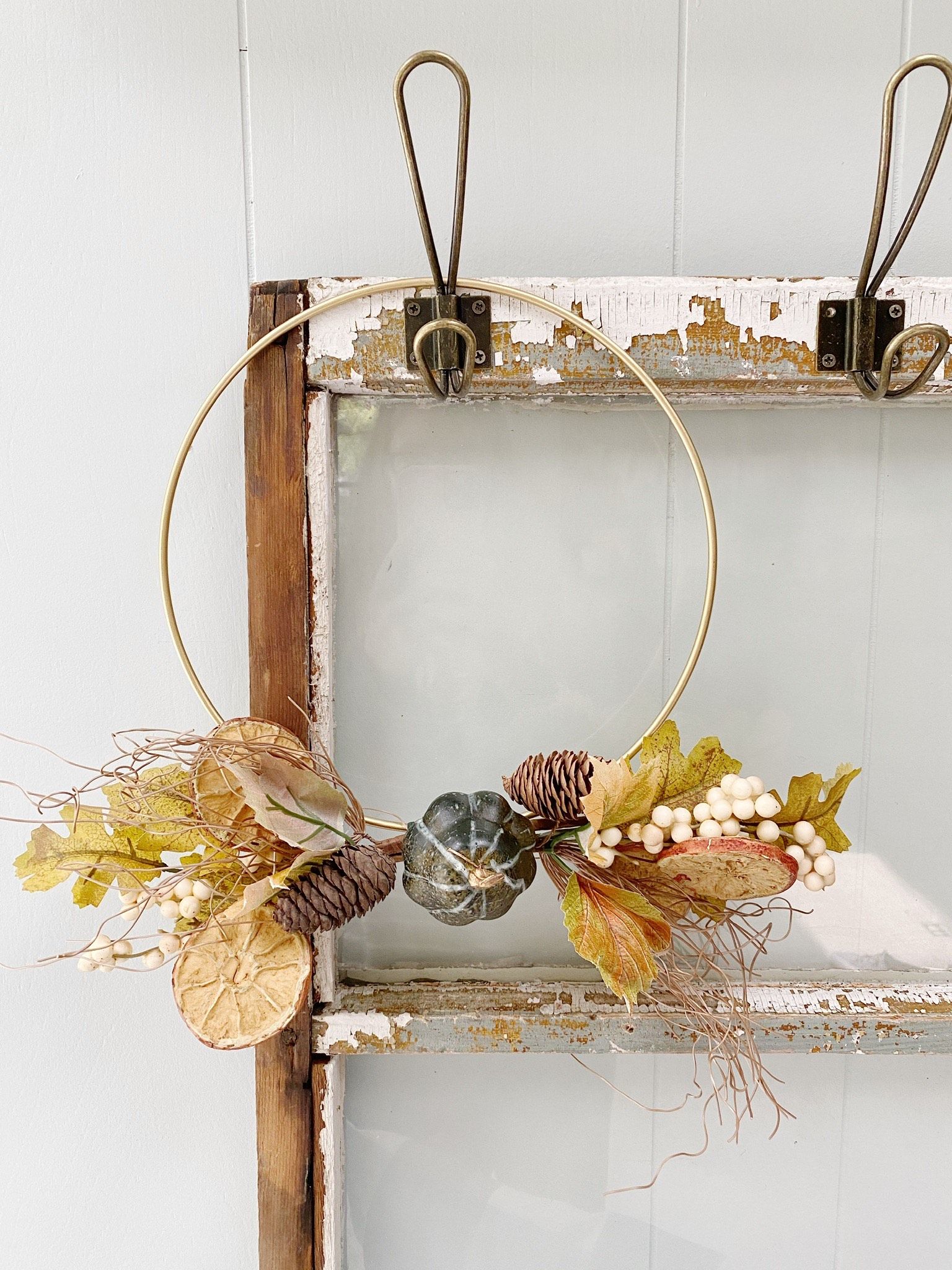 Short on time but still want to make a wreath that comes with an impact? Try this fall gold hoop DIY for custom make that's sure to impress guests. We love this tutorial by resident realhomes.com blogger, Dori Turner for a modern yet rustic make. Plus, this inventive creation only takes about half an hour to put together.
Whether you choose to hang yours in your hallway, on a door handle or on your fall mantle, it's the perfect way to introduce seasonal colors into your home. 
Pick up the below materials and follow the full instructions for a DIY fall wreath with a difference:
2. DIY drilled pumpkin lantern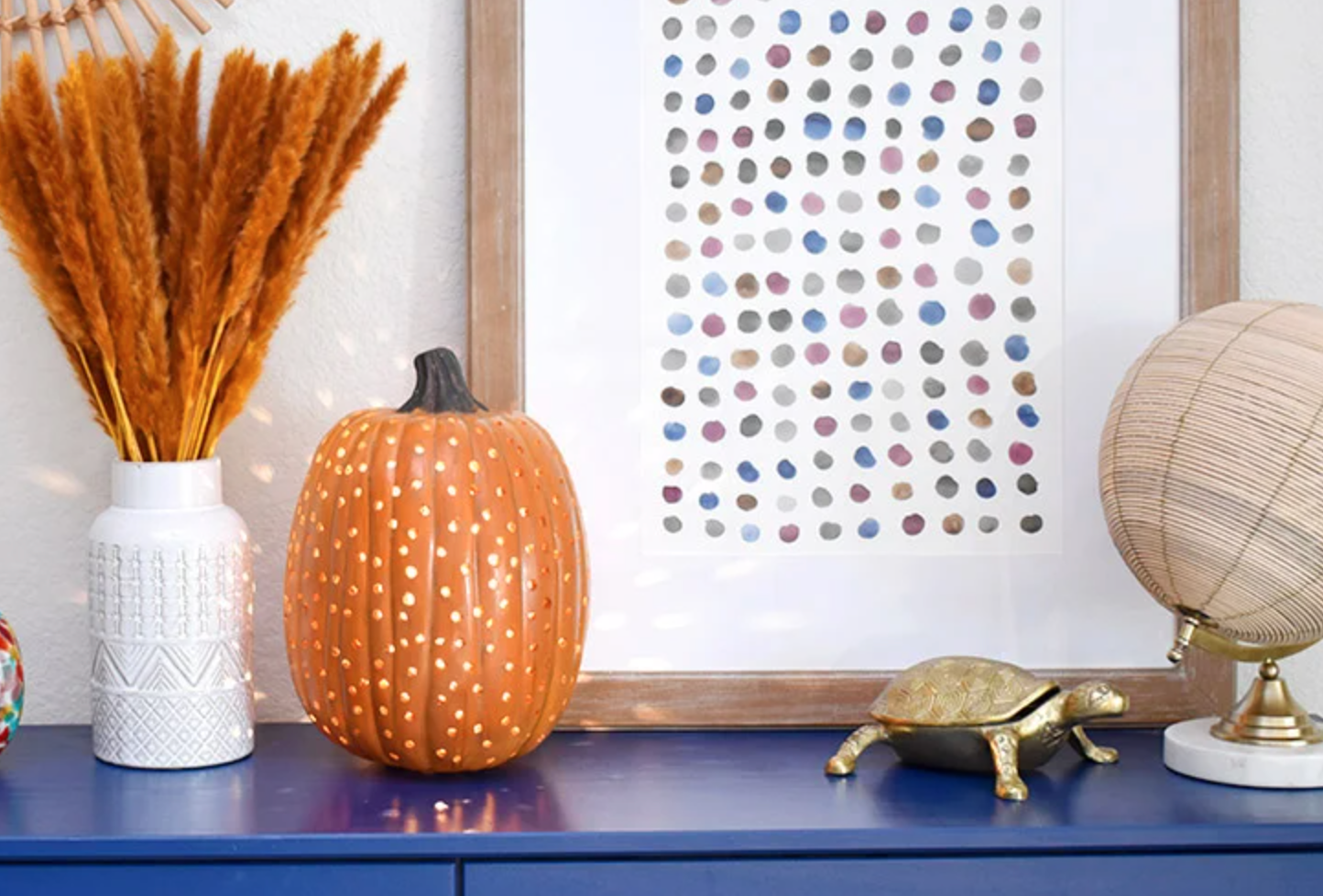 Nothing says fall more so than pumpkins. And although no-carve pumpkin ideas are bigger than ever, there's always room for a bit more creativity! These beautiful and brilliant drilled gourds look perfect all stacked up outside of your home as they are. You could, of course, still carve them to add a little more spook. Or better yet, why not turn a pumpkin into a light that you can turn on to help brighten up your space now that fall is here?
This creation is the brainchild of Allison, from Dream a Little Bigger (opens in new tab). To make it, you'll need to pick up:
3. Pumpkin banner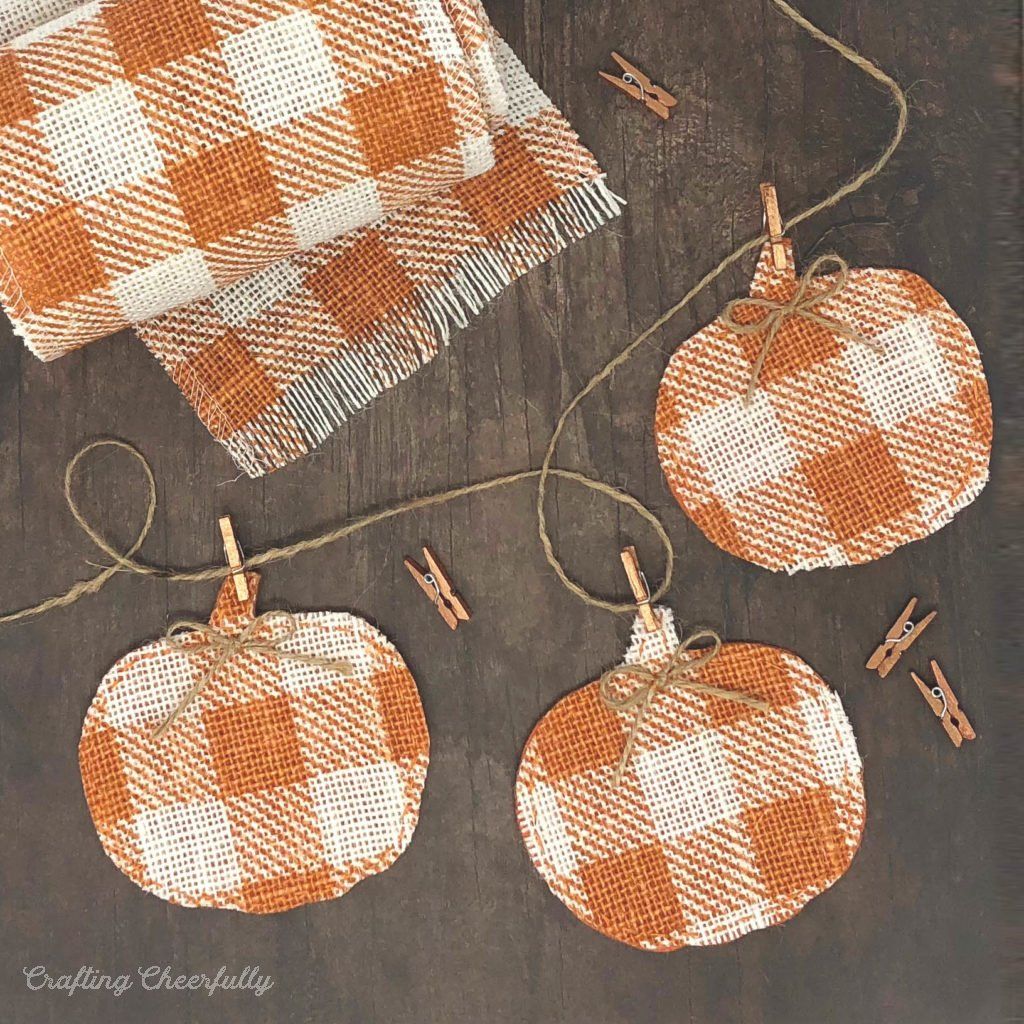 Sticking with the pumpkin theme, how autumnal does this bunting look? Kim from Crafting Cheerfully (opens in new tab) has created this masterpiece and we're already thinking of all the places we could hang it. From our staircase to around a fireplace, this rustic-looking bunting could be used time and time again. 
To make this, you'll need:
4. Rustic wood fall wreath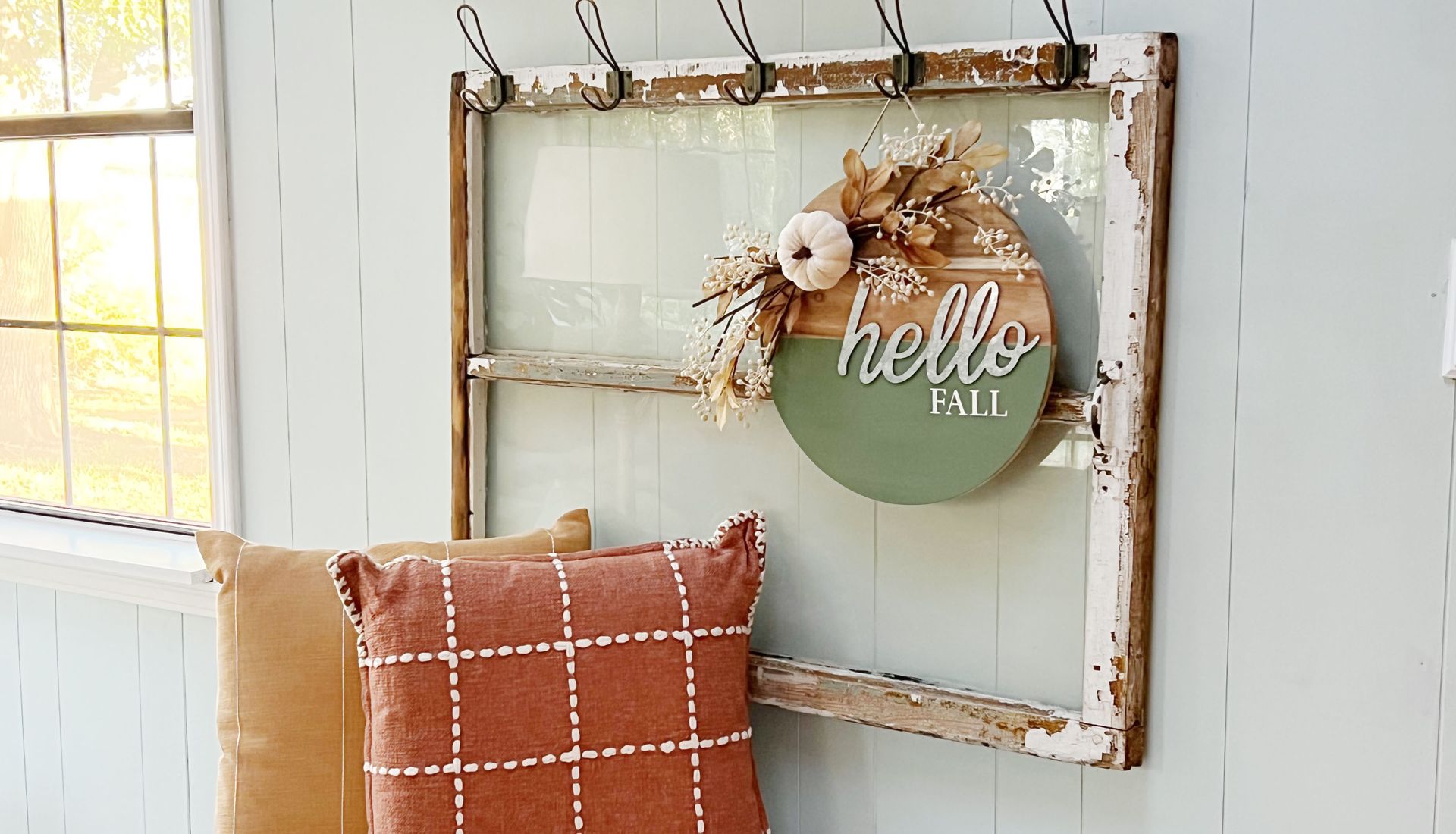 Welcome in one of the coziest seasons with a rustic DIY wood fall wreath. Wreaths are a must when it comes to seasonal decor and while you could always buy one from the likes of Amazon (opens in new tab), Walmart (opens in new tab) or Wayfair (opens in new tab), it's always fun to make your own one too.
 Plus, this beautiful alternative offers something a little bit different to traditional offerings. The hardest question? Where to put it! Add warmth to your home and mix yours in with the rest of your fall decorating ideas, the options are endless. 
To make this creation, you'll need:
5. Fall leaf garland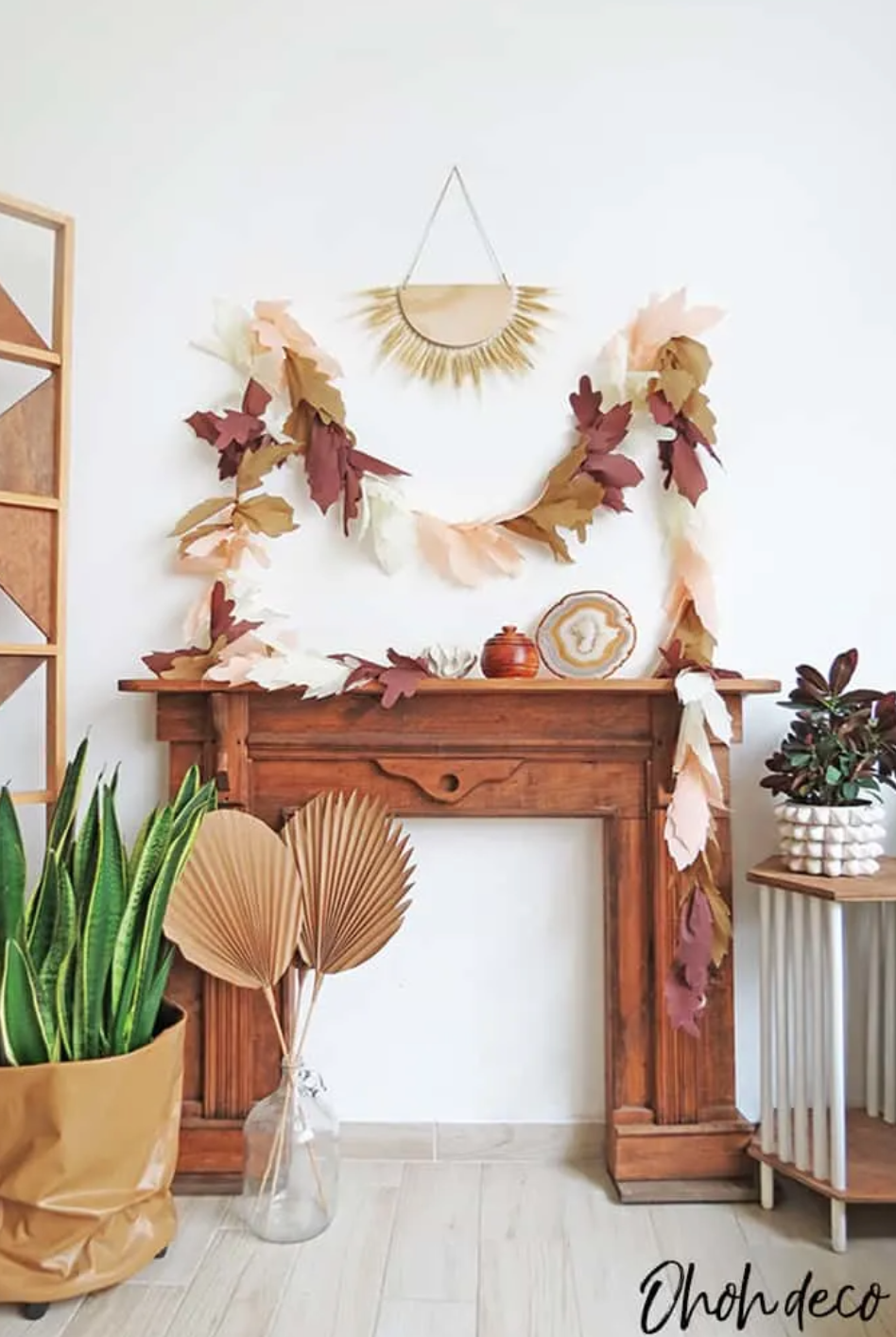 Bring the outside in, with this creative 3.5m long leaf fall garland from OhOh Deco (opens in new tab) that uses crepe paper. 
One of the best things about this DIY fall creation is that it doesn't require a lot of materials and you can make it as long or as short as you want, depending on where you intend on draping it. To make this leaf garland, check to see whether you have the below already in stock or pick up:
6. Leafy mantel centerpiece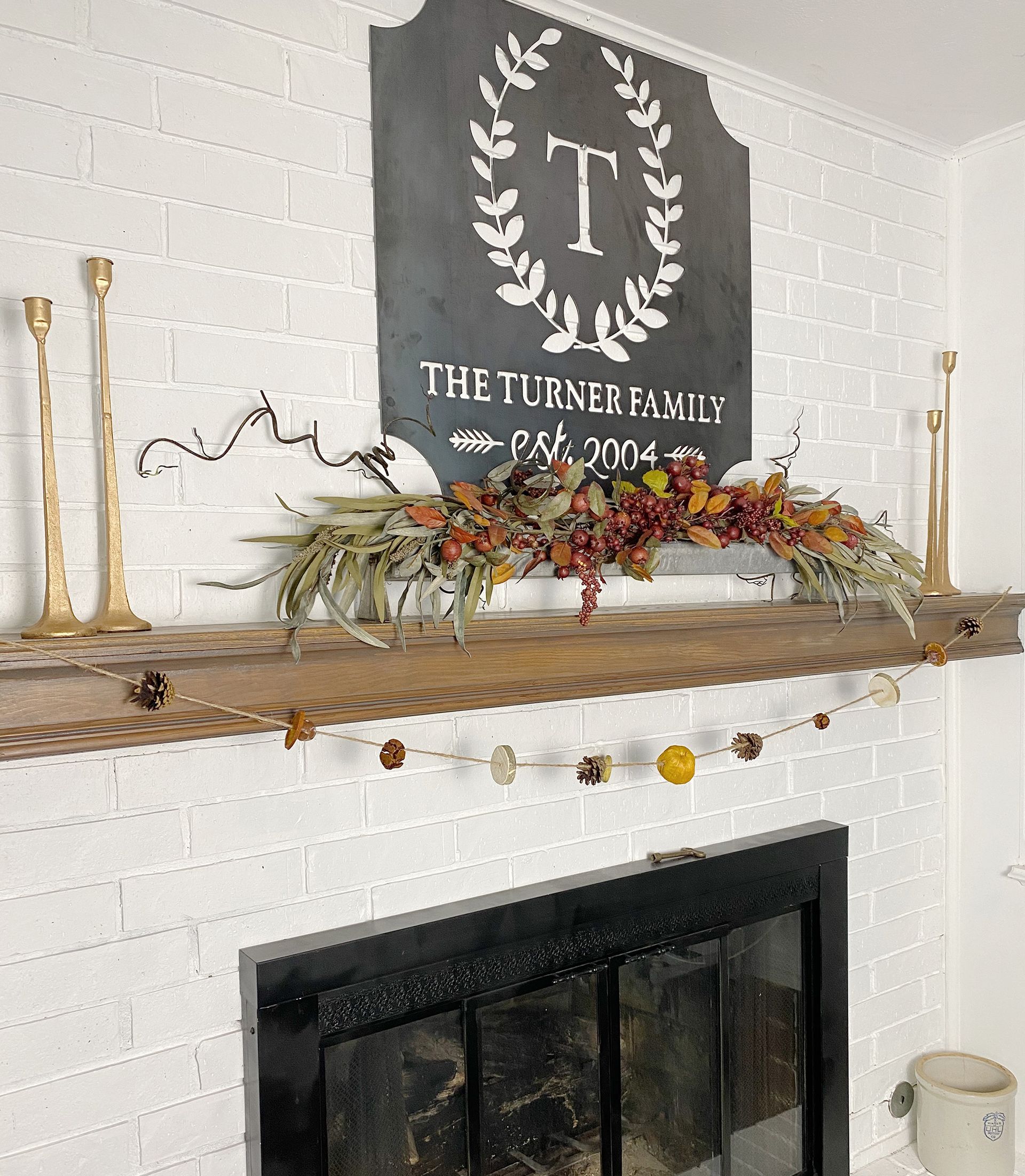 Speaking of garlands, if you're wanting to include a handful of different foliage in your creation, check out this quick and easy DIY fall garland option, perfect for a mantel
Along with looking good, this design will also smell good as it uses potpourri. 
And better yet, according to our calculations, you can make this garland in just 30 minutes. So set aside half an hour after work or on the weekend and get creating. To recreate this, pick up: 
7. DIY hi pumpkin doormat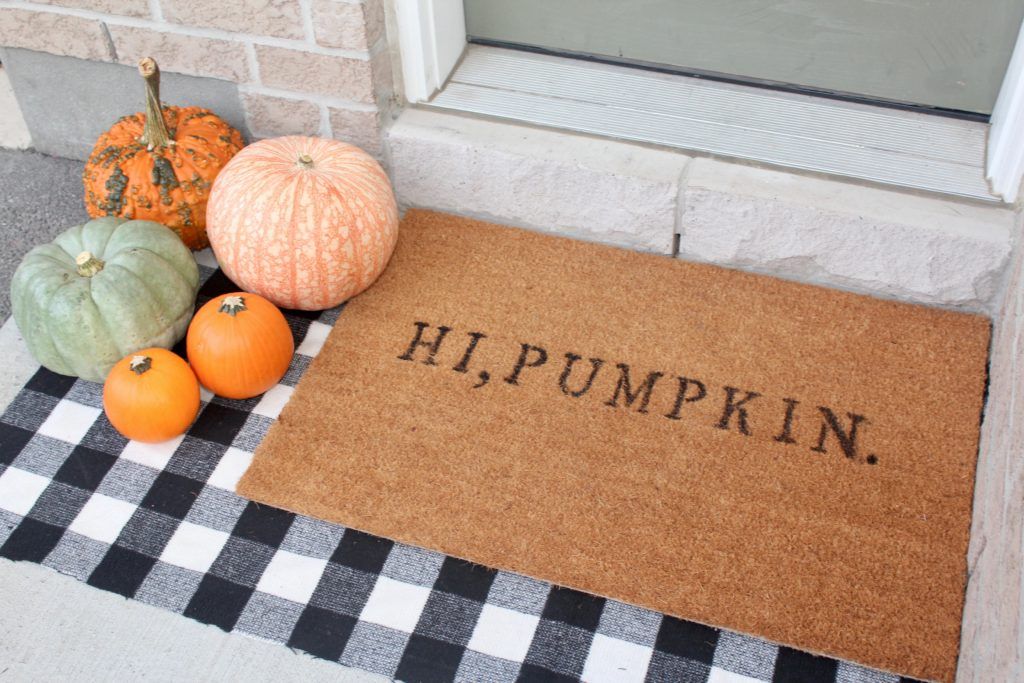 The best DIY fall decorations don't just have to be created for the indoors of your home. Feast your eyes on this DIY fall doormat by Feeling Nifty (opens in new tab). This creation costs under $20 and takes just 10 minutes to pull off. While this features the words 'hi pumpkin', you can always use other slogans to make it personalized to you or the season. 
As we've seen in the best fall porch ideas, your entrance is the first thing you and your guests see. So why not make it a sight to behold? 
To make this, pick up: 
8. Painted pumpkins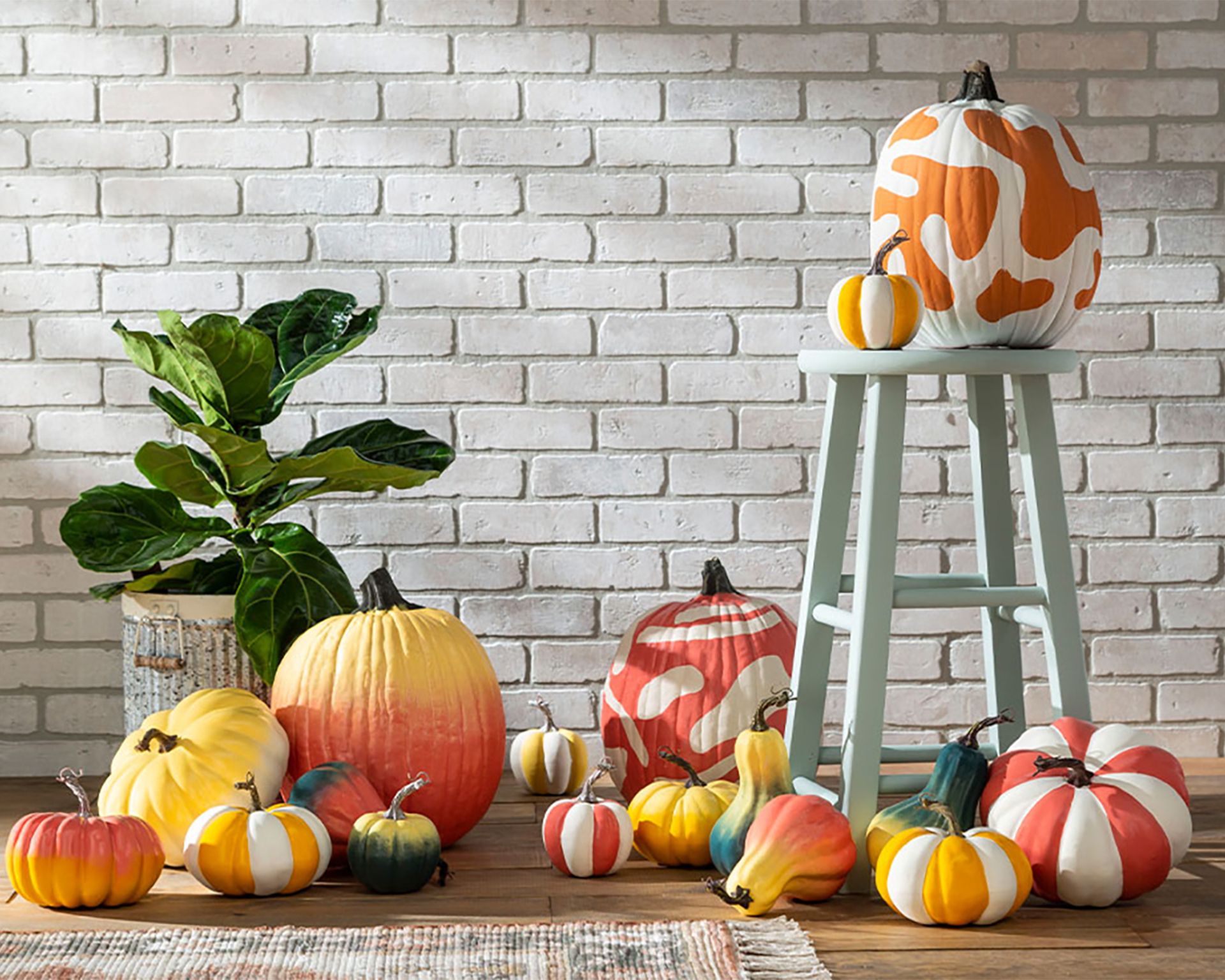 When you think of fall, what do you think of? To us, there's nothing more autumnal than a pumpkin. Breathe some new life into some gourds, using homegrown pumpkins or shop-bought faux artificial designs that you can proudly display, year after year. 
We love these designs by Rustoleum (opens in new tab). You can follow our step-by-step how to paint pumpkins guide if you'd like to recreate these. Just remember to pick up:
How can I decorate for fall cheap?
Sophie Prescott-Crees of DIY Blonde (opens in new tab) says: 'Use what nature has provided! Go into nature and collect a selection of autumnal items that you can decorate your home with. Collecting warm-toned leaves, acorns, rustic woods, seasonal veg and plants will all create a stunning look, without the hefty price tag.'
How do you make cool fall decorations? 
'You can create your own cool fall decorations using a range of materials, from recycled glass jars, paper, old pieces of fabric and so much more,' Prescott-Crees says. 
'Create an impressive natural hanging centrepiece by suspending a large branch and hanging leaves, seasonal flowers and fall-inspired items from it. 
Paint your pumpkins with metallic tones and 'feel good' slogans. Create atmospheric leaf lanterns by gluing leaves into mason jars, insert a candle and see the ambient glow. The possibilities are endless, especially when using what you already have and items from your backyard.'
What is the easiest way to decorate for fall?
'Decorate your home this fall by using a selection of ways from making your own decor, buying second-hand from thrift and charity stores and focusing on natural decor like pumpkins.' Prescott-Crees recommends.
 'When you pick your pumpkins, think about choosing a selection of pumpkins in varying sizes, shapes, textures and tones – this is a great way of creating some eye-catching decor. Head to a second-hand shop to discover some vintage treasures that will work as part of a centrepiece or door wreath.'
Nothing is more inviting than a well-decorated front door or porch and fall is the perfect excuse to do this. 
Prescott-Crees says: 'Dress your front door with an eye-catching Autumnal wreath which includes zesty orange leaves and rustic wooden touches, display an arrangement of pumpkins and gourds which include a range of colours and textures. Then finish with atmospheric lanterns that will flicker as the light fades throughout the day. Inside the home, choose woodland-themed accessories, textured furnishings and hints of rustic nature throughout.'