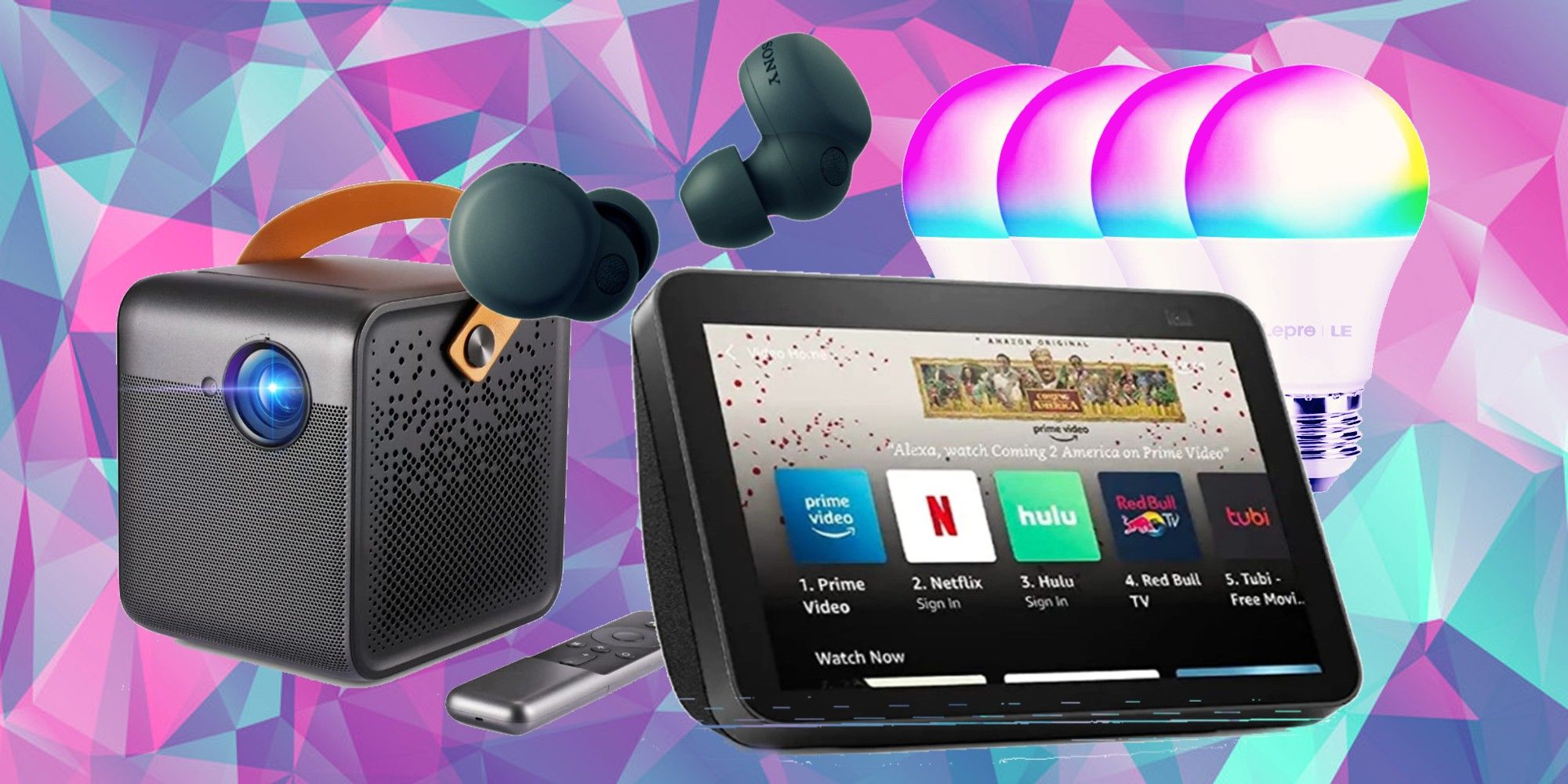 10 Best Alexa Compatible Smart Home Electronics And Accessories
Alexa makes everyone's life a little easier, and through these smart home electronics and accessories on Amazon, the benefits of automation are readily available. Where cost might have been a factor for some shoppers, there are plenty of deals available that make Alexa compatible products accessible to a variety of budgets.
With a wide variety of options available, from televisions and Echo devices to home security cameras, there's a little something for everyone. There are also plenty of exclusive deals only for Amazon Prime members, who can enjoy receiving their smart home devices faster than it takes to say, "Alexa!"
1/10

Echo Show 8
List Price: $129.99
Deal Price: $69.99 (46% Off)
Available In Black And Glacier White
The Echo Show 8 brings all the versatility of a tablet, a television, and a smartphone anywhere shoppers' need it, all in one convenient device. With it's 8 inch touchscreen, users can send and receive video calls through Alexa, check important dates with a glance, listen to Amazon Music or other music services, and enjoy their favorite movies and TV shows on Prime Video or other streaming platforms.
RELATED: The 10 Best TVs for GamingIn the kitchen, it's a great way to follow along with cooking videos, all while setting timers and asking Alexa for measurement conversions. Even better, the Echo Show 8 acts as a surveillance camera to give users peace of mind while they're out, and can control other compatible devices with a few swipes.
2/10

Smart Wi-Fi Light Bulbs
List Price: $35.99
Deal Price: $29.99 (17% Off) – Additional 10% Off With Coupon
Harness the power of ambiance with these Alexa-compatible Smart Wi-Fi Lights Bulbs, instantly giving every room in a shoppers' home a different vibe. With a pink kitchen, a blue living room, and a red bathroom, the possibilities are positively kaleidoscopic.
Best of all, these light bulbs are voice-controlled, so shoppers carrying in lots of Amazon packages off their front porch at night can ask for Alexa to turn on the lights anywhere in their home. Easily set up through the accompanying app, colorful lighting takes just a few swipes and comes in 16 million varieties. One Amazon reviewer commented: "Ok great product and super easy to set up and control. For the price and how many you get… we'll worth the purchase."
3/10

Kasa Smart Plug HS103P4
List Price: $29.99
Deal Price: $25.99 (13% Off)
It doesn't matter whether a table lamp isn't compatible with Alexa, with the Kasa Smart Plug HS103P4 4-pack, all electronics can be converted into the practical elements of a smart home. Once plugged into these plugs, any device can be turned on and off using voice command, whether through Alexa, Siri, or another assistant, or the Kasa app.
Best of all, timers can be set to coincide with a shopper's schedule, ensuring that electronics turn on when they're most needed and conserve power when they're not. With over 43,000 ratings and almost all of them 5-stars, Amazon customers seem to be in agreement about these smart plugs. "I love the convenience of smart plugs," said one Amazon reviewer. "The ability to turn lights on or off when you are away from home is amazing."
4/10

Echo 4th Gen
List Price: $99.99
Deal Price: $49.99 (50% Off)
Available In Charcoal, Glacier White, And Twilight Blue
Shoppers looking for something a little more robust, the Echo 4th Gen home hub provides rich sound with an eye-catching spherical shape that's hard to miss. Alexa-compatible, it allows users to access news, the weather, their favorite podcasts, and music all through voice command. They can even use it to make calls to friends and family, or drop in on other parts of the house.
RELATED: The 10 Best Smart Speakers on AmazonThe Echo 4th Gen can control lights, the coffee maker, and other devices to become the nexus of users' smart home functionality. A digital clock can display prominently across its body to tell the time, and reminders for daily tasks, events, or medications are easy as can be.
5/10

Sony LinksBuds
List Price: $199.99
Deal Price: $128.00 (36% Off)
Available In Black, White, And Earth Blue
With so many brands of earbuds currently on the market, it can be difficult to decide on a pair to try, but Sony Linkbuds offer unparalleled depth of sound and rich bass among higher end headphones. Not only does music sound crystal clear, calls received over these earbuds have superior clarity, and noise-canceling technology ensures a break from the stresses of the day.
The Sony Linkbuds offer 6 hours of use after charged (20 hours with the included charging case), but with just 5 minutes of charge, they can offer 60 minutes of playback. One Amazon reviewer gave them a sterling product recommendation: "These are solid earbuds that feel great, produce good sound, have good ANC, and have excellent microphones for great call quality."
6/10

Google Nest Learning Thermostat
List Price: $249.99
Deal Price: $194.00 (22% Off)
Available In Black, Brass, Copper, White, Mirror Black, Polished Steel, And Stainless Steel Finishes
Never again struggle with an unruly thermostat while conserving energy at the same time. Presenting the Google Nest Learning Thermostat, the programmable smart home accessory that adheres to a user's schedule and maintains their specific program. Through Alexa-compatible voice command, the perfect temperature only requires a few simple instructions.
Leaving for work, school, or an errand? Away Assist adjusts so that the thermostat doesn't keep the heat running while a user is gone for the day. There's no fiddling with the device itself; the thermostat can be controlled by anyone through a laptop, phone, or tablet. Best of all, users can look up their energy history and keep track of how much energy they're using, and then determine where to cut back as necessary.
7/10

WEMAX Dice 1080p FHD Portable Projector
List Price: $799.99
Deal Price: $699.99 (13% Off) – Additional $120.00 Off With Coupon
Shoppers looking for a high quality projector that's also compact and easy to set up, the WEMAX Dice 1080p FHD Portable Projector offers both and much more. Built in speakers support superior Dolby sound and a 120-inch large-screen format ensures that home viewing feels like a theatrical experience. When used outdoors, its battery power makes it a completely wireless device for the duration of several films.
RELATED: 10 Best 4k Projectors To Buy In 2022When used in conjunction with an Amazon Fire stick or Google Assistant, it becomes controllable through voice command, including Alexa. For the price point and functionality, it's competitive with other projectors of its class.
8/10

Blink Mini Smart Cameras
List Price: $64.99
Deal Price: $24.99 (54% Off)
Available In Black And White
Peace of mind has never been at a better value than with the Blink Mini Smart Cameras, part of the perfect Alexa-compatible home surveillance system. Leave the house for hours and check in via the accompanying app, and find out in minutes when the motion-sensors are triggered with the alert system.
Two-way audio lets users speak to anyone at home with the cameras activated, such as with a family member, roommate, or an anxious pet. Multiple Blink mini smart cameras can be purchased to create an extensive home security system that's efficient as well as clandestine.
9/10

iRobot Roomba 694
List Price: $274.00
Deal Price: $174.99 (36% Off)
For any shopper hesitant to get a robot vacuum, the iRobot Roomba 694 is the smart home accessory that's sure to change their mind. Let it go in any room and it will clean diligently for 90 minutes, its intuitive sensors and powerful suction ensuring that it can traverse any terrain, from carpet to hardwood surfaces, and collect any type of dirt or pet hair.
When it's done, the Roomba 694 will return to its docking port and recharge, ready for its nest cleaning mission. Best of all, it's compatible with Alexa, so users can use voice command to tell it when to turn on and off and where to go. One Amazon reviewer couldn't stop praising their robot vacuum: "Buying a Roomba ( and one for my daughter) was THE best thing I have done for myself . We both have dogs and lots of fur!"
10/10

LG OLED C1 Series 65"
List Price: $2,499.99
Deal Price: $1,496.99 (40% Off)
Many smart televisions can be controlled through Alexa, but the LG OLED C1 Series 65-inch smart TV offers rich saturation and crisp edges with 8 million pixels, and an A9 4th generation processor, so 4k has never looked better and more clear.
Use Alexa to ask the smart TV about news, weather, or to start playing favorite TV shows and movies, and incorporate into other smart home devices such as additional Alexa-compatible speakers or a soundbar. One Amazon reviewer was clear: "The hype is legit. Just buy it."
Buy On AmazonDisclaimer: The links included in this buyer's guide are affiliate links. Screen Rant cannot guarantee product availability or pricing.
NEXT: The 10 Best Blu-Ray 3D Movies