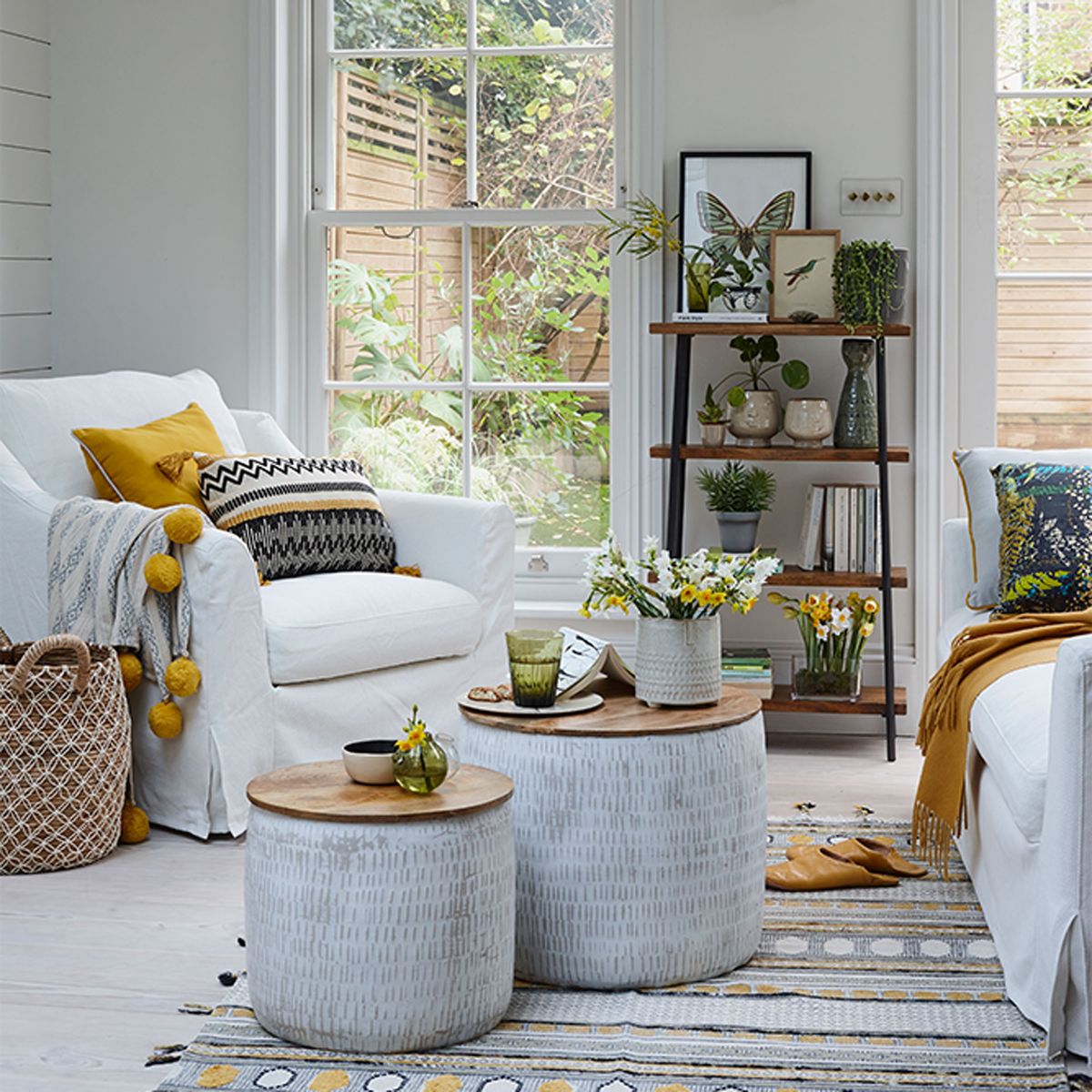 White and grey living room ideas – easy ways to style this colour combo
When it comes to classic colour combinations, white and grey living room ideas are hard to beat. Easier on the eye than monochrome black and white, the pairing of easy-going grey with calming white combines the warmth of neutrals with the simplicity of white and makes a versatile backdrop for pretty much any style of living room, whether traditional or modern.
White and grey living rooms also offer plenty of options when it comes to accent colours, which are an easy way of switching up a scheme whenever you fancy a new look. Whether soft pastels, rustic naturals, muted metallics or jewel brights, most accent colours sit equally well against a backdrop of grey and white, making it easy to make seasonal changes without the need for any major redecoration.
White and grey living room ideas
White is the biggest-selling paint colour, closely followed by grey, so combining white with grey living room ideas is a natural fit. Whether dark, moody shades of grey with crisp white as a bold contrast, or soft and subtle barely-there greys that blend in with calm, chalky white tones, there are endless options.
'Grey is an incredibly versatile colour with a breadth of base tones,' says Ruth Mottershead, Creative Director at Little Greene (opens in new tab). 'There are many shades of grey to choose from to create your perfect scheme. To add warmth, consider warm yellow or red-toned greys, or for a cooler scheme, explore greys with a blue undertone.'  
1. Create calm with a soothing grey and white scheme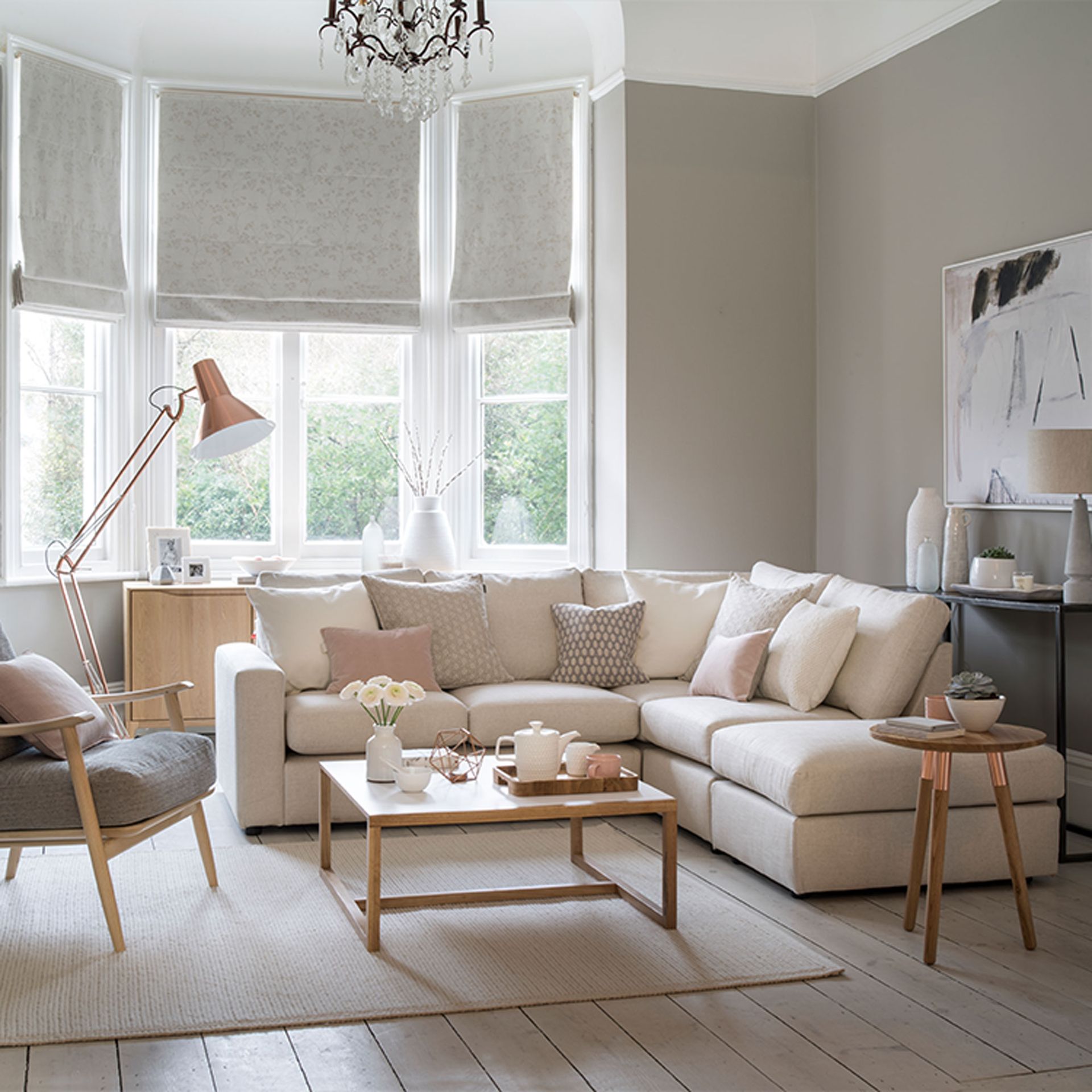 For a timeless but modern look, start your living room scheme with a soft, mid-toned grey as a neutral background colour on walls, flooring and window treatments. Using the same colour throughout your living room ideas creates calm by day, but feels relaxing and warm in the evening.
Working in plenty of white will prevent a neutral grey scheme from feeling too bland, with paintwork and trims in low-sheen white, a sofa or armchair in off-white to add larger areas of block colour and then ceramics, artwork and accessories around the room providing accents of glossy white.
'Greys are hugely versatile – from cool off white shades, through warmer neutral mid tones to the very deep and mysterious,' says Justyna Korczynska, senior designer at Crown (opens in new tab). 'They have more colour and texture within them than straight black. A monochrome scheme of black and white is much more unforgiving than one of shades of slate, clay and off-white which will change subtly with the light throughout the day, giving them personality and character.'
2. Add warmth with moody greys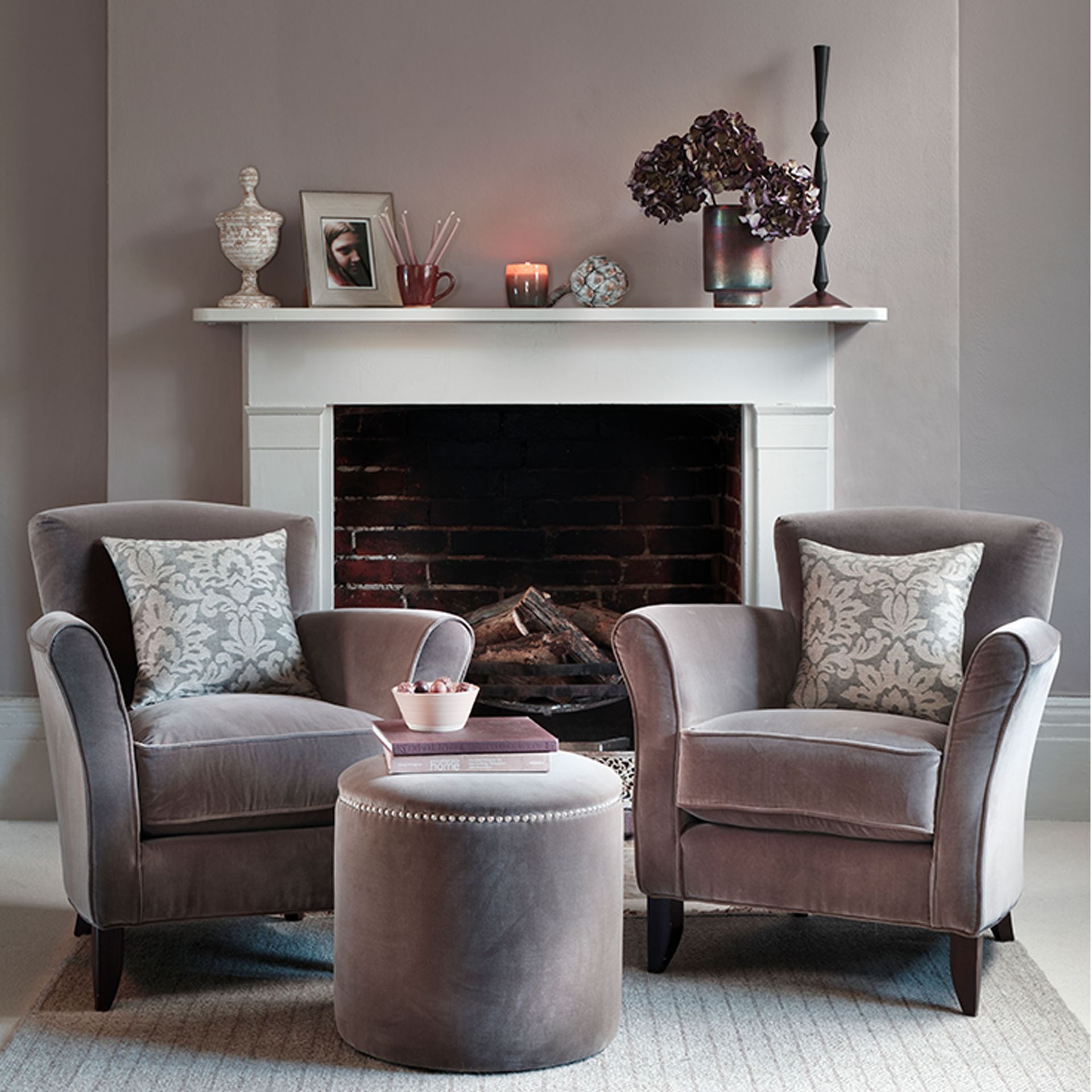 Choosing darker tones of grey as a living room wall colour will make it feel cosy, enveloping and super-snug in the evening. Just be sure to choose the right shade of grey, depending on the light qualities of your living room. Warm-toned greys are best grey paint for walls in north-facing rooms and cool-toned greys in south-facing living rooms.
Bringing white into the mix can help break up the intensity of grey so that it doesn't feel too dark and overpowering. Try painting woodwork, trims, doors and fireplace a soft white as a contrast to moody grey, with a paler-coloured rug or flooring to add balance.
'Darker tones of charcoal can be used to add drama anywhere in the home, from a living room to a bedroom or even a small hallway,' says Justyna Korczynska. 'With clever lighting and mirrors you can create a look that is both strong and atmospheric. These dark greys are also a perfect strong background for small amounts of brighter colour, like chartreuse or mint.'
3. Lighten the mood with pale grey and white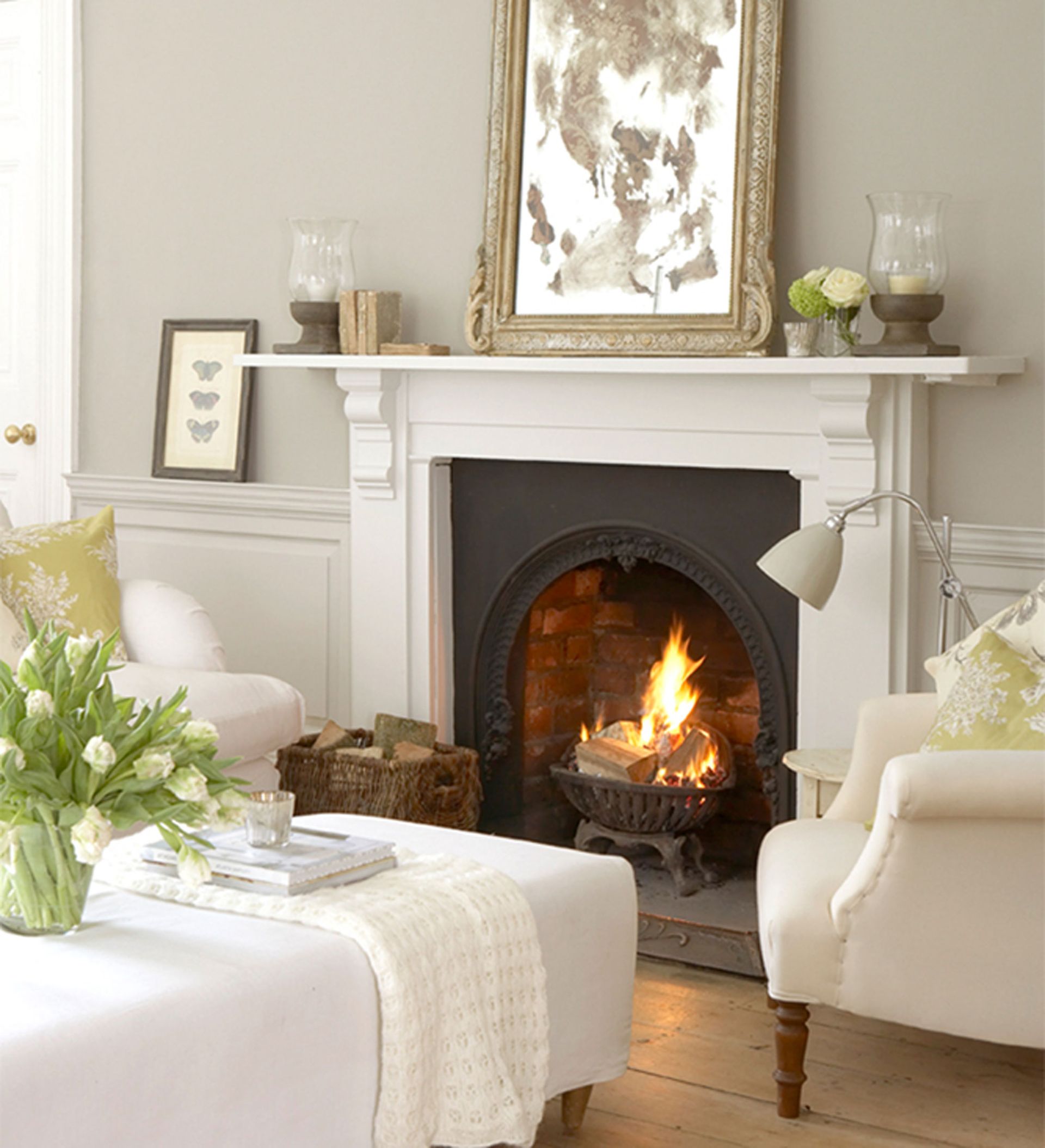 Small living room ideas will benefit from the combination of a white and grey colour scheme. Soft grey walls teamed with white low-sheen paintwork brings light-reflective qualities that will make a small living room feel more spacious and create a calm and restful look to boot.
Off-white upholstery will also help to lighten the mood in a small space – and by choosing loose slip-covers that are easy to pop in the wash, pale-coloured seating isn't a worry. Balance the scheme with furniture evenly positioned across the space so that the room doesn't feel one-sided. Adding a large mantel mirror will add light and increase the sense of space with plenty of reflective glass and glossy ceramics to accessorise.
'Hectic lives call for calming spaces and neutral hues,' says Ruth Mottershead at Little Greene. 'For a cooler combination, paint walls in French Grey Dark, highlighted with French Grey Pale, which will both calm a scheme and expand the feeling of space, ideal for smaller living rooms. Keep the look fresh with crisp white on woodwork and ceilings.'
'When browsing our greys, consider the selection of colour combinations offered on each paint page,' adds Ruth, 'with hand-selected whites, neutrals and darks for every shade, alongside coordinating hues and contrasting accents.'
4. Create a backdrop for greenery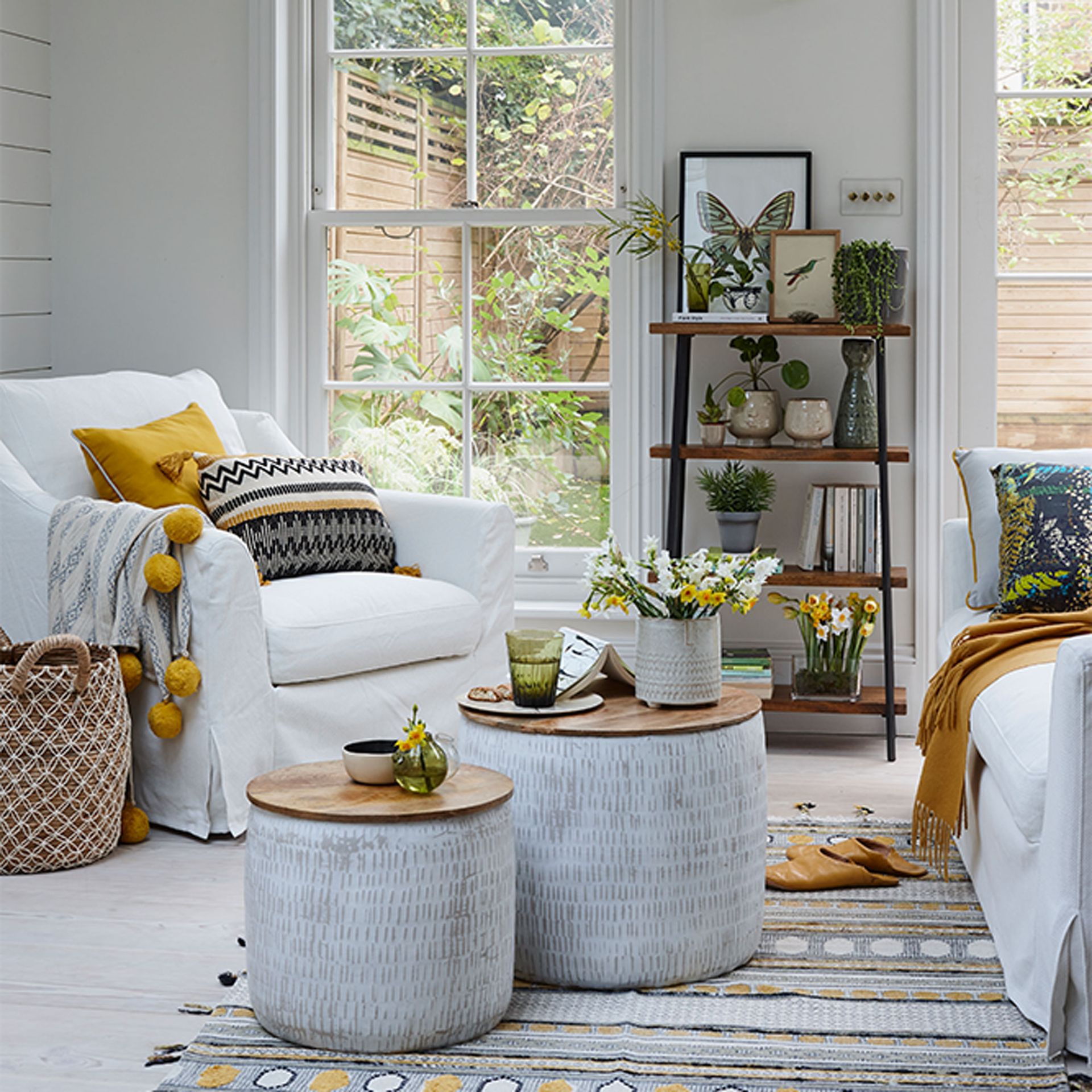 All-white living room ideas can feel quite stark and clinical, so opting for a combination of cool white and pale grey on walls can be a good compromise that will feel warmer, more relaxed and easier on the eyes than harsh brilliant white.
In living rooms that get lots of natural light, with large windows or French doors, opting for a cool-toned pale grey will boost the feeling of space, but also help to balance out any excess brightness coming in. Soft greys and whites make a great backdrop for greenery in an indoors-outdoors space like this. Lush, leafy greens, foliage and warm sunny yellows will shine against a calming backdrop and help bring energy to the space.
5. Bring in soothing accent colours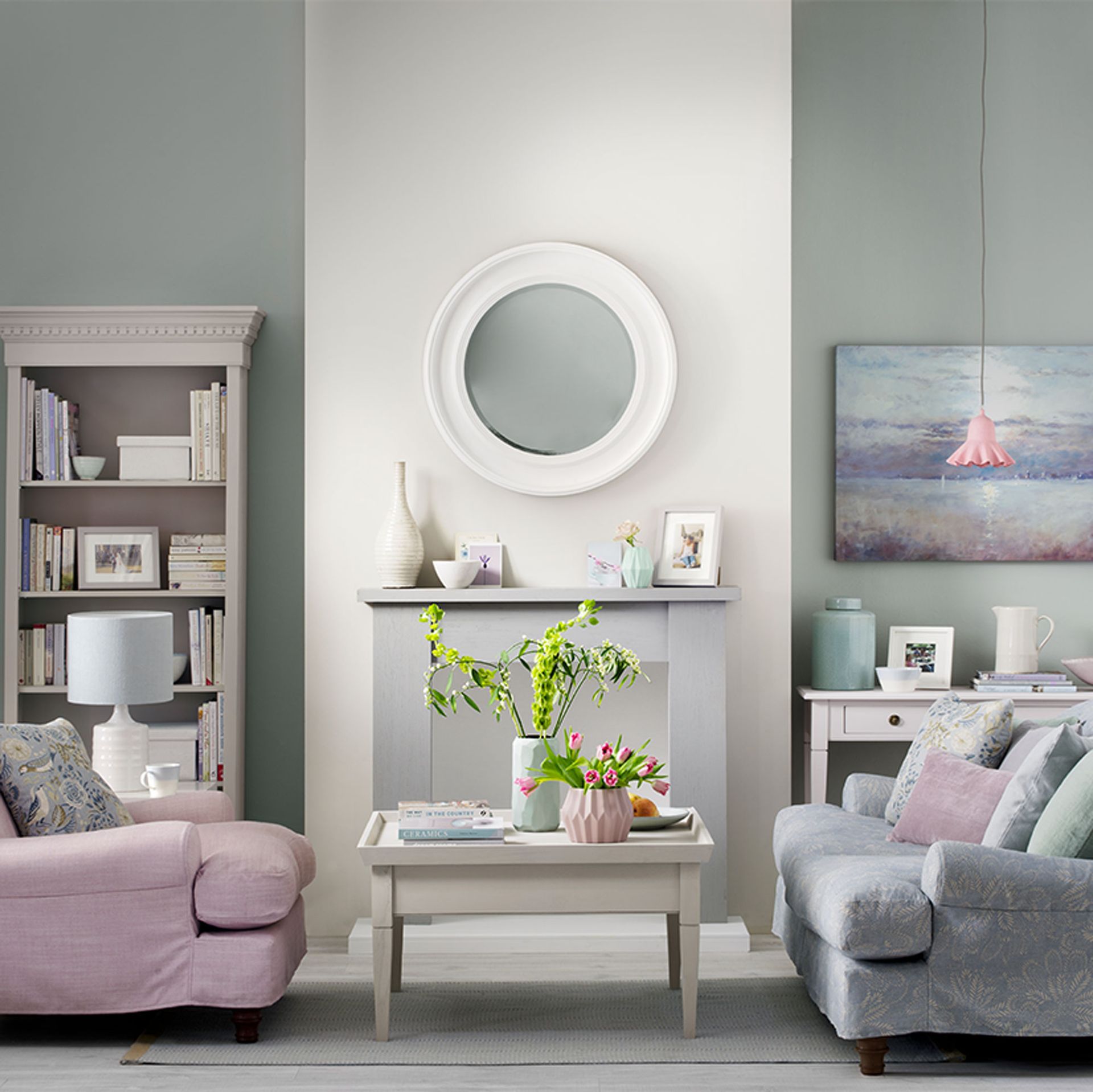 When it comes to colour palettes, white and grey can be treated much like neutrals, which means they are the perfect foil for other colours, whether its bold brights teamed with darker greys, or softer pastel shades paired with soft silver greys and calm whites. Keeping to accent colours of the same tone and intensity will create a more harmonious scheme than using very contrasting colours.
An easy way of giving an all-white living room a speedy update is to add accent areas of soft grey in key places. Alcoves either side of a fireplace are an obvious option that will add impact without overwhelming the space – and why not try painting a plain fire surround to match. Keeping colours consistent will help pull the scheme together, with a mantel styled-up with pretty pastel pieces that complement cushions and soft furnishings.
6. Introduce texture and colour to a plain scheme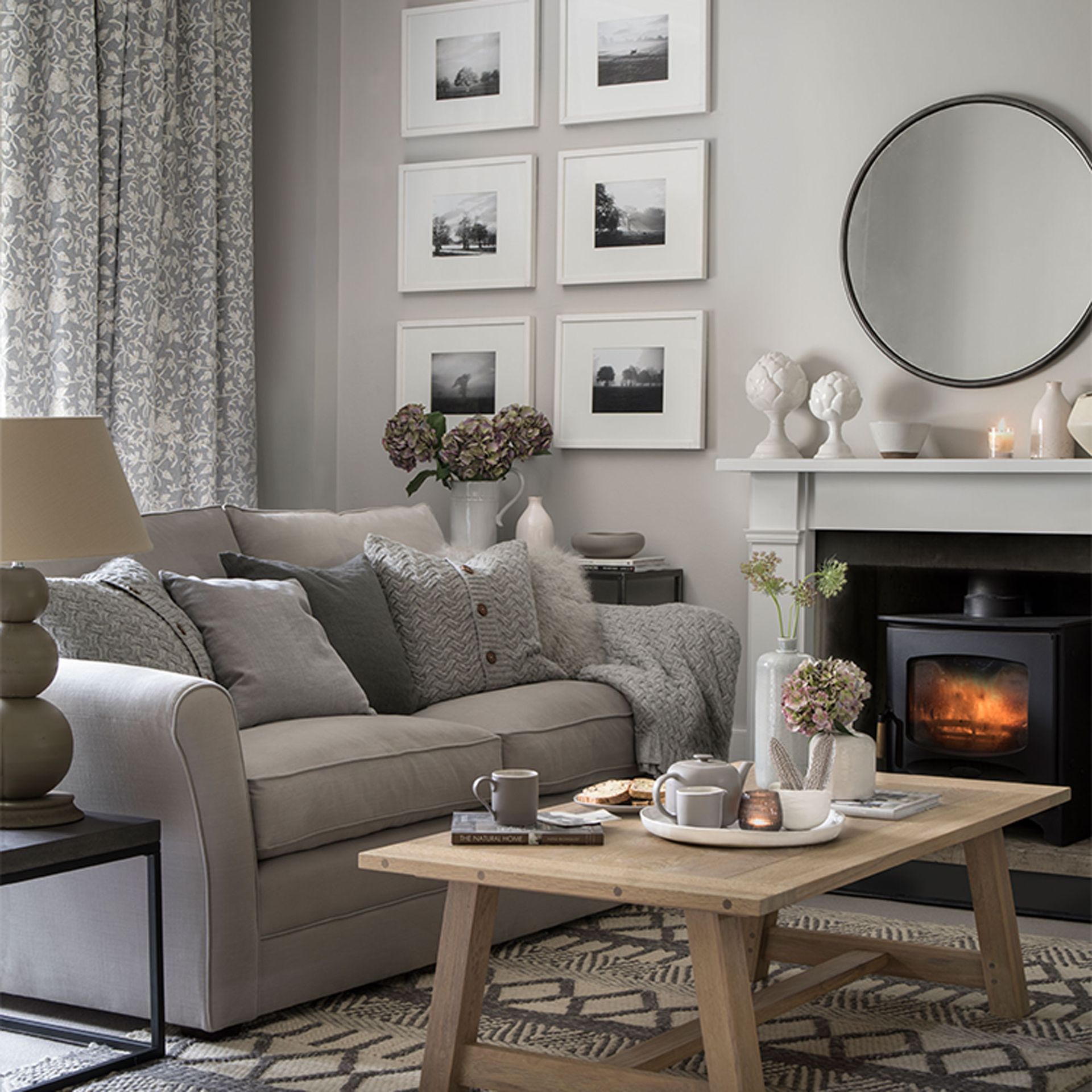 Calm greys and soft white make a super-flattering backdrop, but to prevent a grey scheme from looking too flat or feeling bland, it's essential that areas of contrast and accent colour are introduced into the mix.
Texture is an easy way of adding visual contrast and a tactile element to a living room, which will make it feel comfortable and welcoming. Pile up living room sofa ideas and armchairs with a mix of cushions and throws in textured knits, woven fabrics and fleeces. Swap plain curtains and blinds for a lively pattern or striking print and put down a textured rug in front of furniture to give the space a visual landing point.
7. Make pattern the focus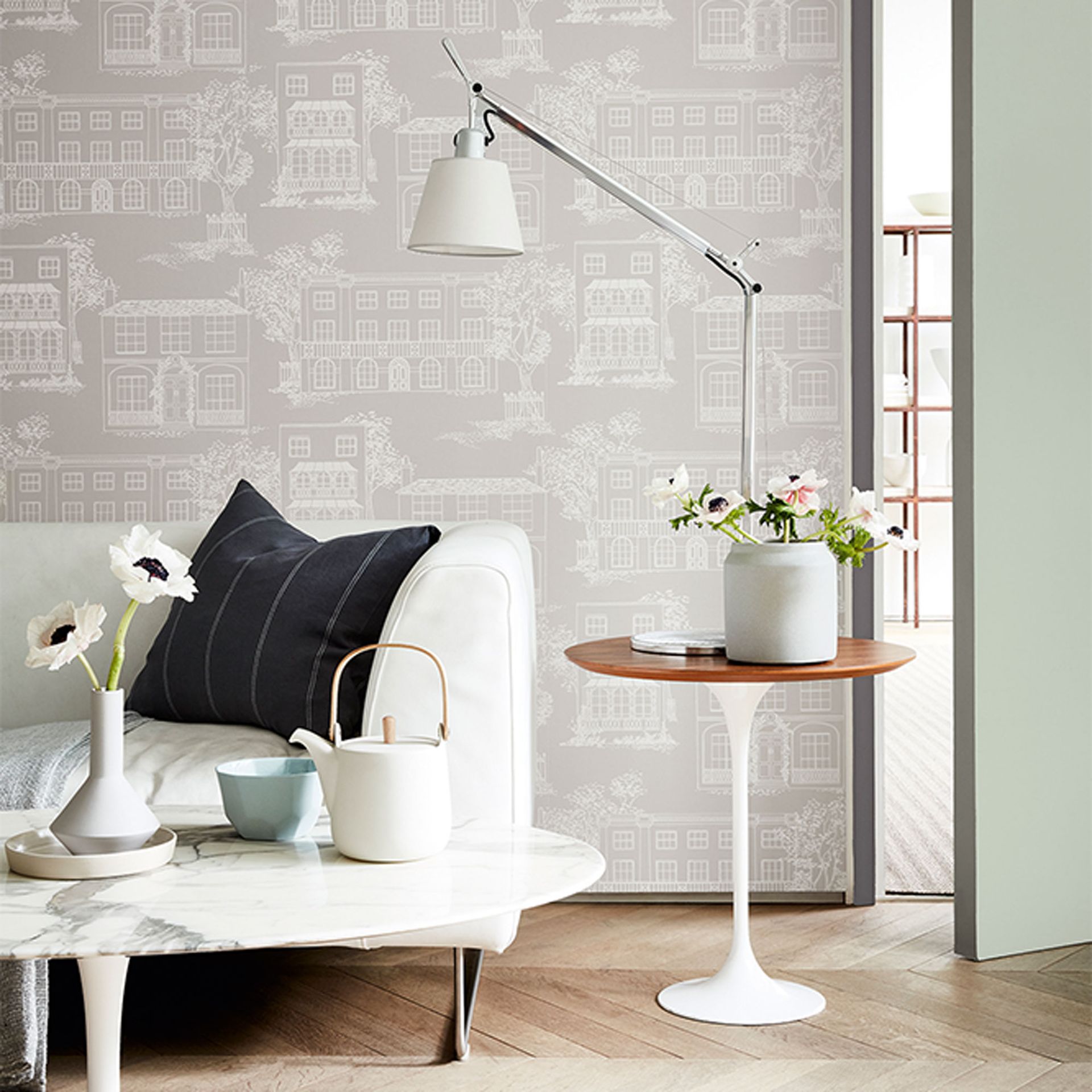 Paint isn't the only option when it comes to putting a chic living room scheme together. Pattern is the perfect way of adding some punch to a calm grey and white colour scheme and will give a plain living room a visual lift while still keeping colours low-key.
Reserve a patterned wallpaper for the prime spot behind a sofa or other large piece of living room furniture, such as a sideboard or display unit as a smart living room wallpaper idea. A lively wallpaper print looks eye-catching, but won't overpower the space in a soft grey and white combo, making it the perfect backdrop for a white statement sofa and side table.
8. Try a scheme of two halves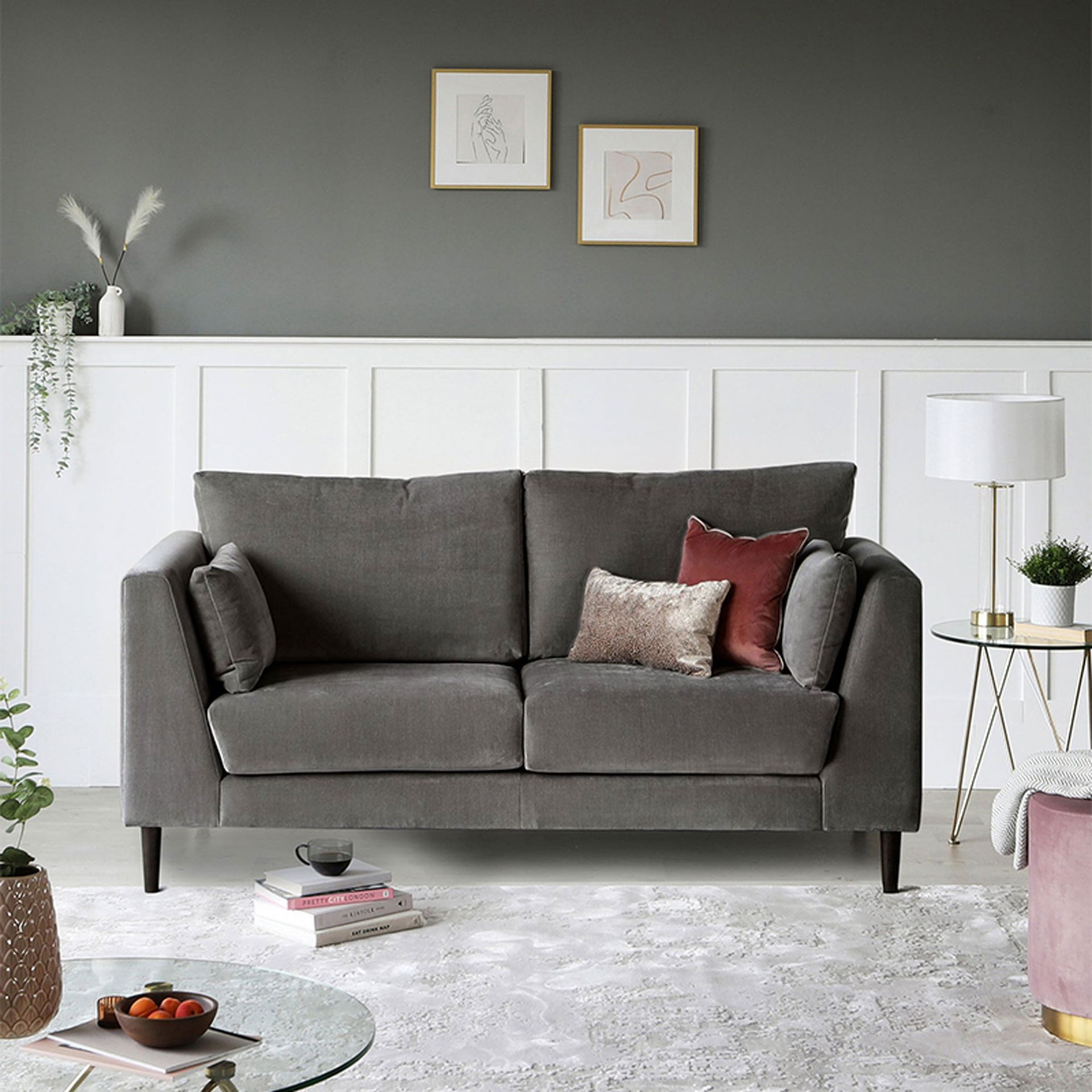 Opting for warm-toned grey walls is a great way of bringing some bolder colour into a cold north-facing living room and is guaranteed to take off the chill and make the space feel cosier. But if wall-to-wall dark grey feels too intense, temper it by bringing in areas of white in equal measure for a more balanced look.
Introduced a living room wall panelling idea with half panels. They look super-stylish and are a practical option too, as it'll protect walls from being knocked and damaged. Painting the top section of wall a darker grey will provide a contrast backdrop that's perfect for showing off artwork, prints or gilt mirrors, while panelling and painting the lower section a soft silky white, will showcase a darker-coloured sofa and make brighter display pieces pop too.
9. Merge background colours for a calm look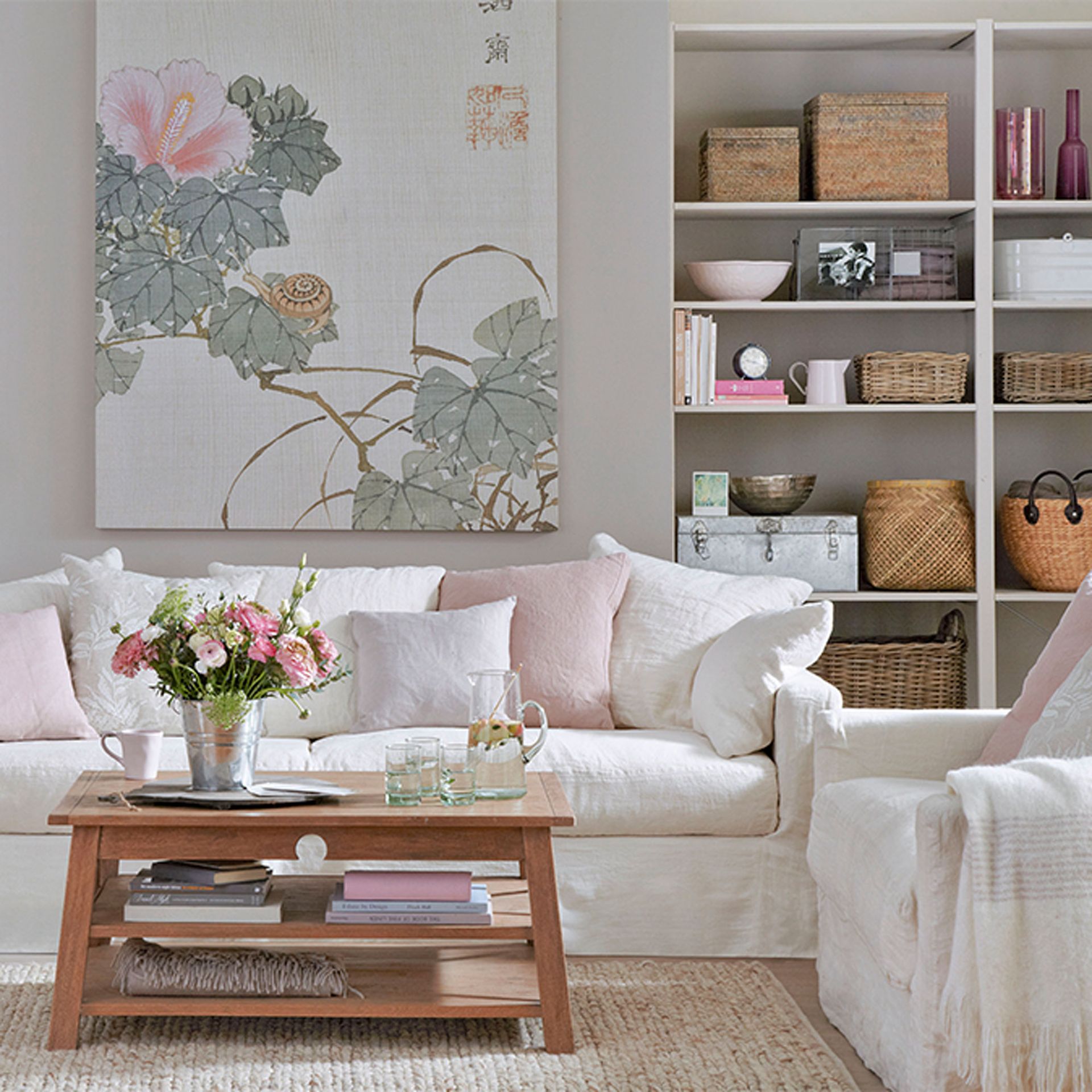 For a more relaxed and muted option to cool grey, consider using 'greige' as a partner to white. With warm undertones that give a restful look, greige makes the perfect background colour and can be easily prettied up by mixing in accents of soft blush pink and sage green.
Paint walls and woodwork throughout to create a calm, cohesive look. Freestanding shelves painted to match walls will blend in seamlessly and take on the look of pricier fitted furniture. While off-white upholstery adds subtle contrast against greige and looks relaxed dressed up with linen cushions. Finish off with a large-scale wall canvas to tie the look together in soothing shades of pink and green.
'Painting skirting boards and window frames to match the wall colour is also a simple but stylish touch for the living room,' says Justyna Korczynska. 'Not only does this create a contemporary, monochromatic look, but it is also an easy way of creating the illusion of bigger walls, making the room as a whole appear more spacious.'
10. Use prints to perk up a plain scheme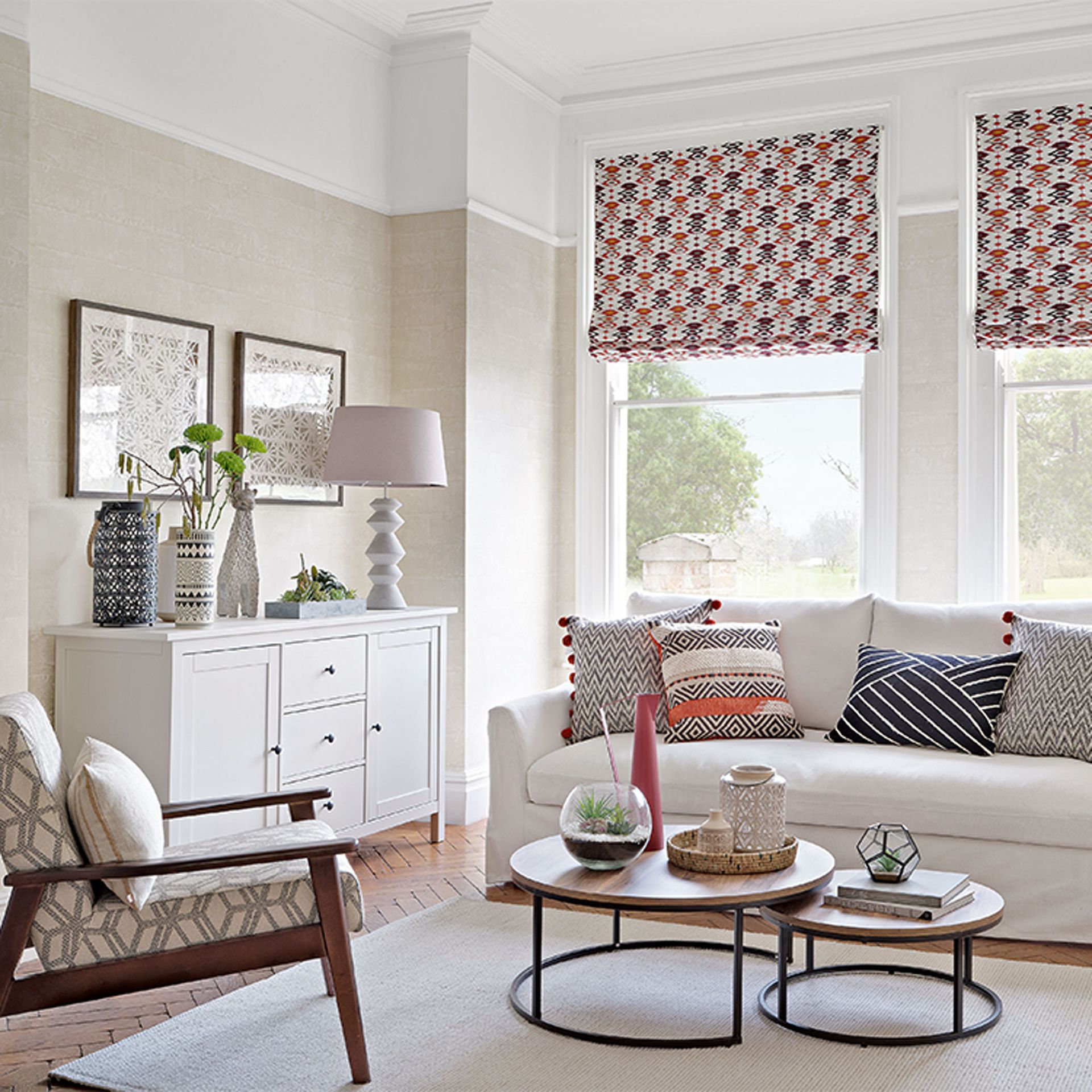 Opting for paler shades of grey and white in a living room will inevitably feel calm and relaxed, but bringing in colour and pattern in small doses will prevent a pale colour scheme from feeling flat and too one dimensional.
Curtains and blinds can be a good place to start if you're not sure how to introduce pattern or colour into your scheme. Choosing a medium-scale pattern, rather than a large or small-scale print, will add just the right amount of visual interest without overpowering the room. Then bring in extra complementary patterns on cushions, artwork, rugs and ceramics to tie the decor together. Mix it up with patterns of medium and small-scale for a lively look, but keep to just a few key colours for a co-ordinated look.
What colours go well with grey and white?
Grey and white fall into the neutrals category, so pretty much any colour can be partnered with them, depending on the look you want to go for. Neutral colours are muted shades that appear to lack colour, but often have underlying hues that change with different lighting. Examples of neutrals, include grey, greige, beige, taupe, stone, brown, black and white, and while you won't find them on a colour wheel, they complement primary and secondary colours. 
For bolder complementary colours that go well with grey and white, consider fiery red, mustard yellow, emerald green or black. These colours are guaranteed to create a scheme with impact. Or take a calmer approach by teaming grey and white with soft pastels, rustic naturals or muted metallics for a more low-key look.
Does wood go with grey and white?
Wood is a natural when it comes to finishes that look great with grey and white and most tones, grains and colourings of wood will work well. Light-toned blonde woods like beech, birch, ash and maple, can create a Scandi vibe and look good in large doses against pale greys or used as accent wood with dark grey and black. Darker woods, such as oak, teak, wenge and mahogany, will add warmth and richness to a scheme and can suit darker greys and a more formal living room scheme.