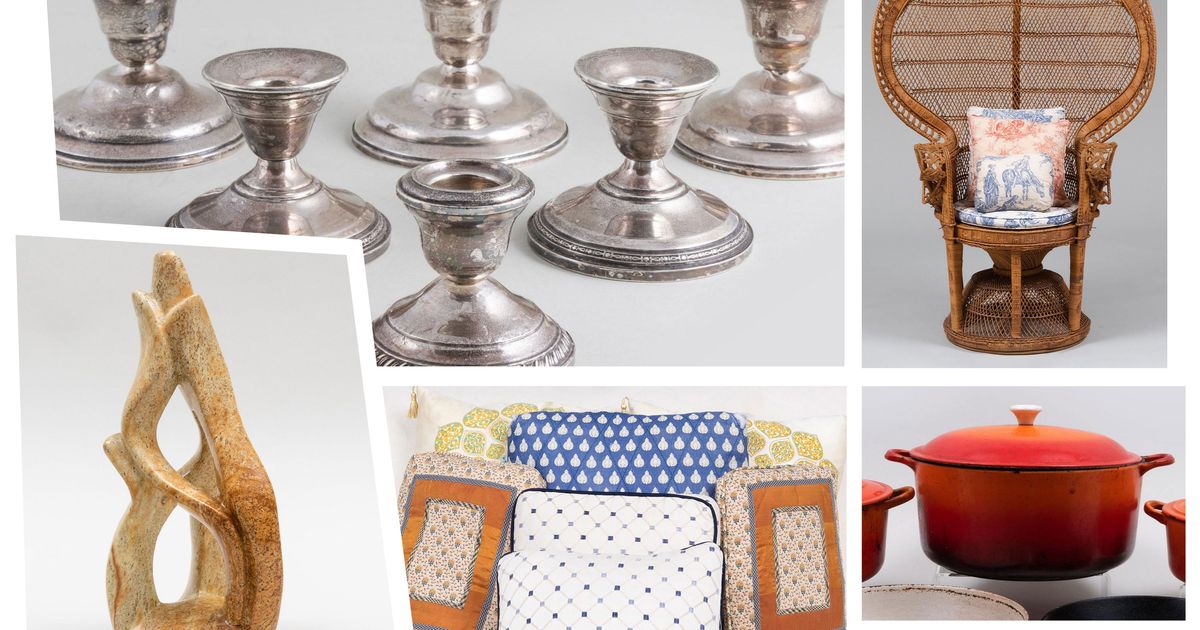 The Best Furniture From Joan Didion's Estate Action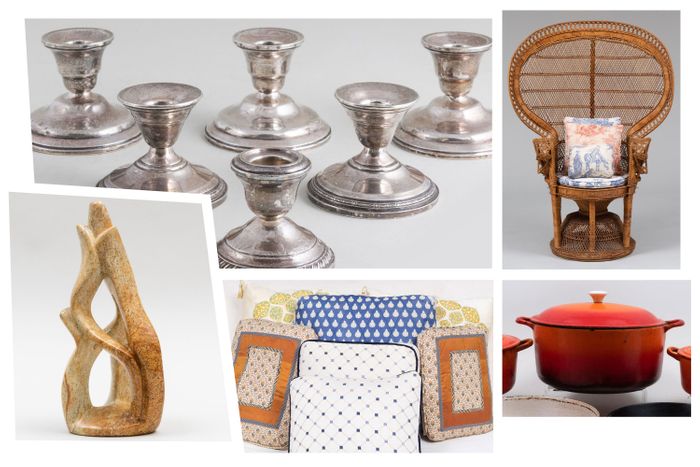 Joan Didion was fastidious about the objects and clothing she kept by her side — those dark sunglasses, that packing list of elemental basics — a sensibility that helped her remain a style icon until her death last year at age 87. None of it was all that extravagant or showy, and a similar philosophy guided her interior design choices. Her home had a lived-in mix of items: Victorian-style chairs, floral-patterned porcelain, and Le Creuset cookware. The most recognizable furniture Didion owned was a rattan Peacock chair, a fairly common piece. But because these things belonged to her, they have acquired the weight of artifacts and are now up for auction at Hudson's Stair Galleries on November 16. The online bidding has already started.
While Didion's artwork is expected to get the most attention — like a Rickard Diebenkorn lithograph starting at $25,000 — her furniture and housewares let us have a closer look at her daily life. In a 1972 Vogue article about her home, Didion described her style as "extremely Malibu," still evident in a pair of white slipcovered sofas (starting bid: $200) and the Peacock chair. But much of Didion's furniture had been in her and her husband John Dunne's families "for generations," she told Vogue. It's evident in the surprisingly Federalist style of some of her furniture and the weathered patina on them; the Limoges porcelain fish service and silver-plated salt cellars in the auction would be right at home on the Upper East Side, where she resided from 1988 until her death. Even if you're not a Didionphile, there are a number of highly covetable, well-made pieces. Curbed is watching the following particularly closely.
Didion's decorative throw pillows — in silk, in cotton, embroidered, in damask and small floral patterns — could be sold today at John Derian.
Didion was food-obsessed, known for throwing elaborate dinner parties and making a parsley salad big enough for 35 people. In The Year of Magical Thinking, she wrote that all she ate after her husband died in 2003 was congee. Would she have made it in one of these Le Creusets? Or perhaps more likely, her borscht or risotto recipes.
While it never went out of style, cane furniture has made a comeback in the last few years. Of course, Didion had a particularly striking piece, with caning in remarkable condition and an upholstered seat.
Much of Didion's housewares is quite decorative, with delicate patterns and feminine silhouettes, like this lovely powder-pink glass dessert set.
Historians believe the Peacock chair originated from a prison crafts program in the Philippines, but it was the Bay Area retailer Cost Plus and 1960s counterculture — of the Slouching Toward Bethlehem era — that helped popularize the furniture. It must have been a beloved piece since it moved cross-country with her: Dunne is photographed sitting in the chair at the dining table in 1972, and Didion sat for a portrait in it in 2003.
It might not be as stylish as an Italian leather sofa, but the slipcovered couch is practical and has had a recent revival. Didion furnished her Malibu and Upper East Side homes with them, proving that if you keep something long enough, it's bound to come back in style.
It's hard to say exactly what this untitled, unmarked piece is supposed to represent. But isn't that what makes a good conversation piece? This is the ultimate status ceramic.
Among the more affordable pieces in the auction are these petite sterling silver candlesticks.
The black-framed rush chairs painted with flowers appear to be the same seats that Didion and Dunne had in their Malibu house, but the table is slightly different. Vogue mentioned that they dined at a Federal-style drop-leaf table once owned by Dunne's great-great-grandmother. Perhaps this table, which is missing two leaves, is what was in their California home.
At just 39 inches wide, this writing desk with brass pulls and a rolltop to hide clutter is sized just right for a makeshift home office.