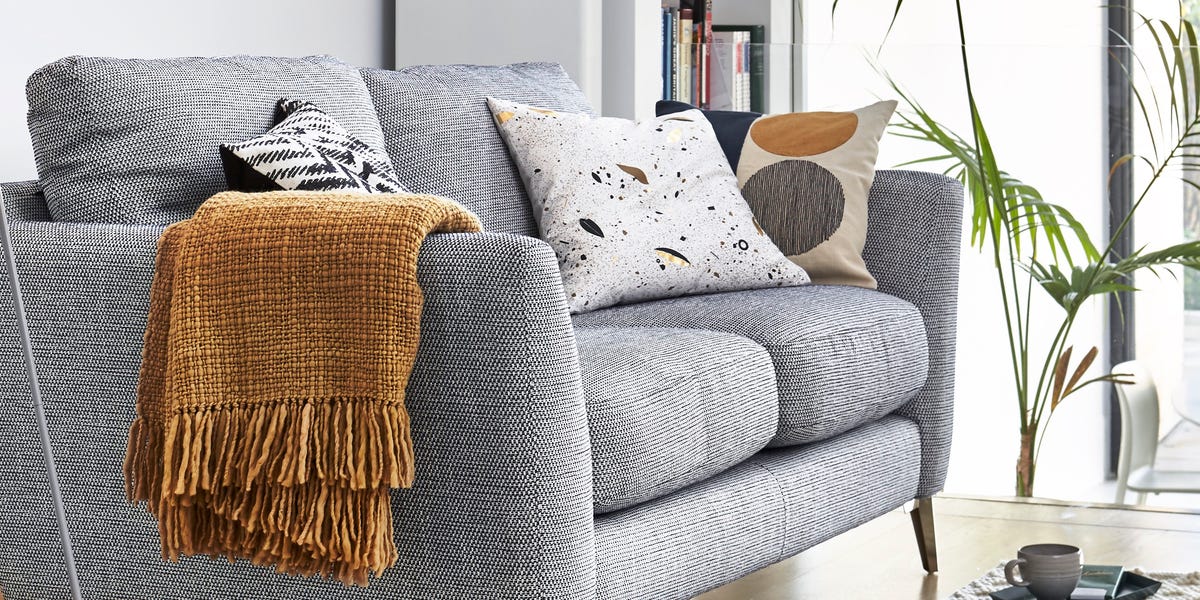 Sofa Throws – 15 Stylish And Ultra Cosy Throws For Sofas
If you're looking for a speedy way to update your living room, upgrading your soft furnishings with a brand new sofa throw is an ultra-quick fix. With a huge range available – including fleece throws, cotton throws and wool throws – there's a sofa throw to suit every interior and budget.
Throws for sofas are super versatile and a must-have homeware staple. A sofa throw will protect your furniture from spills and pet hair and is also a cosy way to snuggle up. Better still, the way a new sofa throw is styled can completely transform the look of a room by adding texture and visual depth, not to mention, extra colour and pattern, too.
Beth Travers, Founder and Creative Director at Bobo1352, agrees: 'When it comes to your interiors it's the final touches that really pull the space together to give it that homely feel; this stretches across art, vignette styling and your soft accessories. It's all about the textures and feels.
'You can have the most beautiful sofa in the world but it's the styling that makes it pop. The expertly chosen accessories can really make it sing.'
What colour sofa throw should I pick?
The great thing about sofa throws is that they're a quick and easy way to update your living room – not to mention, non-permanent! This means you can switch the colour of your sofa throw as much as your mood dictates. Franck Jehanne & Brijesh Patel, Founders at lifestyle accessories brand, Heating & Plumbing London, suggest getting playful with the colour you choose: 'For a neutral sofa, we would recommend a splash of colour. This will lift the room instantly and when you get bored with that colour it's a lot cheaper to replace a throw than a full sofa.
'Dark sofas in a darkly decorated room look fabulous with grey tones. If your sofa has seen better days, the easiest way to upgrade it is by picking a throw with abstract patterns or vibrant colours, this will give it a lively kick.'
What material should I choose for my sofa throw?
When it comes to choosing the material of your throw it's important to consider its intended purpose, seasonality, as well as your lifestyle. Are you investing in a large sofa throw to protect or cover your sofa, or do you plan to snuggle up underneath it? Will you use the same throw year-round or change it up depending on the weather and season?
'A lighter throw is perfect for the summer months, whilst a cotton mix is perfect for winter,' says Suzy McMahon, Buyer at Sofology.
A wool sofa throw is going to keep you cosy in winter and is super hard-wearing too, whilst a lightweight woven throw is perfect when temperatures pick up. Fleece throws are a luxurious way to dress up your sofa and the perfect choice in the coldest months. Budget-friendly throws made from acrylic are not only cheap but easy to wash and change, making them a great option if you're protecting your sofa from pets or children.
Keep reading to browse our favourite sofa throws.
1
The Cream Sofa Throw
Diamond Knit Sofa Throw
This sophisticated textured throw features an elegant diamond weave. Pair with other soft furnishings in neutral tones for a cohesive yet understated look.
2
The Cotton Sofa Throw
Lilo Cotton Stripe Throw in Blue
housebeautiful.co.uk
£25.00
Featuring a timeless striped design and woven from cotton, this tasselled throw is perfect for adding subtle texture and colour to a room. It's also available in a blush and taupe.
3
The Herringbone Sofa Throw
Herringbone Throw
M&S Collection
marksandspencer.com
£19.50
This yellow sofa throw is woven in a sunny shade and finished with playful white tassels. It's stylish and still incredibly cosy.
4
The Geometric Sofa Throw
Geo Throw – Blossom & Mist
House Beautiful
Homebase
£29.00
A geometric print with a tassel edge in a soft pink, this fabulous sofa throw is sure to make a statement. It pairs well with grey or green sofas.
5
The Wool Sofa Throw
The Tartan Blanket Co. Check-Print Throw
anthropologie.com
£62.00
This colourful, bold checked pattern is sure to lift your spirits. Woven from pure lambswool, it's finished with coordinating tassels for a cohesive look.
6
The Green Sofa Throw
Arai Green Jacquard Throw
A sage jacquard design stands out against the deeper green background of this contemporary sofa throw. We love the contrasting cream tassels, which add an extra special finish.
7
The Grey Sofa Throw
Alaska Houndstooth Throw in Grey and Cream
housebeautiful.co.uk
£29.00
Neutral tones and a timeless houndstooth pattern make this cosy throw the perfect match for any contemporary interior. We love the textured finish and tassel detailing.
8
The Abstract Sofa Throw
Lyme Grass Throw – Red
Elvang Denmark
amara.com
£89.00
This rusty red sofa throw features off-white fringed edging and an abstract stripe design – it's uber-cool, contemporary, and will elevate a neutral sofa in an instant.
9
The Luxury Sofa Throw
Super-Soft Faux-Fur Throw
thewhitecompany.com
£2,022.00
For a truly sumptuous look, invest in a faux fur sofa throw. This plush design is ultra-thick, ultra-cosy and oh-so-soft. It's available in several neutral colourways.
10
The Wool Sofa Throw
Woolroom Busy Bee Pure New Wool Throw
One for bee and nature lovers, this lovely sofa throw was designed by children at St Mary's High School in Chesterfield. With an all-over bee print, this super soft, cosy throw is a definite hit.
11
The Woven Sofa Throw
Makele Cotton Woven Throw
Playful stripes give this woven sofa throw a bold look, ideal for adding visual interest to your sofa. The combination of colours is guaranteed to brighten up your space.
12
The Large Sofa Throw
Cotton Flex Woven Throw
This Dunelm sofa throw is perfect for cosying up with. At 180cm x 130cm in diameter, it's ideal for covering larger sofas and armchairs.
13
The Herringbone Sofa Throw
Pure New Wool Blanket
heating-and-plumbing.com
£89.00
Being crafted from pure wool means this timeless throw is cosy as can be. The traditional herringbone weave and bold colourway make this a throw guaranteed to stand out. It's finished with a little extra brushing to make it even softer.
14
The IKEA Sofa Throw
Gurli Sofa Throw
If you're on the hunt for a budget-friendly sofa throw, you can do no better than this versatile design from IKEA. It's available in several stylish shades and is machine washable for easy upkeep.
15
The Fleece Sofa Throw
Aspen Camel Throw
It doesn't get much cosier than this super soft fleece throw, a great addition to your sofa in the colder months. We love the rich brown tone and luxurious texture.
This content is created and maintained by a third party, and imported onto this page to help users provide their email addresses. You may be able to find more information about this and similar content at piano.io