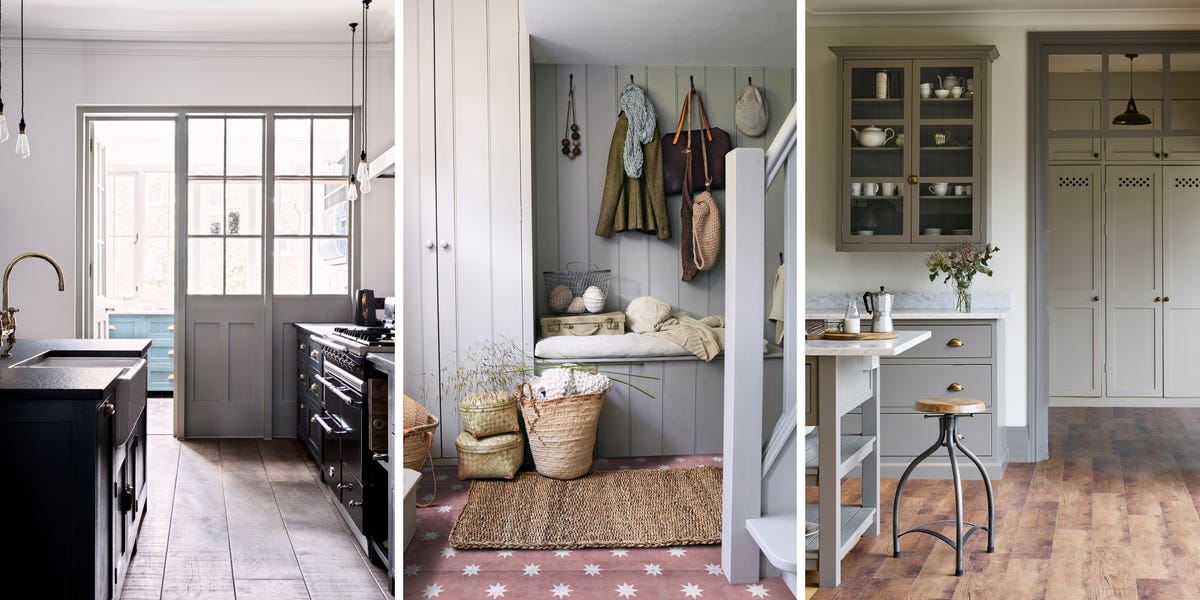 Kitchen Flooring Ideas For 2023: Tip From The Experts
The biggest trend of all in kitchen flooring in 2023 will be practical and affordable alternatives to expensive and hard-to-maintain kitchen classics, such as real wood and stone.
Residential architect George Omalianakis at GOAStudio is a huge fan of the porcelain equivalents which can look almost identical to the real thing. "For example, solid and engineered wood flooring would give you similar aesthetics but with none of the durability and longevity of good-quality porcelain," he says.
Michele Rodriguez-Wise, co-founder of Cheltenham-based interior design studio, L'una Design agrees: "Thanks to the advancement of technology, these amazing products can look identical to the real materials, such as marble, stone, wood and concrete. But they are much more hard-wearing and much easier to maintain, and the choice is endless."
If you're designing a kitchen from scratch or replacing an existing kitchen, flooring is unlikely to be the first thing you pick out, says Andy Briggs, interior designer at Optiplan Kitchens.
"But getting the flooring right is pivotal to the look and feel of any room," he says. "It's one of the more expensive investments in the décor, one of the pieces you will change the least and one that will cause the biggest upheaval – so making the best choice for your home and lifestyle is important from the outset."
1. Concrete-effect porcelain

Whilst low-maintenance polished concrete is still a highly-favoured choice for an authentic aged or industrial feel, it can be expensive and difficult to lay.
Concrete flooring is likely to become an even bigger trend as we move into 2023, predicts Jo Oliver, director at The Stone & Ceramic Warehouse. However, porcelain concrete-effect floor tiles are far more practical and easier to install than poured cement and come in a variety of sizes, styles, and colours, Jo says: "Porcelain tiles are very easy to maintain and won't stain, scratch, wear or crack, as can be the case with real concrete floors. They are available in a spectrum from pale neutral tones to deeper greys and almost black. Some ranges have a very soft subtle concrete look, whereas others emulate an unfinished poured concrete effect for a more industrial style."
2. Wood

Real or engineered wood, is still going to be a favourite for the more minimalist or Scandi-style kitchens, says Andy Briggs: "Wood can be laid in a huge array of patterns to add simplicity or fun to any space. Patterns like herringbone and chevron work great with more classic homes, whereas long planks look effortless with more modern, open spaces."
Be careful when looking at wood for kitchen flooring warns Amina Kamara, Chelsea showroom manager for Havwoods: "Real wood flooring is not the most practical of floors to use in a wet or humid environment, so at Havwoods we wouldn't necessarily recommend it as a first choice. However, if you were set on introducing wood into the kitchen then an engineered board is the best option as opposed to a solid wood plank."
Robert Walsh, founder of Ted Todd, specialising in engineered and solid wood floors has seen a push for white and light-coloured wood flooring at the moment and believes this is a trend that is set to stay in 2023: "Lighter flooring allows light to bounce around a room, which can make rooms feel bigger and brighter. White, grey and light flooring pairs well with a range of styles and cabinetry colours, especially with the dark kitchen trend that's popular at the moment."
Another trend Amina Kamara says to look out for is wood flooring being used to create 'zoning', where separate areas are given distinct dividing features. In an open-plan kitchen/dining space, for example, wood flooring could be used for the dining area, whilst an easier to clean flooring was chosen for the working areas of the kitchen.
3. Reclaimed wood

This content is imported from Instagram. You may be able to find the same content in another format, or you may be able to find more information, at their web site.
The rise of softer tones reflecting the great outdoors is leading to an increased demand for more natural flooring choices offering a nicely rustic colour palette, such as reclaimed wood, says Alex Main, director of kitchens and flooring company, The Main Company: "Whether it's a dark, earthy brown Douglas Fir board or a sandy-coloured heritage oak, there is something to suit any kitchen style from modern to traditional. Not only does this provide a charming aesthetic, it allows homeowners to embrace natural materials whilst being environmentally conscious."
If you're keen on natural materials, you might also like to look at cork, suggests Sam Way, buyer, hard flooring, at Carpetright: "It has become a hugely popular environmentally-friendly material, and the ideal sustainable floor covering. This biodegradable and fully recyclable material is light, resilient and boasts great sound and thermal insulation."
4. Wood-effect porcelain tiles

George Omalianakis is a fan of wood-effect porcelain tiles because they combine the natural textures, colours, grain and warmth of wood flooring and the ease of cleaning: "You really cannot tell it is not wood unless you know, and more and more people find that such tiles have just the right balance between country aesthetics and the hardwearing qualities flooring needs when it comes to family life."
Porcelain tiles score another plus because they are perfect to use with underfloor heating. They are also pretty indestructible – if a tile is cracked or damaged it is relatively easy to pull it out and replace it.
If you want wood-effect porcelain tiles to look their best and perform well under the daily pressure of a busy kitchen, George says that it always pays to use a professional to achieve the best-possible finish.
"My top tip is to explore ways to lay these tiles as you would lay wood flooring. You can lay them straight or in herringbone or chevron patterns," he adds. "But be careful with the selection of each tile to match the width and length of typical solid wood or engineered flooring dimensions. The final look will create an instant feature and give character across the kitchen."
5. Patterned tiles

Patterned tiles are a fantastic way to project some fun, make a statement and add personality to your kitchen. And 2023 looks like it could turn out to be a riot, with every kind of pattern, from geometric shapes to colourful Mediterranean styles coming forward as favourites already.
Style-wise, tiles can be printed or embossed in numerous ways and solid floor tiles can be mixed and matched in patterns and colours.
"Patterned tiles offer a contemporary and versatile kitchen flooring option," says Andy Briggs. "They offer complete versatility. You can make your floor compliment the rest of the room or be the focal feature." You might match floor tiles with wall tiling and splash backs, for example, or chose a contrast – or checkerboard, another rising trend – to make a strong design statement.
"Tiles are ideal for the kitchen, from a practical and a visual perspective," says Ben Bryden, sales and marketing director at RAK Ceramics UK: "Practically, ceramic or porcelain tiles are so easy to look after, spillages and muddy footprints can be wiped clean away and a mop over with a mild cleaning agent and some warm water will bring them up shiny clean."
As well as being easy to keep clean, patterned tiles are another obvious choice if you're going for underfloor heating.
And for a quick fix, says colour and paint expert Annie Sloan, you can paint your existing floor tiles with specially-formulated floor paint: "Painting floor tiles is a simple and cost-effective way to add pattern. Anyone can paint tiles, the only skill you need is patience. Geometric shapes look fabulous and are easy-peasy to create. Bowls, plates, use them as templates and you don't need anything more complicated than that to create a pattern that packs a punch."
6. Vinyl
If you're looking for a practical, hard-wearing and inexpensive kitchen flooring choice, you can't go wrong with good old vinyl – and 2023 will see more choices coming onto the market as homeowners look for ways to achieve style on a budget.
"Hard flooring styles, such as vinyl, remain popular choices due to their durability and cost-effectiveness," says Sam Way. "Not only is this solution highly-durable, it can also help to transform a space and make a design statement in the kitchen without a large investment. Additionally, these styles are particularly easy to maintain, offering a visible level of cleanliness and satisfaction with a light sweep and mop."
If you want your vinyl kitchen flooring to look a million dollars, it's a good idea to carefully select a style and colour that fits with your overall design palette, whether that's monochromatic, tonal or a complementary combination.
"Sleek, dark-coloured flooring paired with white cabinetry remains on trend for 2023 as a contemporary monochrome look," says Sam, "Whilst lighter flooring creates a more rustic look."
7. Modern parquet

This content is imported from Instagram. You may be able to find the same content in another format, or you may be able to find more information, at their web site.
If you thought elegant parquet was an impractical choice for kitchens, think again. "We expect to see more traditional flooring styles being chosen for kitchens in 2023, such as parquet flooring to add depth and character, whether to interiors schemes featuring cooler, desaturated shades or rich, deep colours," says Karen Wilding at Forbo Flooring Systems.
"Although parquet flooring was seen as an expensive luxury during the Edwardian era and the 1930s, this is no longer the case. Thanks to technological advances, luxury vinyl tiles (LVT) can now enable you to replicate the intricate patterns of parquet flooring at a fraction of the cost, compared to its real counterpart."
LVT parquet-effect flooring is available in a range of realistic embossed wood effects, such as oak and pine, which feature natural colour variations, and a variety of colours, from light timber and white oak s to deeper hues, such as rustic anthracite grey and chocolate oak.
8. Terrazzo
This fascinating composite material, which typically combines chips of marble, quartz and glass with cement or resin to create a decorative speckled effect, really took off in 2022 and will gain more fans this year.
Whilst it's the more expensive end of the kitchen flooring scale, it's a very contemporary choice and adds interest and texture to your flooring and offering a contemporary feel. Andy Briggs says: "Terrazzo not only adds decorative depth to your design but you might be surprised to learn that it is also extremely robust and easy to clean, making it an excellent option for kitchen floors."
9. Runners

As long as you ensure it is securely fixed to the floor with carpet tape for safety, a runner will add comfort and colour to any kitchen and chimes with 2023's trend for tactile materials.
"Choose a striped runner, because stripes add visual interest to the floor," says Jon Flannigan, product manager at home retailer Kersaint Cobb "And for rooms tight on space, linear stripes in the form of Moroccan runners can help to elongate the appearance of a room; this is especially effective in galley style kitchens.
"Striped flooring is also ideal in busy family kitchens as it will withstand the effects of dirt and day-to-day wear. A playful striped runner can provide an attractive focal point and is an ideal way to experiment with bold and vibrant pattern on a smaller scale."
---