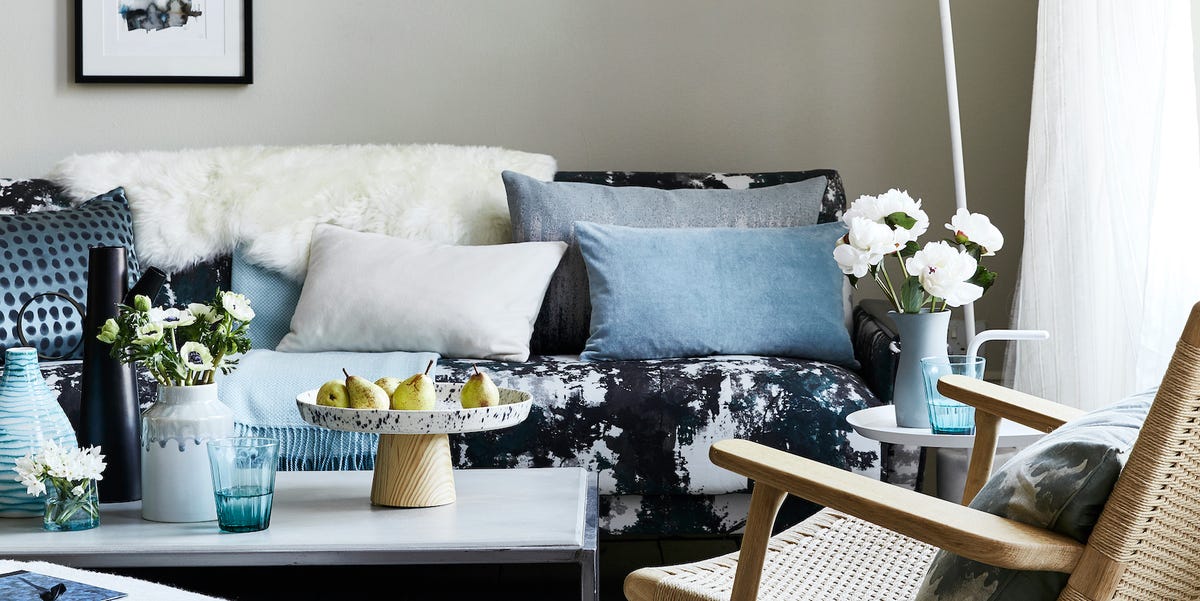 How To Make Your New House Feel Like Home
Settling into a new house can feel like a daunting task, and with DIY, decorating and organising to get sorted, it's often tricky knowing where to start, especially if you're a first-time buyer or renter.
The experts from My Bespoke Room have shared some advice for getting a homely feel just right in a new house. 'Remember, decorating your first home is supposed to be a fun process, take time to decide what style you like,' says Lucy Henderson, Head of Interior Design at My Bespoke Room. 'If you can take the time to settle into your space before designing or redesigning your home, then you'll be able to see how the space actually works for you and work out what is actually needed. This can save you rushing into buying lots of items that are too big, too small, or just aren't needed.'
Before anything, do a deep clean and keep boxes in one room
When moving house, it's tempting to unpack straight away, but with all your possessions in boxes, it's the perfect opportunity to get stuck in and give your new home a really thorough clean without having to move things out of the way.
Unpacking everything all at once can also make the space feel chaotic and claustrophobic, especially if there are chores that need to be done before you settle in. Be selective about what you need to unpack, and if you can, have a designated room that you can confine clutter to and close the door on it while you get sorted.
A fresh and clean home will also allow you to identify any problem areas that need a little DIY magic and let you see the space with new eyes. Rope in friends and family and you'll be done before you know it!
Don't limit yourself in terms of style
Knowing exactly how you want your home to look can be tricky, especially as there's so much to choose from and an abundance of inspiration on Pinterest and Instagram, for example. But if you have a personal aesthetic and want your home to match it, you may end up pigeonholing yourself into just one style.
Remember, you don't need to rush any design decisions. It's what some call slow decorating. In fact, we think it's important to spend time in your new home before committing to any changes – how else will you choose what works best for your space? Start by creating a Pinterest board – soon you will start to notice particular styles, colours and themes emerging. Start to build various moodboards and look at what will work for your space.
Prioritise the bedroom and living room
With moving, cleaning and decorating on the agenda, you're bound to need some downtime, so prioritise your bedroom and you'll have a space to escape to, away from the chaos of unpacking and organising.
Next on the agenda should be the living room, as you're bound to have guests eager to see your new home. Living rooms are also versatile spaces, so once you get it sorted, you'll have a place to relax, work and entertain.
As tempting as a bathroom or kitchen renovation may be, wait until you're settled – it's bad enough living out of boxes, never mind not having somewhere to cook or wash.
Small changes have big impacts
Don't underestimate the impact small and cost-friendly changes can make to your interior. A room can be transformed with simple changes, such as new décor and a fresh lick of paint.
Rugs are a quick fix and much cheaper than replacing flooring. Not only do they add depth and texture, but they can hide scuff marks from the previous owners and stop rooms from feeling echoey and cold.
We talk a lot about bringing the outside in and greenery is an easy way of making a room feel much more homely. Choose tall leafy plants to fill up empty corners, and smaller houseplants for dressing up windowsills and mantelpieces. When it comes to soft furnishings, think about floral and botanical-inspired prints to bring a touch of nature inside.
We also recommend investing in your favourite scented candle – the smell will instantly make your house feel like a home, and the warming glow will cosy things up.
Consider your colour scheme
We all know that colour can affect our mood, so it's important to align wall colours with the purpose of a room. Subtle shades of blue and green have soothing qualities, making them perfect for bedrooms, offices and living rooms – anywhere you want to wind down or concentrate, really. They also hint at the natural world and have a biophilic quality, ideal for those of us who like to feel connected to the outdoors.
In cosy spaces, such as a snug, darker hues can provide a feeling of depth and make the space feel inviting. This is especially true if you pair a rich wall colour with luxurious fabrics and textures.
In areas of the home where you need to feel energised, bright pops of colour draw the eye and help us feel motivated. Bright white is also helpful as it reflects light and makes us feel more awake – ideal for kitchens and hallways.
Don't rush into big purchases
Whatever you do, don't rush into any new purchases; this goes for both cheaper choices and investment pieces. Not only could it be an expensive mistake if you change your mind about the look and feel of your home once you've settled in, but 'fast furnishing' is bad for the environment if it ends up in a landfill in a matter of months.
Comparing your options and re-evaluating what items are most important to you will save you time, energy and money in the long run (even if it doesn't give you the instant gratification of a spontaneous purchase). A sofa or bed should be high-quality investment pieces worth you splurging on, but what other furniture can be sourced more cheaply?
Second-hand platforms such as eBay and Facebook Marketplace are great places to find bargain homeware and furniture, as are car boot sales and charity shops. It's also worthwhile checking in with friends or family to see if they have any pieces they're keen to part with. Even tired furniture can be given a new lease of life with a little TLC, and thanks to guides on Youtube, upcycling homeware has never been easier!
Create the illusion of luxury
When it comes to interiors, it's all in the detail. Simple homeware swaps are key to creating an interior that feels a little bit more special and luxurious. They don't have to be expensive upgrades, either. Small details can really transform a house into a home.
Cost-effective upgrades can be as simple as swapping the hardware on doors and cabinetry for more luxurious options, painting your bedside table a new colour, or opting for bed linen in natural fibres such as cotton or linen. You can also replace dated light fittings and upgrade your lampshades for an opulent look.
In fact, we've got an entire guide on nailing the 'limitless luxe' trend at home, with tips on elevating your interior with minimal fuss.
Location, location, location (furniture-wise, that is)
The way you position furniture can make a huge impact on the feel of your space, which is hard to picture before you unpack. One useful tip is to use masking tape or boxes to explore layouts before buying bulky pieces of furniture, that way, there'll be no post-purchase regrets.
Consider the flow of the room and how you would naturally move about it – is it a high-traffic space or will it be occupied by one person at a time? Think about whether your layout will block light or help the room feel airy; the selection of furniture is essential in small spaces.
Follow House Beautiful on Instagram.