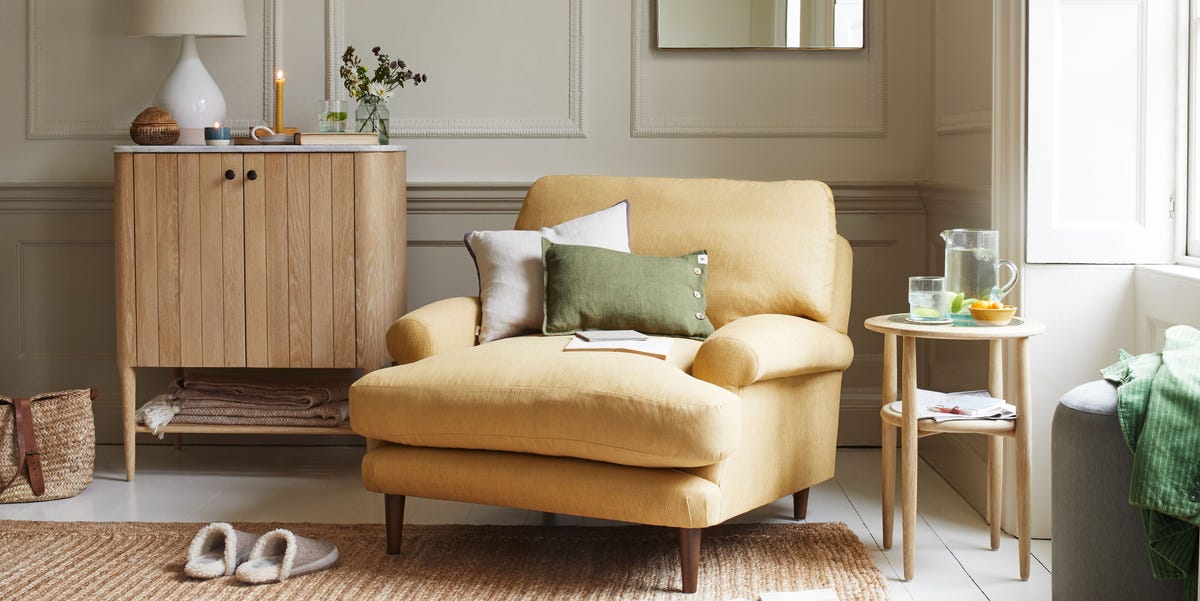 How To January-Proof Your Home: 7 Decorating Tips
An anti-climax to the excess and excitement of the festive period, it can feel as though there is little to look forward to in January. Grey, cold weather makes us feel utterly uninspired, and we end up spending a sizeable chunk of our time at home. But it's not all bad – after all, there's nothing wrong with being at home if you love the space you're in.
There's plenty you can do to improve your interior and make it feel like a comforting escape from the rest of the world–- much of it is fuss-free or easy to achieve. Interested? You're in luck. Amy Wilson, an interior designer for 247 Curtains, has shared her favourite ways to make your home a cosy, January-proof sanctuary.
---
If there's one thing we don't get enough of in winter, it's light. A warming glow is sure to soothe the senses, whether it's from lamps, candles, or overhead lights. To make things as easy as possible, you can even utilise your festive set-up to make it perfect for January.
'I'd advise you to keep the fairy lights in place for the remainder of these dark, cold winter months,' Amy suggests. 'That special, twinkly glow does not need to be kept exclusively for the festive season. Instead, let them continue to cosy up your home.'
Curtains don't only block light, they also provide a physical barrier from the outside world which makes us feel sheltered and safe. Not to mention, protecting us from chilly drafts.
'Possibly the most effective way to instantly cosy up a space and create a sense of calm is to add an additional window dressing,' explains Amy. 'If your home currently has blinds at the windows, try adding some full-length curtains that will help to frame the window, as well as provide a further layer for warmth.'
When the weather is cold opt for curtains in rich fabrics, such as wool or velvet. A voile panel or frosted glass behind will maintain your privacy when the curtains are pulled back. As spring creeps in, you can switch heavier styles out for more lightweight options – cotton is a popular choice and it will keep your space feeling airy.
Layering texture is key to bringing a space together and adding depth. Not only will this prevent the room from looking too flat, but it will also help you to feel cocooned and settled. The tactile aspect invites touch and maintains a laidback atmosphere in your space.
Amy explains: 'Think thick blankets, sheepskin rugs, and shaggy cushions to give you something to snuggle into as you get cosy on the sofa. Not only does this look great from an interior perspective, but it also has practical benefits whilst the weather remains crisp and cold.'
Steer clear of stark or austere shades and boost your mood by incorporating rich, warming hues to your interior. Deep shades have a cosy, inviting appeal and are the perfect choice when your aim is to create a snug space to relax in.
Amy predicts: 'A big interior trend for 2023 will be playing around with much warmer, richer shades such as terracotta and burnt orange hues. This could be the perfect way to create a more inviting, warm atmosphere, particularly in the main hubs of the home such as the living room.
'Warm tones are often said to be a great method for boosting spirits too, helping to emulate a sense of sunlight in these darker months. These tones can feel quite daring, so I advise using them sparingly, focusing on areas of interest such as alcoves or ceilings – which will help create a cocooning effect.'
Greenery is always a welcome addition to any home, particularly when the weather outside is less than appealing. Whether you choose houseplants or give your walls a fresh lick of paint, green shades help us to feel both calm and grounded.
Amy says: 'Whether that be through paint, plants or accessories, green is a must when looking for ways to give your home an extra touch of positivity. Botanical prints are also a good option and bring a sense of tranquillity, whilst also giving the illusion of added texture to the walls.
'Green also works beautifully in all corners of the home and is a very versatile interior choice, making it a good long-lasting option if you're looking to make some larger design changes this year.'
If tucking yourself up with a good book is your idea of a good time, an inviting corner is a must-have in your home. Big or small – it doesn't matter – you just need to find a peaceful area that can be dedicated to all-important downtime. The aim is to find tranquillity and comfort, away from the hustle and bustle of everyday life.
Amy suggests dedicating a specific area of your home to wellbeing: 'This space could be a corner in your bedroom, a window seat or, if you are lucky enough to have a spare bedroom, this would work well too. Keep this quiet nook for those moments where you require a little time out away from screens or other distractions.'
Fill your calming corner with plenty of soft furnishings and gentle lighting, and most important of all, a really (really) comfy chair.
Scent plays a powerful part in dictating our emotions, especially within the home. Whether you love candles or choose to use diffusers, opt for fragrances that elicit positive reactions, whether it's a sense of relaxation or one of energy.
Amy explains: 'With scent being commonly associated with mood, adding a new fragrance candle or room diffuser is a great, and cost-efficient way to elevate the space. Opt for fresh and clean smells such as eucalyptus, basil or lavender which will work to instantly calm the senses as you enter the room.
'A good tip is to ensure you have a different scent in your relaxing areas to your home working areas if you work at home. This will help to separate the two and encourage true rest in your living spaces.'