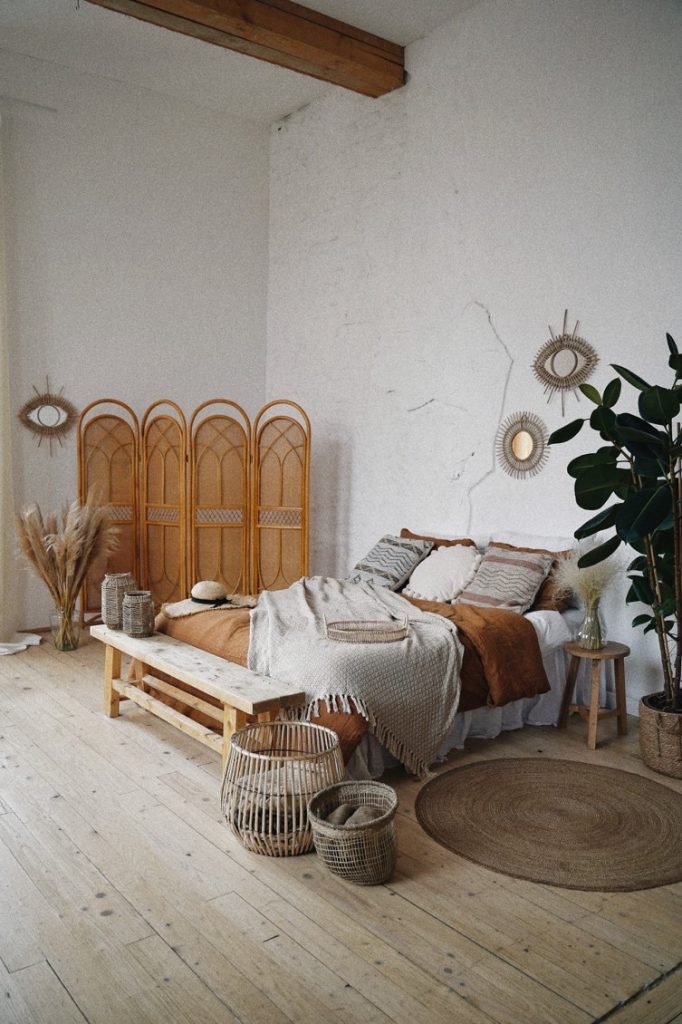 How to Create a Luxurious and Relaxing Primary Bedroom
Many homeowners de-prioritize the design of their primary bedroom in favor of more communal spaces like the kitchen or living room. But the primary bedroom has the power to give you an experience of relaxation and luxury within your own home, and it's important to decorate it with intention and care. In this article, we'll cover ten ways that you can approach your bedroom interior design to make the most relaxing space possible.
Keep a neutral color palette
By incorporating cream, clay, sage, and stone-grey tones, you'll be able to establish a calming atmosphere that enables relaxation, sleep, and slow mornings. Avoid bright, dominating, or overly dark colors that may set a specific mood or high-energy feel. Keep your walls, curtains, and sheets within the calming color palette, and feel free to add pops of color in other areas, like a small decoration, a chair, or a photograph hanging on the wall.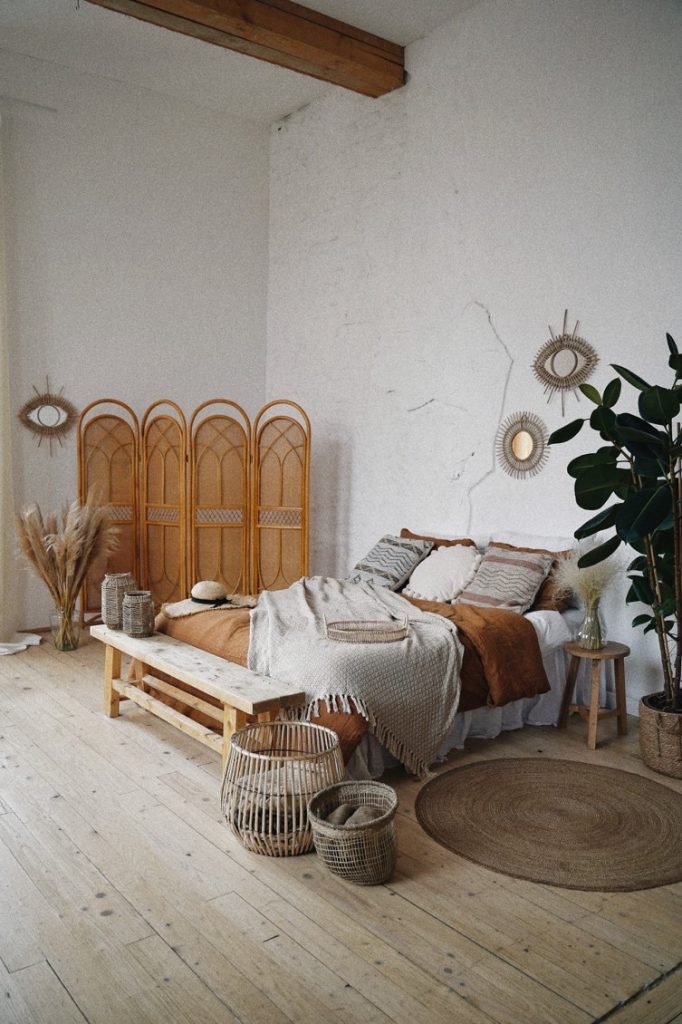 Photo credit: shche_team
Incorporate high-quality textile pieces
The quality of your bed sheets, blankets, pillows, quilts, and curtains can elevate the luxurious feel within your primary bedroom. By investing in high-quality items, you will create a space that is the pinnacle of comfort and rest by engaging the senses. Throw pillows made of cottons or linens make for excellent accents, as well, as they bring in splashes of style and can add variety to the range of textiles in your space.
Center your space around a single focal point
Even if you're avoiding making the space busy or chaotic, it is possible to add bold statement items. The key is to center your look around a singular piece. For example, you may choose to incorporate a distinct retro dresser, a large work of pop art hanging over the bed, a blocky headboard, or a statement chair. Any of these items can bring personality and elevated design to the space, the trick is keeping it simple enough to maintain a sense of calm and tranquility.
Install lighting options
Your primary bedroom will need to serve a few purposes, including sleeping, getting dressed, reading, or taking the occasional afternoon nap. This means you'll need an extensive range of lighting options to suit each discrete activity. Install lamps and sconces to make the most of soft lighting that you can adjust to be brighter when you are getting dressed or styling your hair, and then softer as you prepare to go to sleep.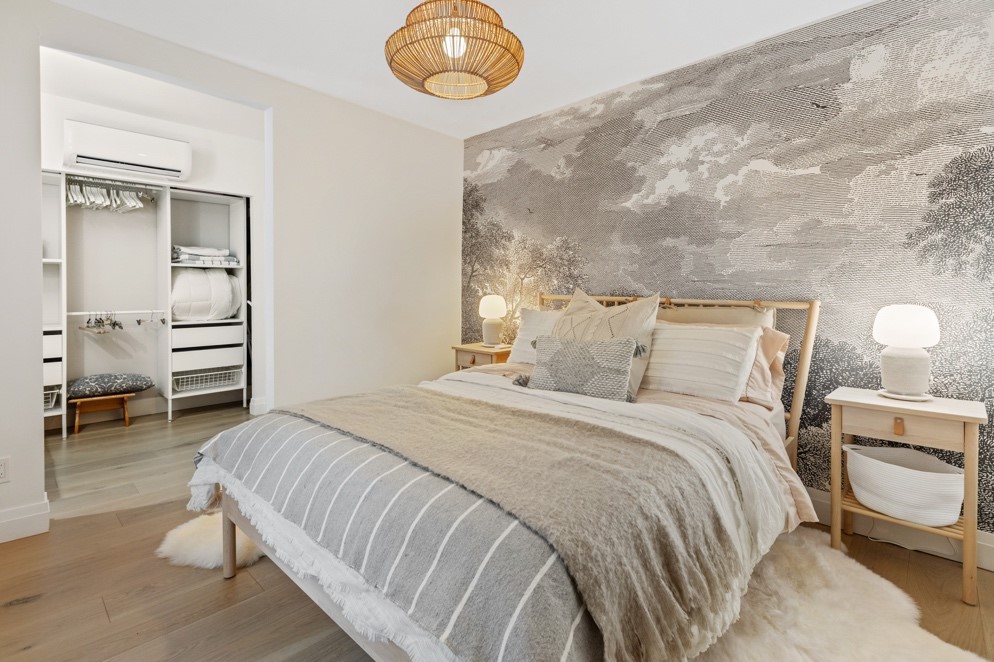 Photo credit: Point3D Commercial Imaging Ltd.
Add other comfortable furniture
To make the most of the relaxing potential of your primary bedroom, incorporate other pieces of comfortable furniture like a small couch under the window, a recliner chair in the corner, or a velvet bench at the foot of the bed. Giving yourself the option to sit or recline in spaces other than your bed will make your room the ultimate center of tranquility.
Layer textures
As you aim to keep the space relatively simple and neutral, one way to play with details is through texture. This can be achieved by mixing various quilts, pillows, and curtains, or even textured wall papers and detailed wood furniture. Even if you keep a simple color palette, you can make the space interesting by juxtaposing unique textural patterns that move the eye throughout the space and play with the light at various times of the day.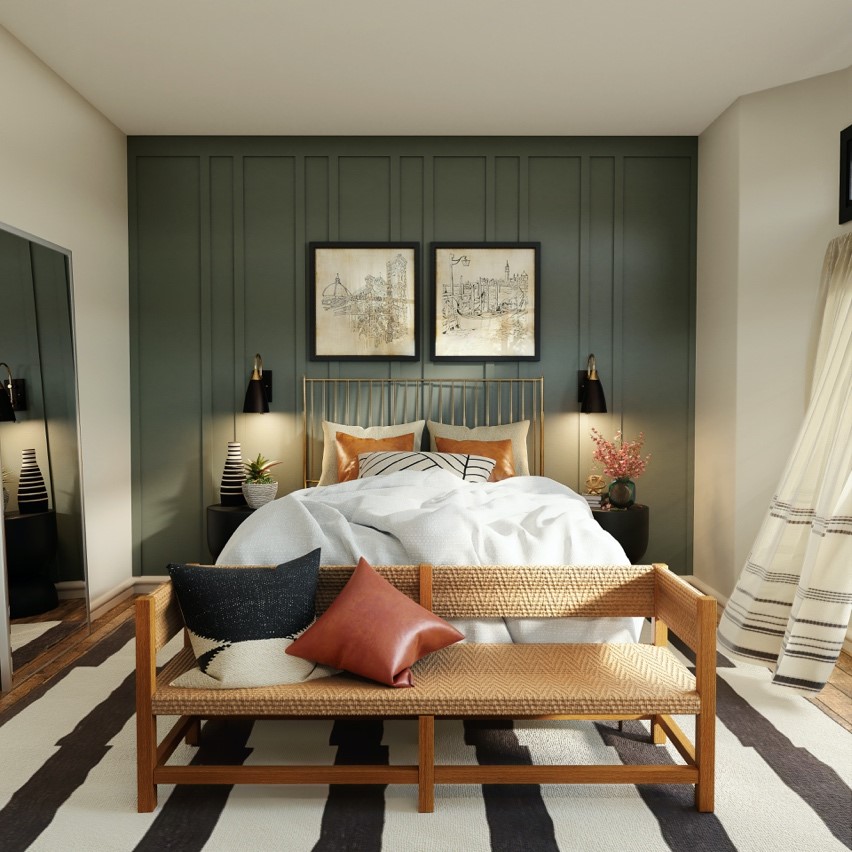 Photo credit: Spacejoy
Control the natural light
In most other rooms in the house, you'll want to maximize natural light. While this holds true for the primary bedroom, it's important that you also make it possible to block out the light entirely. As discussed in tip number four about creating adaptable lighting, the same holds true for your windows. Install blinds and curtains so you can have multiple options when it comes to letting in natural light, as well as the ability to black out the room when it's time to go to sleep.
Maximize storage efficiency
For most people, the primary bedroom is also the place where they store all of their clothes and accessories. This means storage will be essential to ensuring an orderly and calming space. Piles of laundry, visible messy shelves, and disorganized closet spaces should all be hidden from plain sight to avoid a feeling of chaos and stress in the space. The last thing you want to feel when you lie down to go to sleep is a sense of having a to do list full of chores in your room. Install built-in shelves or make use of organization bins to ensure the mess is hidden from view.
Use mirrors to expand the space
Get creative with mirrors. They can help make a space feel much larger than it is, and also play with the natural light by offering opportunities for reflections to bounce through the room. Some options that can add character to your space include large mirrors that lean against the wall, full length mirrors, horizontal mirrors above your dresser, or uniquely shaped mirrors that double as artwork or décor.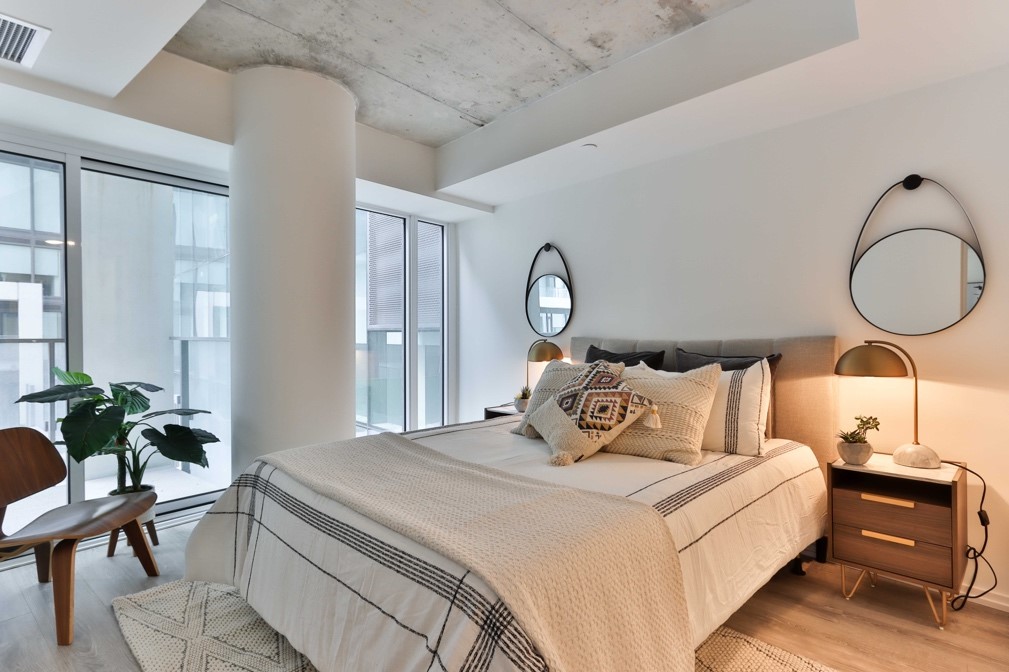 Photo credit: Sidekix Media 
Infuse personalized details
Add small decorations and details throughout the space that remind you of people you love, fun times you've had, and peaceful moments. These can take the form of small, framed photos on your dresser, framed artwork you purchased on a trip, small trinkets or ceramic items you got as a gift from a loved one, and more. Scattering these moments of happiness throughout the space will help you feel at peace in your primary bedroom and help you to personalize the space while keeping it simple and clean.
If you're looking to renovate or redesign your home or your primary bedroom, reach out to us at 5blox for a free consultation. We'll help you bring your vision to life and build a home that feels like your own private retreat.