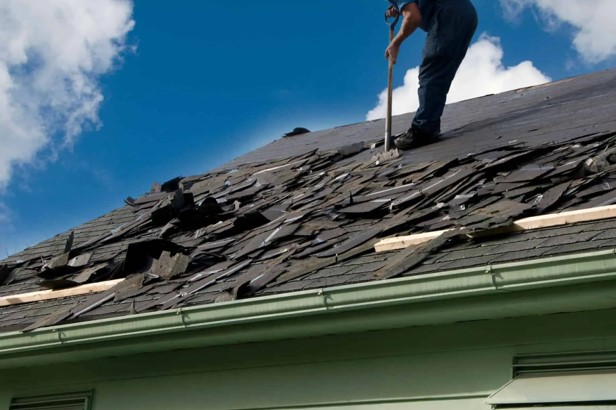 How Long Does a Roof Last
Each roofing material is unique, and not just in the way it looks. Below is a breakdown of the average lifespan for roofing materials:
Asphalt Shingles
Asphalt shingle roofs are a popular roofing system due to their affordability and relative longevity. There are three main types of asphalt roofing shingles available, each with different lifespans.
Three-tab asphalt roofing shingles – 15-25 years
Architectural/dimensional shingles – 30-50 years
Premium shingles or luxury shingles – 40+ Years
The cheapest asphalt shingles, but with the lowest average life expectancy, are three-tab asphalt. The most expensive architectural shingles and luxury asphalt shingles will cost more, but they will last longer because of their superior materials.
Metal Roof Systems
Metal roofing is gaining popularity across the country due to its strength, style, and efficiency. With proper maintenance, a high-quality replacement metal roof should last between 40 to 70 years. You can choose from many styles of metal roofing, including:
Metal roofing shingles
Standing seam roofing
Ribbed metal panels
Metal corrugated roofs
Tile Roofs
Roofing tiles are one of the most durable and long-lasting roofing materials. For roofing tiles such as:
Clay tiles
Slate tiles
Steel tiles with stone-coated coating
Concrete tiles
Wood Roof Materials
Many homeowners love wood shingles' classic look, but they don't consider the maintenance required and the higher price.
A wood shingle roof or select wooden shakes can be installed for around $8-$15 per square foot. These resemble wood shingles, but they are cut by hand to give a rustic, rough-cut look. A wood shingle roof will last 25-30 years if it is maintained properly. However, wood shingles require the most upkeep of all materials.
This post was written by a roofing specialist at All-Star Roofing. If you are looking for roofing in Hernando County FL, then you're in luck. We are a family-owned Pinellas county roofing business, striving to be the best in our industry. Our family has been in the Tampa Bay area for over 60 years, and our objective has always been to provide roofing services at a fast, reliable, and competitive rate. All-Star has a tradition of quality workmanship, servicing residential and commercial properties.