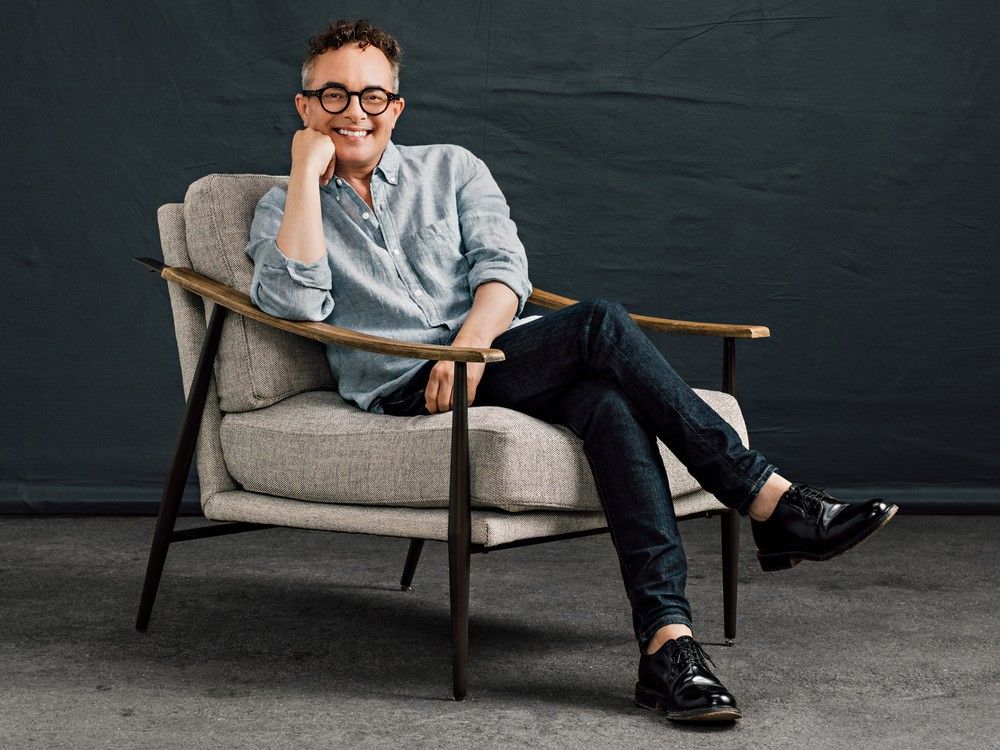 Designer Tommy Smythe dishes on his first home furnishings collection
New collaboration with Urban Barn is a range of decorative and functional accessories—think throws, pillows, vases and trays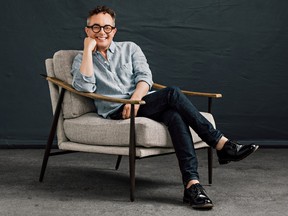 Reviews and recommendations are unbiased and products are independently selected. Postmedia may earn an affiliate commission from purchases made through links on this page.
Article content
When it comes to speaking with the media, Tommy Smythe has a unique way of looking at the experience. The Canadian interior designer and television personality likes to get comfortable. Really comfortable.
Article content
"I'm actually going to lie down on my bed right now because these are like therapy sessions for me," Smythe confides over the telephone from his Toronto residence.
Article content
It's a busy day media-wise for Smythe as he's chatting all afternoon about his soon-to-be-launched home accessories capsule collection with Urban Barn. It's the first time both parties have engaged in this type of collaboration, but a previous professional association made the concept appealing and the process a joy, according to Smythe.
For a number of years, he had dealt with Sebastien Fauteux, general merchandising manager for Urban Barn, to source furnishings for Sarah Richardson's television shows. "Whenever we needed something that was good design, available for pickup, and that we could rely on leaving behind with families that we served on those television programs, we would call Urban Barn and always get what we needed," Smythe recalls.
Article content
When considering doing a collaboration, he wanted to partner with people whom he felt knew him and where there was an established trust and respect on both sides. For him, Fauteux and Urban Barn fit that brief.
"So, for both of us, it was kind of like, let's hold hands on the edge of this cliff, jump and see what happens," Smythe says.
"And when you're doing that with a partner, you have to choose the right person, the right company, the right brand. I have to tell you, and I'm so proud to say this on the record, it was an absolute pleasure from start to finish: creatively, logistically, managerially, promotionally."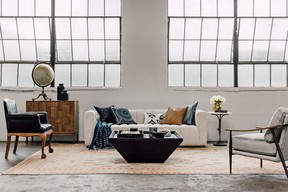 The result of that collaboration is a range of decorative and functional accessories—think throws, pillows, vases, trays and stash pots. These are a deeply personal reflection of Smythe's design vision and ethos. The colour palette is a mix of classic hues—black, cognac and navy blue— that can be integrated into different design schemes from modern to traditional, much like the name of Smythe's company TOM Design Studio, which is not just a play on his name but spells out the three partners' democratic approach to design: traditional or modern.
Article content
"There was a lot of intentionality behind what we did with the colour palette, what we did with the materials and what we did with patterns and the shapes that we were working with," he explains. "I kind of said, 'There's a lot of fast fashion in home décor these days. Is there a way for us to look at a way of creating things that might be able to be stitched into people's existing décor but that would stay for a long time, not a short time?'
Smythe said discussions focussed on what types of fabrics and finishes people would want to hold onto and how they would care for the pieces. Would they be easy to clean and maintain over time to want to keep them?
"We looked at indigos from vintage fabrics and textiles that I had from Japan, from Africa, from America," he says. "We looked at old leather and how to make that into something that was more responsible ethically where animals wouldn't be harmed. Urban Barn sourced this incredible vegan product that we were able to have woven into textures for throw pillows that are so chic and are so real looking in terms of their presentation but also have this underlying component that you can feel good about."
Article content
Smythe envisions the person who buys something from the collection as looking at individual items or two or three items but not necessarily buying the entire range. It's about integrating items into existing design schemes, like a tray that works on an inherited sideboard and having those pieces work throughout the home if someone wants to move things around to different rooms.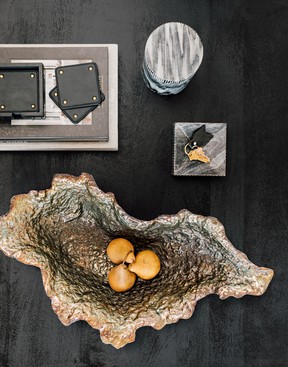 "A lot of us live in small spaces now," Smythe observes. "Most people's kitchen looks into their dining room (and) looks into their living room, and, in some cases, you can even see the bed. Because so many of us are living this way now, we're living vertically in tall buildings in small spaces; I really wanted there to be a neutrality to this collection so people could feel it wasn't clashing with other elements in other spaces."
Article content
That neutrality also complements the rest of the Urban Barn concurrent range, he adds.
If the colour palette is about versatility, the textures are all about grounding and warmth. Smythe says heavy textures always add grounding, which translates to warmth.
"That's why those vegan leather pillows made it into the collection because we really wanted something that had a little bit of coarse texture to ground," he says.
Another example of how texture creates warmth—literally and emotionally—is one of his favourite items in the collection. He calls it the bandana throw, based on a vintage, pale blue bandana he bought a few years ago in L.A.
"It's like an old, old, worn thing," he says. "I love that. It's quilted. It's machine washable."
Article content
An early prototype of that throw which spent the summer at his family's Muskoka cottage proved that it would be something that would be well used and loved.
"Over the course of last summer, it was in so many family photos because they had it in the boat," he recalls. "They had it on the sofa. The kids were under it. My mom was under it. People were wearing it when they were making their coffee in the morning. I just thought, 'that works.'"
It's that idea of various pieces in the collection being used and cherished in ways that work for how the buyer wants to live, not how a designer envisioned its use, that Smythe hopes resonates.
"I wanted to make sure that I wasn't telling people what to do," he explains. "I was giving them things to help do what they already wanted to do. There's a distinction to be made there. That's why we arrived at the palette that we arrived at. That's why we used the metallics, the textures and the shapes that we had. It goes back to we don't want you to throw everything out and start with the Tommy Smythe collection. We want you to keep everything you have and grab a couple of things from my collection and fold them into what you already have."
The Tommy Smythe x Urban Barn collection arrives in stores Nov. 3.
Q&A: Nam Dang-Mitchell sets her sights on sublime moodiness and the otherworldly in her design

Squamish designer gets a break with HGTV's Sarah's Mountain Escape