Antique Holiday Market, Drag Brunch And Home Movies From The South Side
CHICAGO — This weekend, you can honor Veterans Day at a comedy cabaret, watch South Side home movies, walk a "lazy" 0.5K, bar crawl through Wrigleyville and more.
Here's a roundup of 19 things to do in Chicago:
Portage Park Veterans Day Event
3 p.m. Saturday
City News Cafe, 4018 N. Cicero Ave.
City News Cafe is holding a Day of Remembrance for those who have served in any of the armed forces, with photographs, music and stories. Keynote speaker William Taylor, a Marine who served in Vietnam and wrote an award-winning book on his experiences, will share his story.
Attendees are asked to bring photos of themselves, friends or family in uniform. You can also email photos to [email protected] with the name of the individual, the Armed Forces they served in and in what war they fought.
10 a.m.-5 p.m. Saturday and Sunday
1341 W. Randolph St.
This European-style antique and vintage market returns this weekend with housewares, fashion, decorative objects and more from 125 vendors. There is also a market bar and food and drink from local eateries. Tickets for $5-100 are available online.
Noon-4 p.m. Saturday and Sunday
716 W. Addison St.
There will be 15 vendors selling ceramics, skin and body care, candles, handbags, jewelry, plant accessories, henna, tacos and more. There is a $5 suggested donation to attend, but you can also reserve a spot for free online.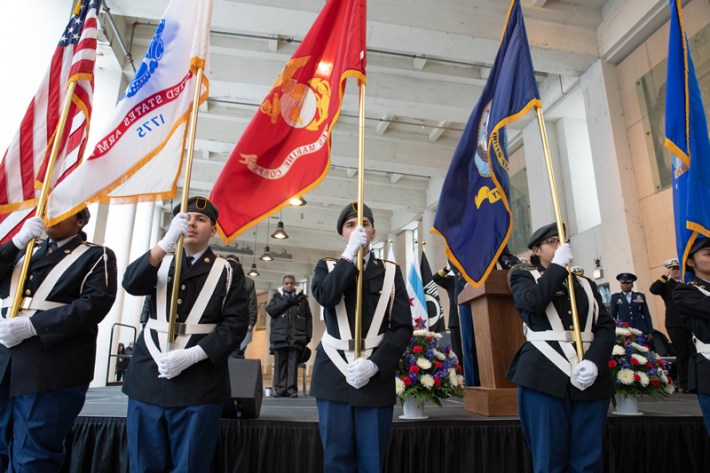 Doors open at 10 a.m. Friday, ceremony starts at 11 a.m.
Soldier Field – Gate O, 1410 S. Special Olympics Drive
The City of Chicago will be honoring local and national veterans at this ceremony, where Brigadier General Rodney Boyd will deliver the keynote address. Members from each branch of the United States military and civic leaders will be represented. The event can also be livestreamed via Mayor Lori Lightfoot's Twitter and Facebook, and on Chicago.gov/Live.
1-5 p.m. Saturday
Green Line Performing Arts Center, 329 E. Garfield Blvd.
There will be pop-up family portraits, food and drinks, a DJ, merchandise and more at this celebration of South Side home movies. You can view never-before-seen footage of South Side life in the 1940s-60s. There will also be an on-site archivist you can talk to about preserving and donating your family films.
8-11 p.m. Saturday
Auditorium Theatre, 50 E. Ida B. Wells Drive
Francis Ford Coppola's masterpiece film is coming to the Auditorium Theatre this weekend. Tickets starting at $70 are available online.
10:30 a.m. Saturday
1725 W. Cortland St.
While event organizers don't encourage running, you can briskly walk 0.31 miles — from a bar to a park and back to the bar — at this lazy 0.5K. Race entries are $35 and include one race bib, free beer, one free slice of Lottie's Pub Pizza, a "shotgun start" and "hydration stations" with donuts and hot drinks. There will also be prizes for best costume, best spirit and more! You can register online.
6-10 p.m. Thursday
Lo Rez Brewing and Taproom, 2101 S. Carpenter St.
You can enjoy vegan food made by local plant-based chefs at this night mercado by Vegan Test Kitchen. Reserve a spot for free online.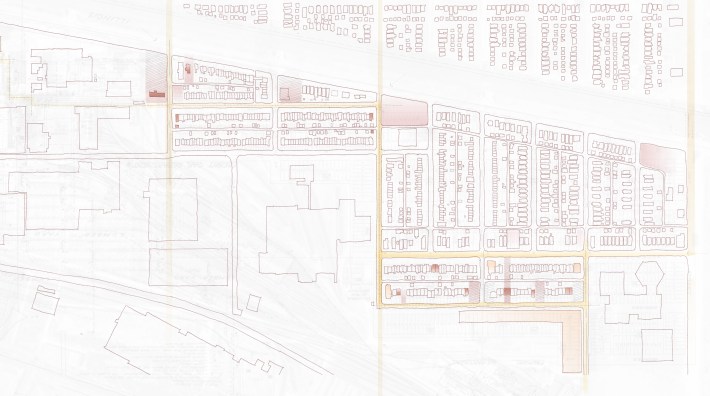 Exhibition opens 10 a.m. Saturday
CAB Studio at the Chicago Cultural Center, 78 E. Washington St.
The Chicago Cultural Center's latest free visual art exhibition by Chicago-based architect Armel Sagbohan opens Saturday. It maps the north and south sides of Pullman through a series of photographs and sketches. At 1:30 p.m., there will also be a conversation about the exhibition between Sagbohan and Ann Lui, co-founder of architecture and design office Future Firm.
2 p.m. Saturday
The Walnut Room, 111 N. State St.
This Mamma Mia Drag Brunch features Lucy Stoole, Mrs. Kasha Davis, Onya Deek and Abhijeet. Tickets for $20 are available online.
Varying times Thursday-Sunday
Replay Lincoln Park, 2833 N. Sheffield Ave.
This arcade bar with over 65 vintage arcade games and pinball is offering a pop-up homage to Harry Styles this weekend. There will be photo opportunities with references to Harry's albums, themed cocktails like the "Watermelon Sugar," live DJs playing Styles' music and more.
10 a.m.-5 p.m. Saturday
DANK Haus German American Cultural Center, 4740 N. Western Ave.
Before the holidays, you can donate items or find some gently used treasures at this flea market, located in the center's 5th floor Marunde Ballroom. You can also rent your own table for $25 to sell your items. You can purchase a table or RVSP to attend online.
7-10 p.m. Friday, 6-10 p.m. Saturday
House of Vans Chicago, 113 N. Elizabeth St.
Chicago-based artists Roland Santana and Camilo Medina present collaborative and solo artworks at this two-day showcase. There will also be music by Divino Niño, Conjunto Primitivo and Cabeza de Chivo. Admission is free, but you can RSVP online to attend Friday and Saturday.
6-8 p.m. Friday
The Silver Room, 1506 E. 53rd St.
This solo exhibition by Chicago-based painter and visual artist Hailey Losselyong explores moments "that will define us, whether it be a shift in career, starting a family, or the death of a loved one, to name a few." There will also be live music by DJ Mo Mami.
9 p.m. Saturday-midnight Sunday
3462 N. Clark St.
Wrigleyville is home to some of the city's most beloved bars, and you can experience them yourself at this bar crawl. Tickets are $20 and include admission to bars, three free welcome shots and a guide to help lead the way. There will also be drink specials, giveaways and more. You can register online.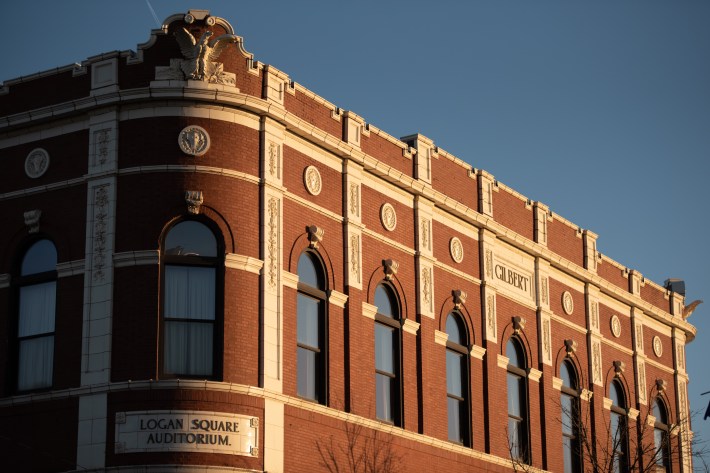 9 p.m. Friday-2 a.m. Saturday
Logan Square Auditorium, 2539 N. Kedzie Blvd.
This is the self-proclaimed "biggest college party of the year." General admission is $20 and you can RSVP for free online.
4-7 p.m. Friday
1457 N. Halsted St.
There will be musical performances, visits with Santa and Mrs. Claus, hot cocoa, train rides and more at this annual tree lighting festival. You can RSVP for free online.
10 a.m.-5 p.m. Saturday, 10 a.m.-4 p.m. Sunday
1929 W. Wilson Ave.
The 18th edition of this market returns with authentic French cuisine and vendors selling fine and decorative arts, home decor, jewelry, apparel and more. There is a $5 suggested donation upon entry.
6-8 p.m. Friday, 1-6 p.m. Saturday and Sunday
La Scuola, 43 E. Ohio St.
Eataly is celebrating the opening of its holiday market with a weekend of festivities. You can taste seasonal drinks, local craft beer, pastries and more at the "Taste of the Holidays Festa" Friday evening. Tickets for $59 are available online.
There will also be an artisan market Saturday and Sunday with over 10 local vendors, selling custom cards, dog collars, candles, jewelry and more.
Listen to "It's All Good: A Block Club Chicago Podcast":