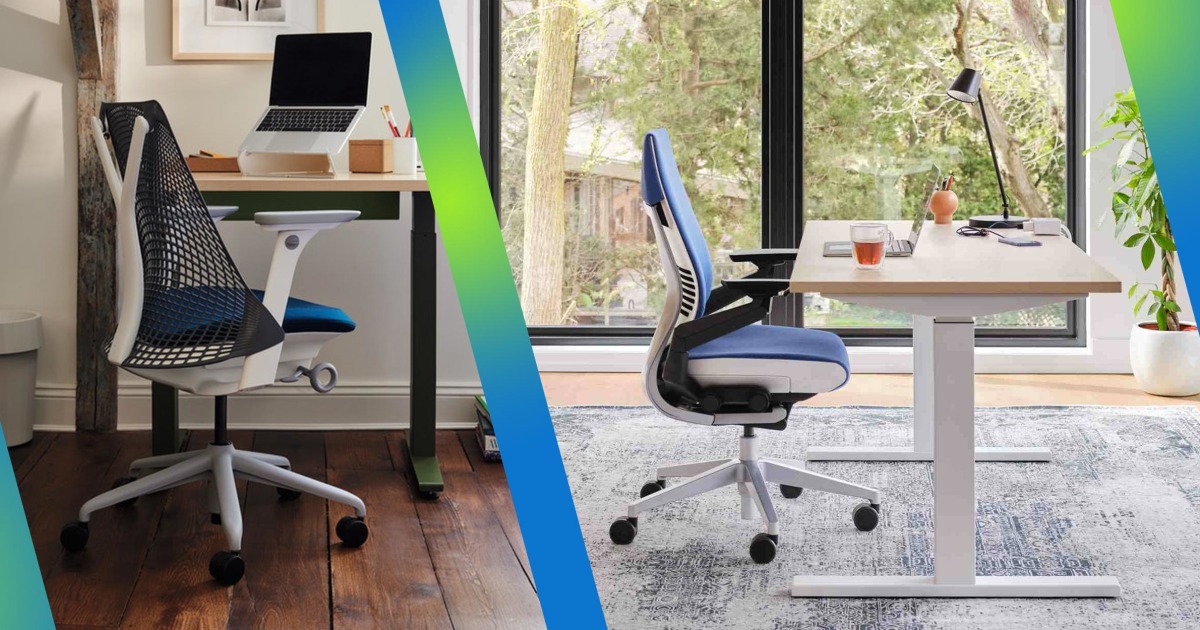 6 best ergonomic office chairs, according to experts
Working from home is here to stay: In a Gallup survey from February 2022, 39 percent of workers said they were fully remote and 42 percent said their company was using a hybrid schedule. With less cash spent on commuting, work attire and childcare, workers have saved money in a hybrid world, but they've also become more sedentary and separated from their often ergonomic office setups.
"We're seeing a spike in musculoskeletal conditions related to poor posture [ever since the pandemic]," explained chiropractor Scott Bautch, DC. Before the pandemic, people were actively commuting to work and sitting at desks, but now they're often going right from their bed to their kitchen table, he said.
SKIP AHEAD Best ergonomic office chairs | How to shop for an ergonomic office chair
"Your body has no variety — you're spending too much time in one place," Bautch noted. "Especially if you're sitting in a chair not designed for work. Sofas and living room chairs are made to lay back, not sit up and work."
In addition to getting up and moving around regularly, investing in an appropriately sized and quality desk chair can help better position your body at your desk, which can reduce the strain on your back, neck and hands. To help you find the best ergonomic office chair for your space and body, we consulted medical professionals and ergonomic experts to learn more about how to shop for a chair that's right for you.
What is ergonomics and why does it matter?
One of the best ways to avoid bad posture is through ergonomics, which the Occupational Hazard and Safety Administration (OHSA) describes as "fitting a job to a person" in order to reduce muscle fatigue and increase productivity. However, "fitting a job to your health needs" is a more appropriate definition, said chiropractor Shai Karpf, DC, owner of North Broward Chiropractic & Wellness. Bautch described ergonomics as "trying to make the work environment match the human environment better."
Which is why it makes sense that sitting on your couch or leaning over your kitchen table instead of using an appropriate desk setup can have adverse effects on your physical health. Sitting hunched forward or leaning too far backward can cause headaches, stiffness in the upper back and neck and lethargy due to decreased blood flow to the brain, Bautch noted. Beyond discomfort or pain, a slapdash workspace can cause musculoskeletal disorders (MSDs) like carpal tunnel syndrome, muscle strains and lower back injuries, Karpf added.
Part of ergonomics is using the right tools to mitigate these issues — like an ergonomic office chair. Maintaining the right posture can be beneficial to both your physical health and your productivity, explained Karen E. Loesing, owner of The Ergonomic Expert, a consulting company for ergonomic office evaluations. "[An ergonomic chair] will have adjustability to maintain the correct posture while working at their desk, which in turn encourages them to be more productive," she explained. Ergonomic chairs are designed to keep you in a neutral position, where your feet are flat on the floor, your knees are at a 90-degree angle and your arms straight.
The best ergonomic desk chairs for your work-from-home setup
The experts we spoke to told us that an ergonomic office chair should have an easily adjustable seat, back and armrests. They also said that the chair should come with a warranty of at least five years and should be able to accommodate your body's natural shape and weight. Below, we rounded up expert-recommended chairs with weight limits up to 400 pounds as well as highly rated options aligned with expert guidance.
Lifeform High Back Executive Office Chair
Warranty: 10-year limited warranty
Weight limit: 350 pounds
"[This is] my favorite chair, but bring your checkbook," Loesing said about this Lifeform chair and its $2,795 price tag. At its base level, the chair comes with lumbar support, adjustable arms, adjustable back angle, adjustable seat height and more, but Loesing said it's worth paying for extra features like its upgraded seat and footrest. "The armrests and the extras will cost you, but if you've got many years ahead of you to work, in my opinion, with all the available added options you can add, it can't be beat," she noted.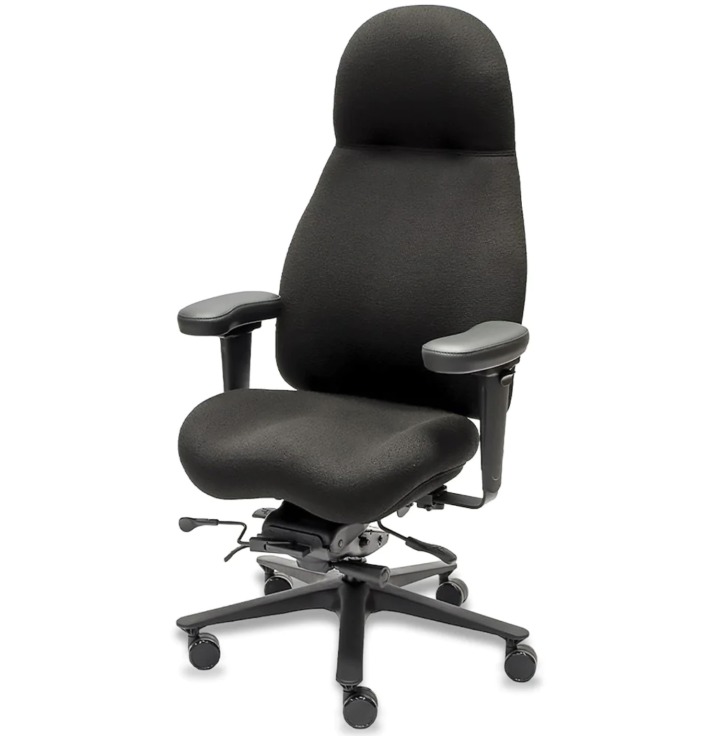 Herman Miller Aeron Chair
Warranty: 12-year limited warranty
Weight limit: Up to 350 pounds in size Large
Loesing recommended the Herman Miller Aeron Chair as a great overall ergonomic option. The chair is available in three sizes — Small, Medium and Large — and Loesing said this range is great since "one size does not fit all." The basic Aeron model includes adjustable arms, standard tilt and back support, but for an added fee, you can add extra bells and whistles like seat angle adjustment and adjustable lumbar support.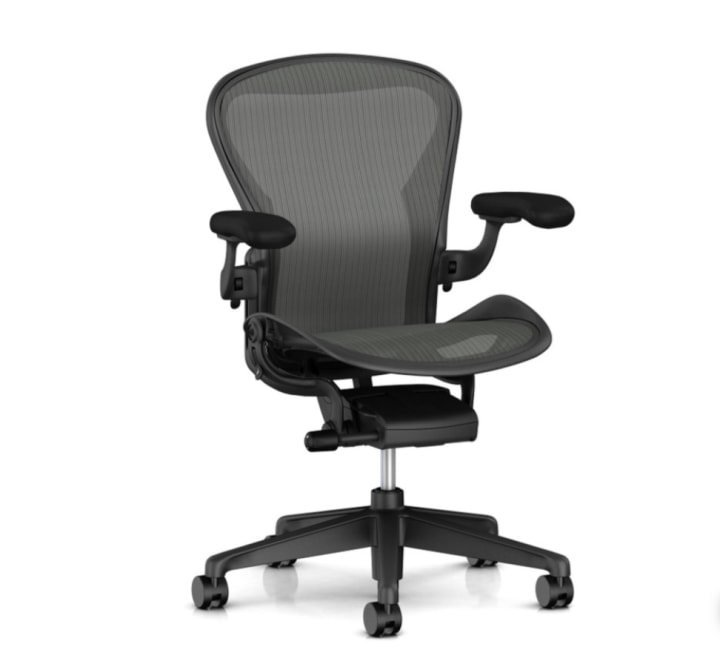 Herman Miller Sayl Chair
Warranty: 12-year warranty
Weight limit: 350 pounds
If you are on the petite side, Loesing said that Herman Miller's Sayl Chair is a great option — the chair is 40.75 inches tall, while the largest Aeron model is 43 inches tall. The ergonomic chair includes height-adjustable arms, adjustable seat depth, adjustable lumbar support and a ventilated back for increased air circulation, according to the brand.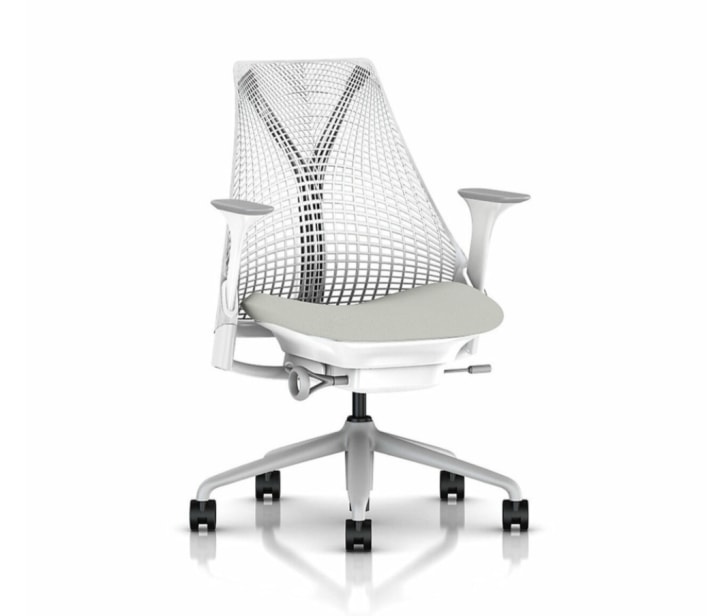 Steelcase Leap
Warranty: Lifetime warranty, though some parts have a 12-year warranty
Weight limit: 400 pounds
The Steelcase Leap, recommended by Loesing, offers adjustability at virtually every angle — the chair comes with height-adjustable arms, recline adjustment, a height- and depth-adjustable seat and back support. For an added fee, you can also choose to give your arms four-way adjustment (for height, width, depth and pivot), additional lumbar support and more.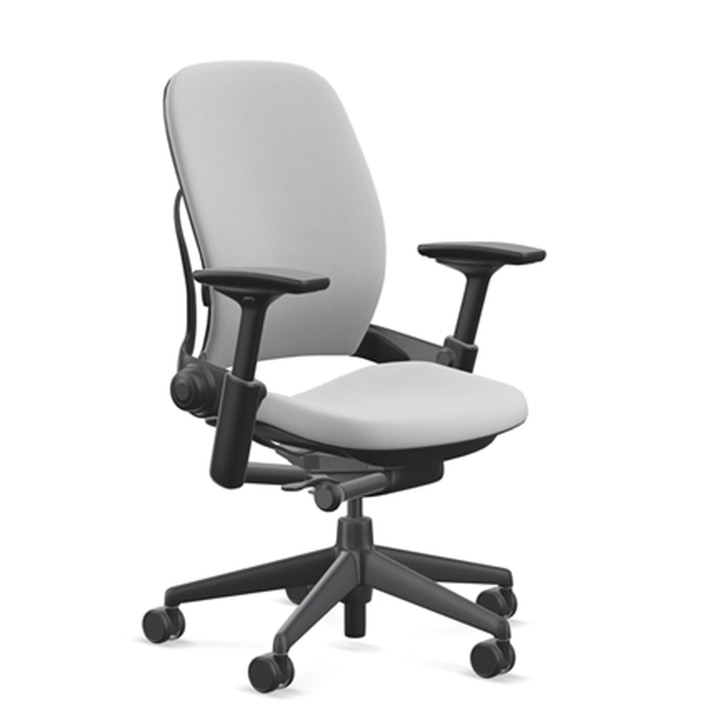 Steelcase Gesture
Warranty: Lifetime warranty, though some parts have a 12-year warranty
Weight limit: 400 pounds
Loesing said that she's also a fan of the Steelcase Gesture. This ergonomic chair is also built with back support, a height- and depth-adjustable seat and recline adjustment, but unlike the Leap, it has 360-degree adjustable arms with a full range of motion, the brand says. For an additional fee, you can choose to add an adjustable headrest, lumbar support and more.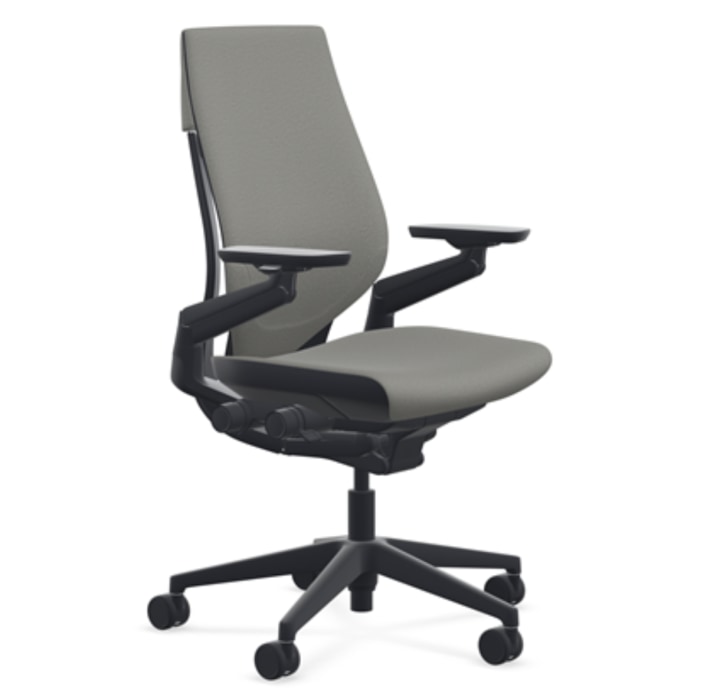 Branch Ergonomic Chair
Warranty: 7-year parts and components warranty
Weight limit: 300 pounds
Branch's Ergonomic Chair has several points of adjustment for a customized fit: the armrests, the height, the tilt and tilt tension, the seat depth and the removable lumbar rest. According to the brand, the backrest is made of double-layered rest for breathability, and the seat utilizes a high-density cushion for all-day comfort.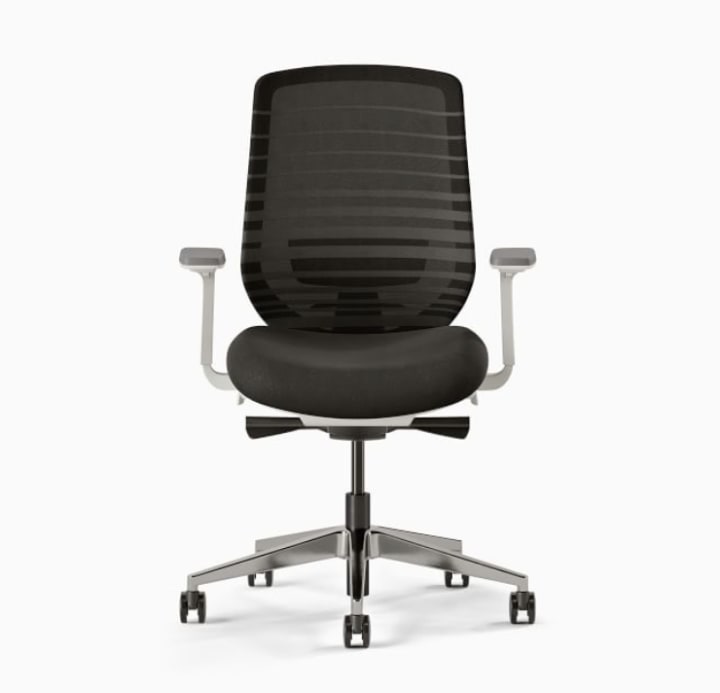 Ergonomic chair accessories for your work-from-home setup
Ergonomic chairs are usually a large investment — thankfully, there are some ways to make the chair you already have slightly more suitable to your body. In order to determine which accessories you need, try sitting in your chair in the "ideal posture," suggested Don Patten, a certified professional ergonomist and the specialized services lead in ergonomics for Workplace Safety and Prevention Services. "[With your] feet flat and thighs parallel to the ground, relax your shoulders and position your elbows at approximately 90 degrees. ​​If you cannot do this with your current office chair, there may be some accessories you can purchase to accomplish this."
Below, we rounded up some ergonomic office chair accessories including footrests and seat cushions that can upgrade your current setup based on expert advice.
Those who struggle to reach their mouse or keyboard while working may benefit from raising their chair and investing in a footrest that can help them sit in a more ergonomic position, Patten said. VIVO's footrest is height-adjustable from 5 inches to 10¼ inches and has an anti-slip surface for added traction, according to the brand.
"If you find yourself sitting on the edge of your seat, it could be that the seat is too long," Patten said, noting that a back pillow or lumbar support pillow can help "fill in the gap." This one from Everlasting Comfort is made of memory foam to adjust to the shape of your body and it comes with a memory foam mesh cover for breathability, according to the brand. The pillow, which has dual adjustable straps, can attach to office chairs up to 32 inches in width, the brand says.
This disc sits on top of your office chair, providing stability and balance while training your core, the brand says. The balancing aspect of the cushion helps you sit up straight throughout the work day, Bautch said. One Select writer gave it a significant thumb's up, noting it's "a solid work-around for what would otherwise be an expensive purchase."
How to shop for ergonomic desk chairs and other desktop accessories
Some companies label their chairs "ergonomic" when they don't actually have ergonomic features, Loesing explained. "You will rarely find an office chair nowadays that doesn't claim to be ergonomic," she said. The features of a chair are the easiest way to identify whether it's ergonomic, but Loesing also noted that "a good ergonomic chair will have a warranty of 5-15 years and will cost a good amount of money."
It's essential to look past the marketing language and rather at how the chair is actually built. The main difference between ergonomic desk chairs and regular chairs is adjustability, Loesing emphasized. A normal office chair will likely have fixed armrests or seat heights, while an ergonomic chair can be adjusted based on your needs.
"A nice ergonomic chair will likely have not only height adjustability, but also a sliding back support, adjustable back angle and adjustable armrests that go low enough to either go under the desktop or at the same height, allowing you to move closer to the desk," Loesing said.
Patten outlined several main features to look for when shopping for ergonomic chairs:
The chair should have several adjustable features, including adjustable lumbar support, adjustable armrests and adjustable seat and backrest angles.
The chair should accommodate your body shape and size.
The chair base should have at least five legs to prevent tipping as well as castors suitable for the surface the chair is on.
The chair should allow you to move through multiple postures while supporting the natural curves of the spine and maintaining good alignment.
Meet our experts
At Select, we work with experts who have specialized knowledge and authority based on relevant training and/or experience. We also take steps to ensure that all expert advice and recommendations are made independently and with no undisclosed financial conflicts of interest.
Catch up on Select's in-depth coverage of personal finance, tech and tools, wellness and more, and follow us on Facebook, Instagram and Twitter to stay up to date.