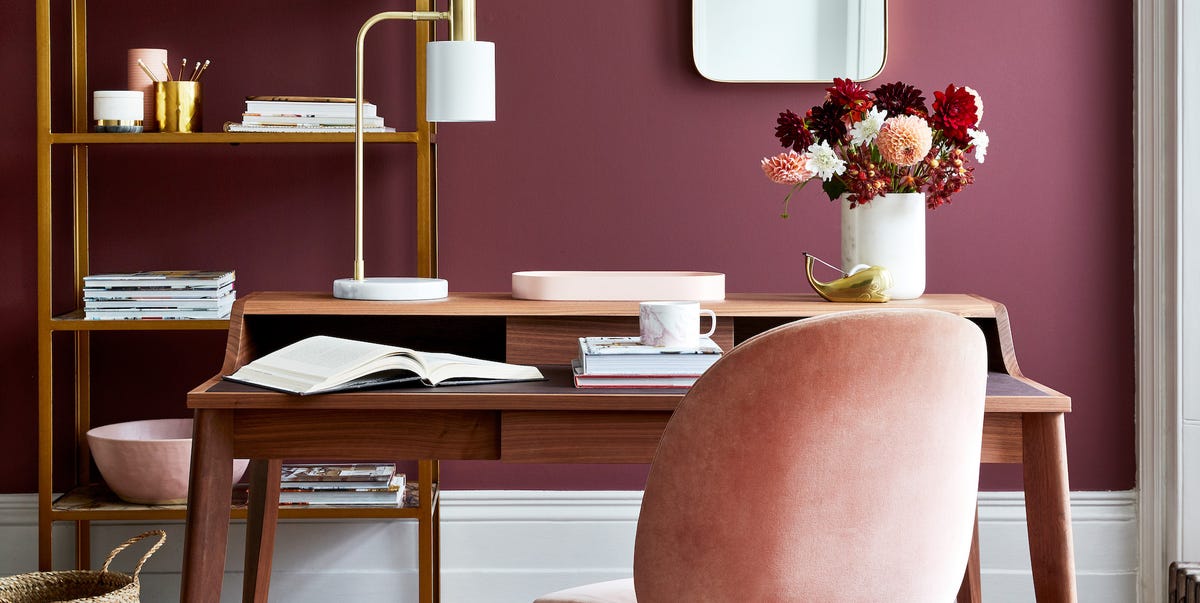 5 Home Office Trends For 2023
A non-existent commute, wearing your comfiest clothes, and no fighting over the office air-con? Sounds good to us. It's no surprise that working from home is set to be as popular in 2023 as it was in 2022, with data from the Opinions and Lifestyle Survey suggesting that those who either began working from home as a result of the coronavirus pandemic plan to continue to do so.
A hybrid approach (working at home and at a dedicated place of work, such as an office) remains popular, too. Now the new norm for many, Google searches for 'how to improve hybrid working' increased by 600 per cent over the last 12 months. It's clear to see that workers are keen to make the most of working from home – especially if it helps to boost creativity, productivity, and mental health.
If you're looking to spruce up your work from home space, look no further with these top home office trends for 2023.
---
Colour plays a large part in influencing our mood, and this is particularly noticeable in spaces in which we spend large portions of time. So, when giving your workspace a fresh lick of paint, consider carefully the emotions or mindset you wish to heighten.
For those of us who want to feel energised, or wish to increase creativity whilst working, opting for bright, energy-boosting shades is a must. Ryan McDonough, interior design expert at Myjobquote.co.uk, agrees: 'If your work relies on you being creative and full of energy, then Viva Magenta, Pantone's 2023 Colour of the Year, is great for invigorating home offices and boosting your energy. Raspberry is also a colour that's tipped to be big.'
However, many of us require a much more sedate and soothing work environment. This is where subtle shades of blue and green come in. Lucy Henderson, Head of Design at My Bespoke Room, says: 'Soft pinks, greens, and blues are a popular choice as blues and greens aid mental stimulation. Our eyes don't have to adjust to the colour green, so they don't have to work as hard.
'Soft blush pinks work well with blues and greens, and light pink can be quite a warming colour. Therefore, a room will feel relaxing when painted in this colour.'
Kirstie Batty, DIY expert and Head of Merchandising at trade supplies company, GTSE.co.uk, says: 'When painting your walls, use a primer first – it'll give the best adhesion for the paint. Priming over a dark colour before painting it light is key. If your final paint colour is dark, then use a dark-tinted primer first.'
After several months of grey skies and cold weather, bringing in greenery and a touch of the natural world is sure to soothe the senses, and is much needed during a long work day. Ryan says biophilic-inspired interiors will be big in 2023: 'After a tough winter, we're going to be looking forward to spring and the natural world bursting back into life.
'The trend for biophilic design with greens, florals and natural materials is set to continue. Studies have shown that having greenery in the workspace can reduce stress and increase productivity and the overall mental health of workers, so this trend is key.'
You can make the most of this trend by opting for furniture crafted from natural materials, such as wood or rattan. Light colours that keep the space feeling bright and airy are also a good choice. If possible, get as much natural light into your space as possible, and angle your desk so that you have a view of the great outdoors.
Kirstie says: 'If the biophilic theme is the one for you, grab some old photo frames, staple chicken wire across the back to create a base and then fill the centres with rich green moss, small ferns, or succulents to bring the theme to life. Then, hang them on your wall or place them on your desk.'
Speaking of biophilia, plants will always be a popular addition to any office, whether it's at home or not. Being around greenery is good for reducing stress and helping our mindset, and some varieties help to purify the air. We're not all blessed with green fingers, so choosing a fuss-free plant that requires minimal care is essential. A wilting plant isn't the best for motivation…
'Devil's ivy adapts well to different conditions, including low-light rooms,' says Kirsty. 'The easy-to-care-for plant can be placed on your desk, shelf, or side table. Spider plants and snake plants are another good shout and can go a few days between watering. Don't forget about the peace lily either, but whilst you need to keep the soil moist, you should avoid overwatering. Chinese Evergreen is also a great low-light indoor plant and is easy to grow, even for beginners.'
Kirstie says: 'If your plants need to be trained and supported whilst growing, my best tip is to create support by using biodegradable cable ties – perfect for temporary purposes until they can create their own support.'
'Organic shapes and a hand-crafted look are what we'll be seeking in terms of home office accessories in 2023. This is easy to incorporate by switching out neat plant pots for more rustic ones and using shapely vases as pen holders. This will soften the hard edges of our office furniture, so we feel settled and at home while working,' explains Ryan.
Quirky, unique-shaped accessories, especially those that look handmade, are also a brilliant way of injecting personality into your home office and something we don't always get to do in our usual place of work. Curves and tactile textures invite us to reach out and touch, instantly providing an inviting aspect to your workspace.
If you're not sure where to start, begin with the basics, such as pots for organisational purposes. Ceramics made by hand will always have a unique aspect, whether you choose to buy them from a local artisan or try your hand at making (or decorating) them yourself.
Kirstie says: 'If you have old materials in the house, such as throws, clothes, and other fabrics, hang onto them. If you're handy with a sewing kit, you could make a new throw to chuck over your desk chair, or even make new cushion covers to place on your furniture.'
'Sustainability will continue to be important in furniture, so wooden, secondhand and upcycled desks and storage will be sought after,' says Ryan. 'Think iconic mid-century desks and repurposed shelving. Multi-functional pieces of furniture and items that inject more personality into your workspace will also be big in 2023.'
Sourcing pre-loved furniture and other office essentials is not only a more planet-friendly choice but often better for your bank balance, too. There's also never been a better time to hunt down a secondhand bargain. Vinted, Etsy, eBay, Freecycle and Facebook Marketplace are all great places to get started. If you like to make a day of it, head to a local car boot sale or head down to a charity shop warehouse – you'll be spoilt for choice!
Kirstie says: 'If you're buying furniture, make sure you opt for renewable and sustainable materials such as cork, bamboo, or reclaimed wood.'