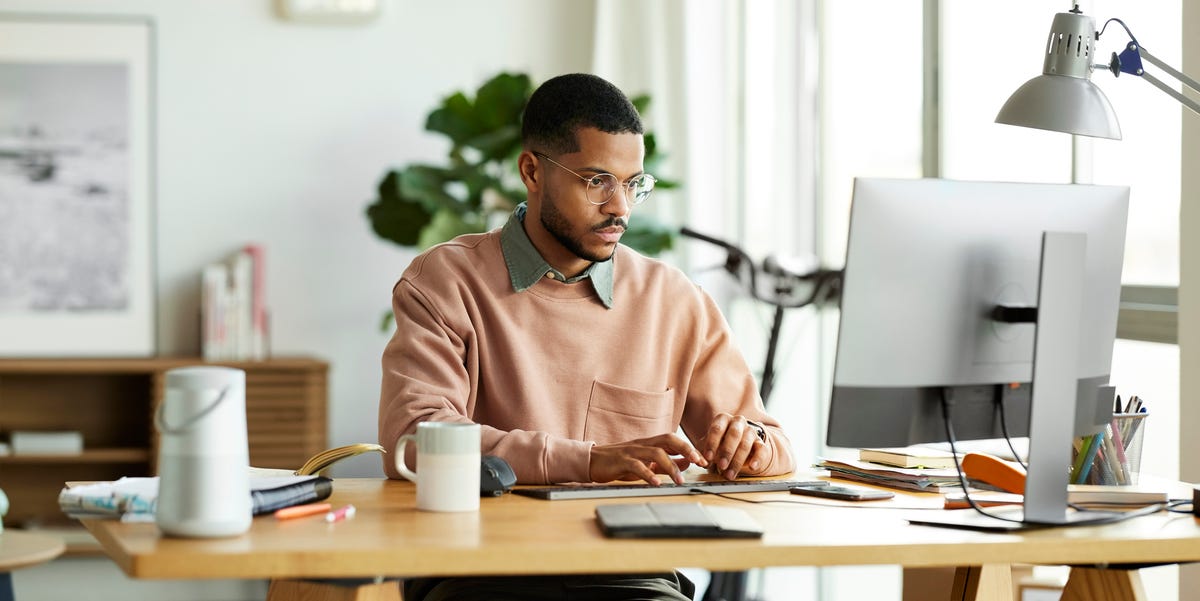 34 best home office accessories to make your life easier in 2022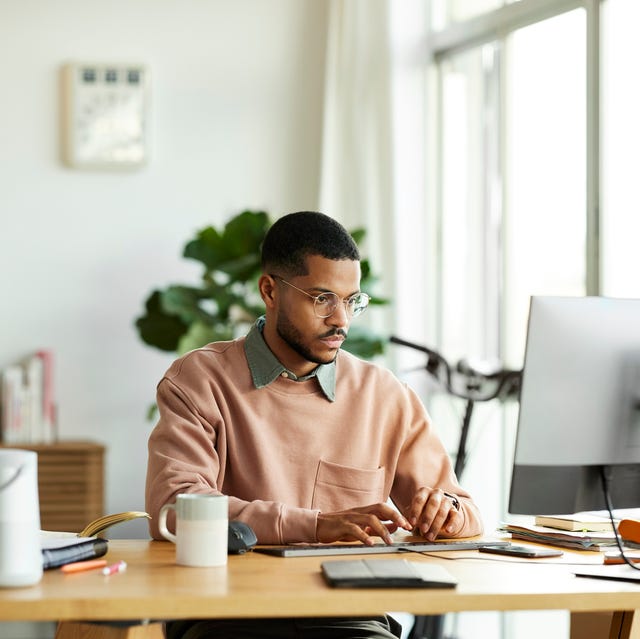 Morsa ImagesGetty Images
Having a proper home office setup can make the difference between loving the WFH life or feeling totally fed up with it. It's clear that the hybrid work approach will be a big part of modern businesses from now on, so if you've held off until this point, now's the time to invest in your office. Trust us, it's worth upgrading your desk accessories to make your workday easier, more comfortable and more organised in 2022.
Maybe you've got a dedicated office space, just a desk, a kitchen table, or you're stuck working in your bedroom? Whatever your situation, it's still worth buying certain items that'll help you concentrate on your work. Whether you're thinking about supportive footrests, laptop stands, a better webcam, or a pair of noise-cancelling headphones, there are loads of handy home-working gadgets – and we've rounded some of the top essentials we'd recommend below.
Concentrate on your work
Apple AirPods Pro
Cancel out distractions
Sony WH-1000XM4
Prefer over-ear headphones? This noise-cancelling pair could be what you need to help you focus. They're also fast to recharge – if they're running low, a ten-minute charge will give you five hours of listening time.
Ask Alexa
Amazon Echo Dot (4th generation)
One of the best things about working from the comfort of your own home is that you get to decide the music for the day to keep you motivated. Get that Spotify playlist banging and blast it out on an Amazon Echo – just use the Alexa voice control to skip the song or turn it down if you have a last-minute Zoom or Teams call.
Alleviate neck aches
Twelve South Curve
​​Something you may not have thought about when preparing your own home office is making sure that your chosen setup is comfortable for your body. Work like less of a hunchback by elevating your laptop screen to your eye level. This sturdy and simple version is a good option if you only need to raise it slightly.
Best laptop stand
Nexstand K2 Laptop Stand
For more flexibility and better ergonomics, we'd suggest going for the affordable Nexstand K2 (or the more premium Roost laptop stand – they share the same design approach). This is a lightweight, adjustable and portable stand that collapses flat for travel, making it ideal for hybrid workers. We use the Nexstand ourselves between home and office and can attest that it's reliable and capable, with a wide variety of height settings.
Best laptop tray
Huanuo Laptop Monitor Stand with Cushion
We don't all have an office space at home, so if you're setting up for a day of work from your bed (no judgement!), make things more comfortable with this lap desk work surface. This one is cushioned and can be adjusted to get your laptop at the right angle. This Belkin one makes for a good minimalist alternative if you want something that takes up less room.
Work from the bedroom
Hodge and Hodge Azuma Folding Lap Table Desk
If you need to work from your bedroom but you'd rather a non-padded or tray-style version, this folding mini desk will do the job well.
Sit comfortably
ANYDAY John Lewis Hinton Office Chair
This sellout office chair is affordable compared to the competition and is comfy, lightweight and adjustable. It's supportive and has armrests that fold up, making it easy to hide away when you're done working.
A simple desk chair
AmazonBasics Office Chair
The AmazonBasics option isn't luxurious, but if what you need is something that swivels and has an adjustable height, this ticks those boxes and has a simple design, affordable price tag and a one-year warranty.
Something different
Hanlin Wood Framed Kneeling Chair
furniture-work.co.uk
£132.00
We know this looks pretty weird, but this kind of kneeling chair claims to reduce lower back pain and improve your posture by reducing compression of your back muscles. Just know that using it for a whole day of work will probably get tiring for your core, so you may need to alternate between this and a traditional chair.
An affordable keyboard and mouse set
Logitech MK270 Wireless Keyboard and Mouse Combo for Windows
It's worth picking up a keyboard that can be connected via Bluetooth or USB and moved away from the laptop or computer to a more comfortable position. It'll help you sit up straight and avoid strain or injury. This one works with Windows – if you need one with a Mac key layout, go for a keyboard like this.
Best versatile wireless keyboard
Logitech K380 Wireless Multi-Device Keyboard
With its compact design, comfortable keys, super-long battery life and ability to quickly switch the Bluetooth connection between three devices, there's a lot this inexpensive wireless keyboard gets right.
Best wireless keyboard for Mac
Logitech MX Keys Mini for Mac
We've used this for the past year and would recommend it as the best option if you work on a Mac. It has the same quick-switching functionality between three Bluetooth devices as the model above, a responsive typing experience and bright backlights too. One of its handiest features is a button to mute/unmute your microphone – essential if your day is full of Zoom calls.
Best basic wireless mouse
Logitech M185 Wireless Mouse
Logitech
amazon.co.uk
£9.38
Just need a basic mouse? This Logitech one is affordable and designed to be ambidextrous (so you can calibrate it for your needs whether you're left-handed or right-handed).
Best discreet wireless mouse
Logitech Pebble Wireless Mouse
We'd recommend pairing the Pebble mouse with the K380 keyboard above. We found it quick to connect whether using it with a Mac or a PC, and we appreciate how its scrolling and clicking are almost silent.
Best wireless mouse for Mac
Logitech MX Anywhere 3 Wireless Mouse
Looking for a keyboard to go with your Mac or Apple laptop? Apple's own Magic Mouse or Logitech's MX Master 3 are more expensive and pack in some extra features, but you'll get a lot for your money with this one. As the name suggests, it works just about anywhere and tracks on a wide range of surfaces. It's also quick to recharge via USB-C, and has a blazing-fast stainless steel scroll wheel.
A smaller ergonomic mouse
Logitech Lift Vertical Ergonomic Mouse
Most ergonomic mice are a bit too bulky, and that's why we love this new smaller vertical mouse designed to help with wrist strain. We handed the petite and affordable Logitech Lift over to our colleague who's suffered from RSI for three years and she loves how it encourages her to relax her hand. Compared to the other ergonomic kit she's tried, it makes it easier to spend less time clicking and scrolling, putting the right buttons where they need to be so you'll barely have to move your fingers to get results. It's ​​available in three colours (black, pink and white) although left-handers are stuck with the black colour only.
Print at home
Brother HLL2350DW Monochrome Wireless Laser Printer
If you're not fussed about colour and just need to print your black-and-white documents, invoices, shipping labels and more, this is a quick and quiet model that'll get the job done.
Colour prints on a budget
Canon Pixma TS3355 All-in-One Wireless Inkjet Printer
If you just need a good-value home printer and know that you'll need colour prints as well as black-and-white, this little model should work well and will only set you back £40.
An entry-level monitor
BenQ GL2780 27 Inch 1080p LED Gaming Monitor
A lot of monitors out there are really expensive if all you need is a little more "screen real estate". This one is affordable and capable, with a 1ms GTG response time, Full HD resolution and easy HDMI connectivity.
A 4K screen upgrade
Samsung U28R550UQR UR55 Series LED Monitor
Happy to spend a bit more for better specs? Opt for this 4K monitor and you'll have really levelled up your home office. It's a sleek 28-inch display that serves up a great resolution, brightness and high dynamic range.
Upgrade your video calls
Logitech StreamCam
The Logitech StreamCam is our favourite webcam under £150 and we reckon it's ideal if you need to look your best on your work calls. It'll keep you looking crisp and clear with its 1080p resolution and it's easy to connect via USB-C.
Best phone stand for going hands-free
Lamicall Phone Stand
This phone stand lets you see what's on the screen at a glance, so you can keep up with messages and notifications without it rumbling around on the table during Zoom calls. We also rate this adjustable model, if you want to use it for video calls and need to get a better angle.
A great wireless charger for your desk
Anker PowerWave II Charging Stand
Pop your phone up on a wireless charging stand and you'll see any notifications that arrive and be able to scroll through your Twitter and TikTok feeds all while keeping the battery topped up.
A beast of a power bank
Anker PowerCore+ 26800 PD 45W with 60W PD Charger
This massive power bank is a big investment but it comes with a fast charging 60W adapter and an enormous 26,800mAh capacity if you need to refuel your laptop while you're working from a coffee shop or just can't find a wall socket.
A lightweight footrest
Huanuo adjustable foot rest
If you used to have a footrest at the office and you now struggle to sit comfortably without one, this is a worthwhile investment. It can make a big difference if you're spending long days sitting at your home desk.
A bit of luxury
Harber London Leather Desk Mat
It may feel like a bit of an extravagance but a leather desk mat is one upgrade that really levels up your home office. It both personalises your setup, protects the valuable wood of your desktop, and gives you a smooth space for your mouse. We love this high-quality Harber mat that's as beautiful as it is functional, and how it has some clever design touches like its discreet cut-out for running charging cables up to your devices. It comes at a bit of a cost, but it's worth it.
A versatile USB-C hub
Belkin USB-C 7-in-1 Multiport Hub Adapter
Have you got a laptop with USB-C connectors but need to use a lot of peripheral devices like flash drives, keyboards, mice and more? It can help to have a hub that expands your options, and this seven-in-one Belkin model has every connector most of us need, including HDMI to get your laptop hooked up to a monitor too. If you only ever need to connect one flash drive or USB-A device, though, you can save some cash by just grabbing a simple adapter instead.
USB-A Hub
Anker 4-Port USB 3.0 Ultra Slim Data Hub
If you've got a laptop with USB-A ports and just need to connect a few extra devices, go for a hub like this Anker model.
A great USB-C hub for iPads
Twelve South StayGo Mini
If you work from an iPad and need a handful of extra ports, the StayGo Mini is an ideal companion. It gives you a USB-A port for connecting a flash drive, an HDMI port for connecting to a 4K TV and a classic 3.5 mm audio jack for headphones or speakers. It also includes a USB-C port that supports data transfer as well as passthrough power so you can charge while using the hub. It's tiny and can sit flush with the body of the iPad, but also comes with a cable if you need to extend it from your tablet.
Light up your home office
Groov-e Ares Touch Control LED Desk Lamp with Built-in Wireless Charger & Alarm Clock/Calendar
Now £33.00 (Was £44.99) Save £11.99
If your colleagues can barely see you on your calls, it might be time to get a lamp for your workspace. This one has five brightness levels, five colour temperatures, a flexible head, and its base works as a wireless charger for your phone too.
A good value desk lamp
ANYDAY John Lewis & Partners Tony Desk Lamp
If you don't need your lighting solution to double-up as a charging station, this basic desk lamp is great value for £20 and comes in eight different colours to suit your decor.
Quality at-home coffee
Opal One Nespresso Pod Machine
artisancoffeeco.com
£129.00
Missing your barista-quality coffee from the Pret near the office? A Nespresso pod machine is perfect if you want delicious coffee at home without any fuss.
A mug that keeps coffee hot
Ember Temperature-Control Smart Mug 2
Don't let your coffee go cold – this mug uses thermal control tech to keep your cuppa at the ideal temperature.
This content is created and maintained by a third party, and imported onto this page to help users provide their email addresses. You may be able to find more information about this and similar content at piano.io