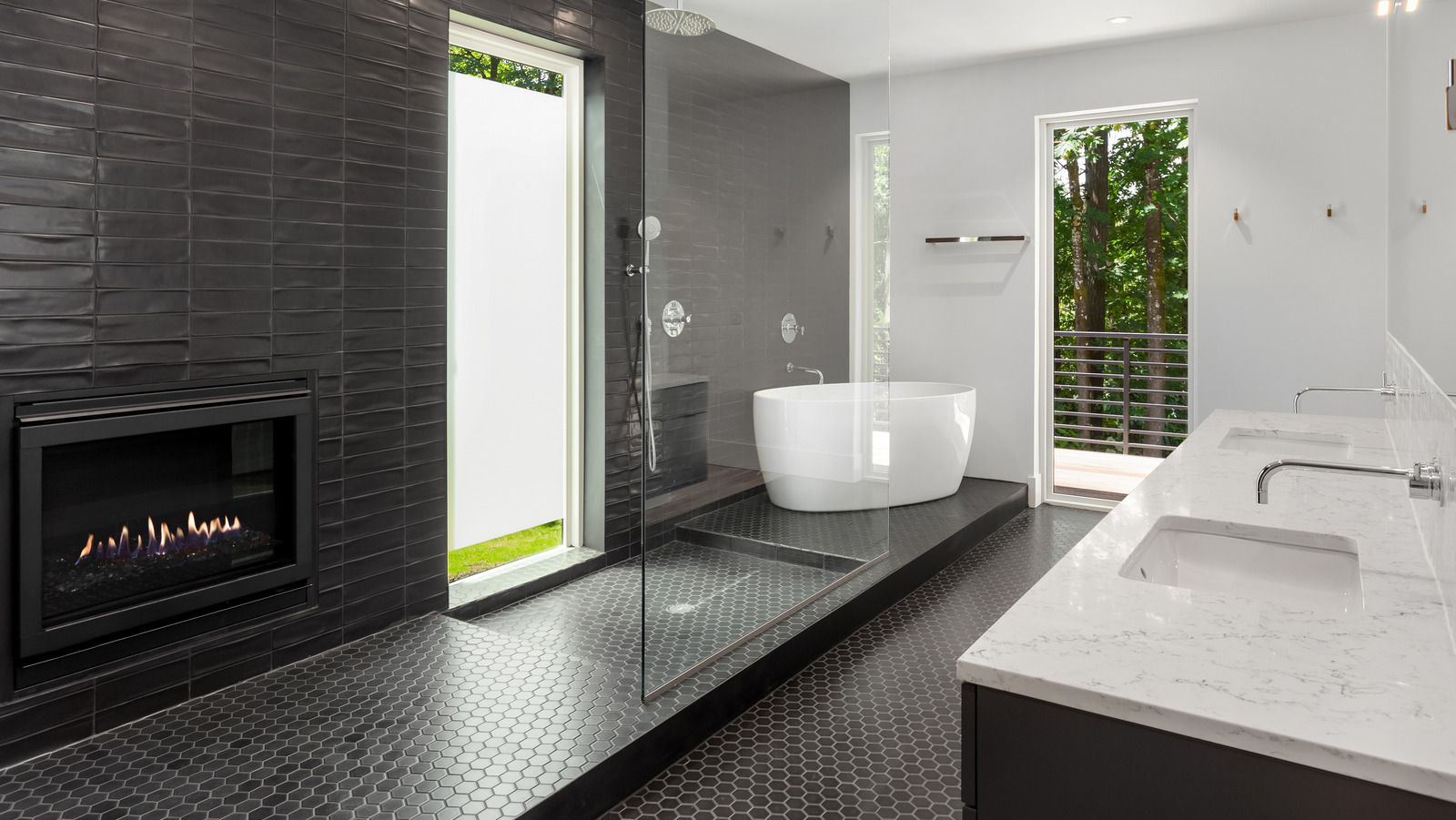 25 Black-And-White Bathrooms That Prove Simple Is Best When Decorating Your Home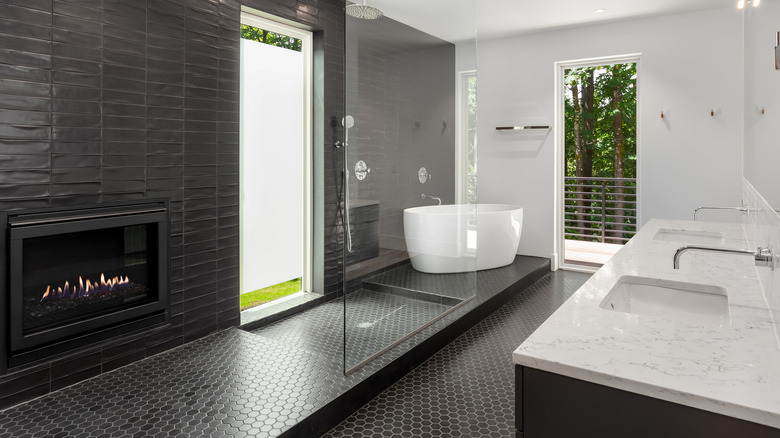 Justin_Krug/Shutterstock
The bathroom is often one of the more overlooked rooms in your home when it comes to design and decoration. Since it's so small, and you have only a few variable options for permanent installations, it can be difficult to come up with creative designs and color schemes.
In smaller rooms like your bathroom, simplicity is often best. One of the simplest design and color scheme approaches is an easy, monochromatic black-and-white color palette. While simple in terms of effort, black and white together are anything but basic when it comes to design. As Ann Holden points out, black and white create lots of dynamic contrast to a room, which can definitely benefit such a small area like your bathroom. You can also swap in temporary bright colors, like through hardware, plants, flowers, or a simple piece of art, without losing the classic, timeless elegance offered by a monochromatic palette. Keep reading for some stylish black-and-white bathroom inspirations.
1. Simple and clean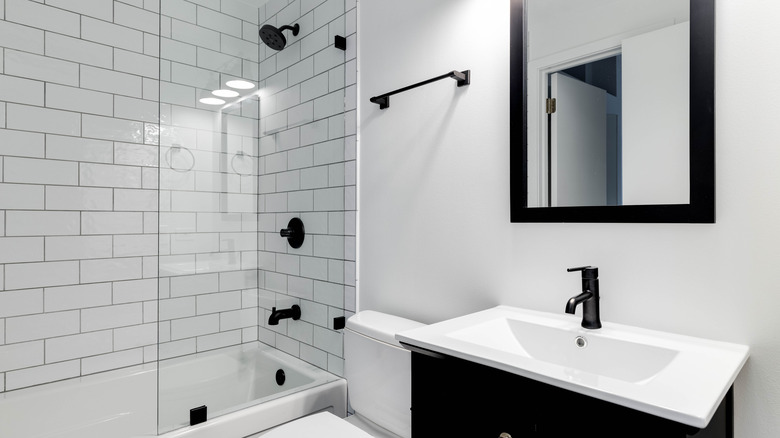 Hendrickson Photography/Shutterstock
Start simple with a basic white wall, floor, and appliance combination. Add some reserved but effective touches of black through details — tile grout, hardware, cabinets, etc.
2. Black-and-white tile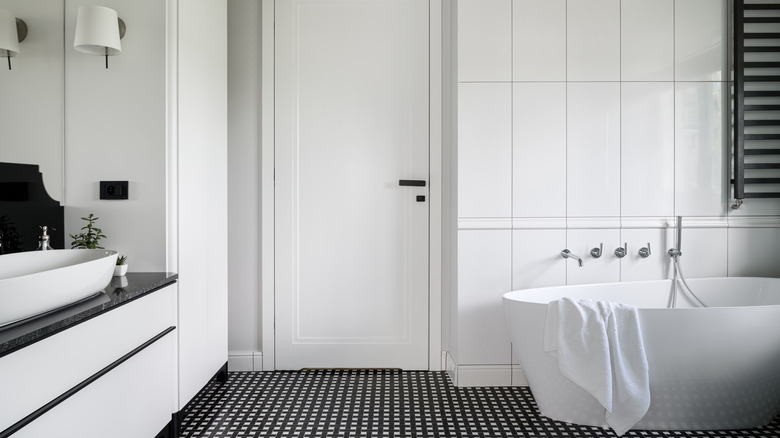 Dariusz Jarzabek/Shutterstock
Start the black-and-white theme from the ground up with a unique, stylish black-and-white patterned tile. Alternate touches of white and black after that, such as a white tub, black countertops, a white sink, and so on.
3. Sleek black accents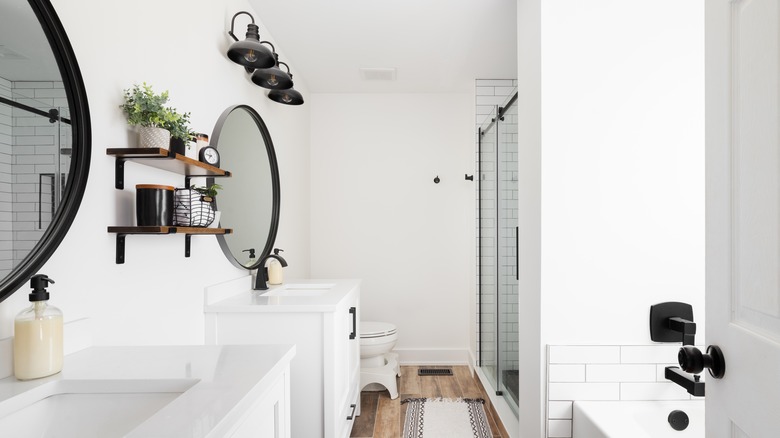 Hendrickson Photography/Shutterstock
Make white your base shade and then add touches of black afterward. Add sleek black faucets, black hardware, tile grout, and brushed black steel lights.
4. Subtle tile mixing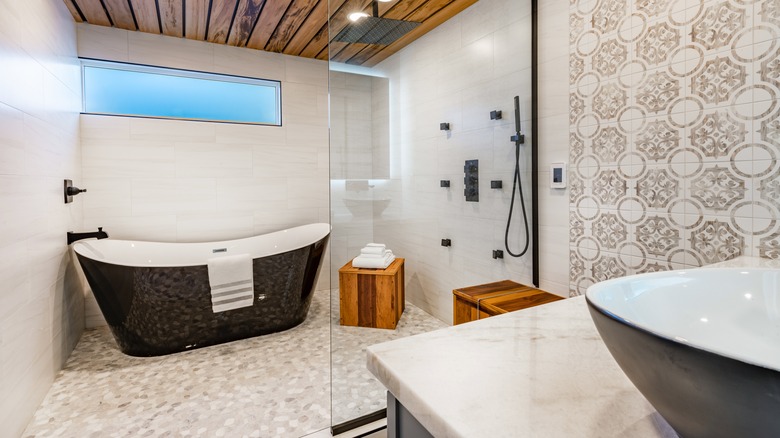 Sheila Say/Shutterstock
When you're only using two colors, you have a lot of room to play around with things like pattern mixing. Keep it simple with a softer white and more gray-toned black, choosing subtle but effective patterns to mix and match.
5. Rustic style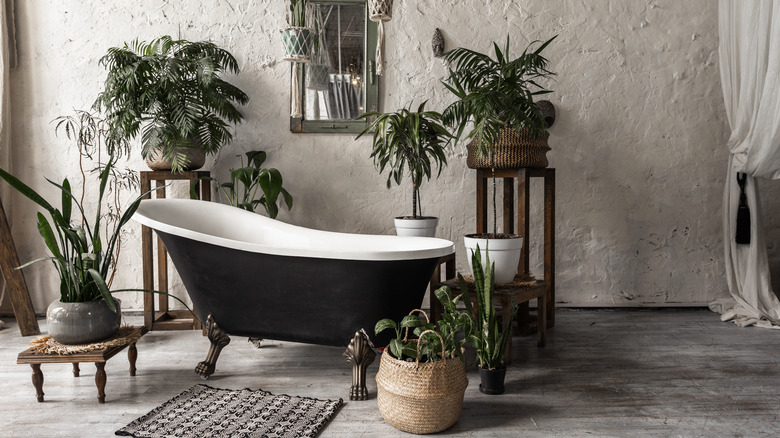 brizmaker/Shutterstock
Black-and-white color palettes tend to be a little modern, but they don't have to be. Mix in some raw textures and softer gray hues for a more rustic look.
6. Bold pattern mixing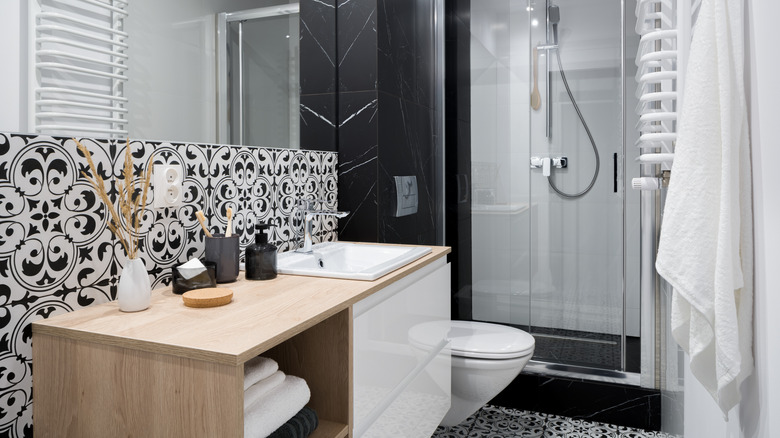 Dariusz Jarzabek/Shutterstock
You can also go bold with your monochromatic tile mixing, choosing one busy pattern paired with a more subtle, sleek black marble.
7. Modern monochrome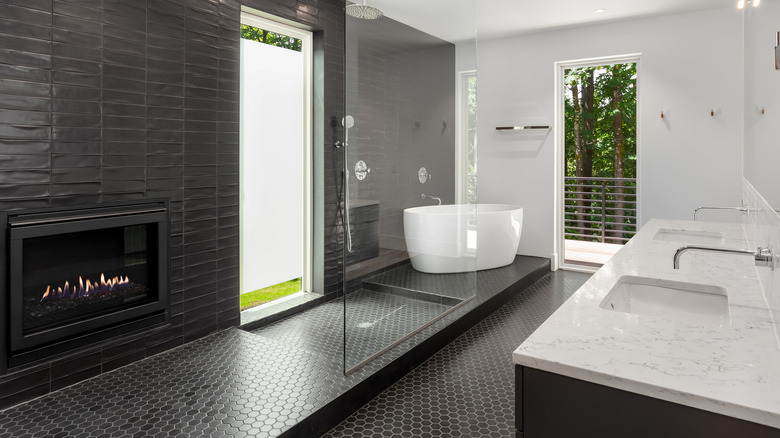 Justin_Krug/Shutterstock
Approach a monochromatic bathroom scheme in a modern way with a slightly gray-toned black tile, paired with flat white counters and walls.
8. Black marble walls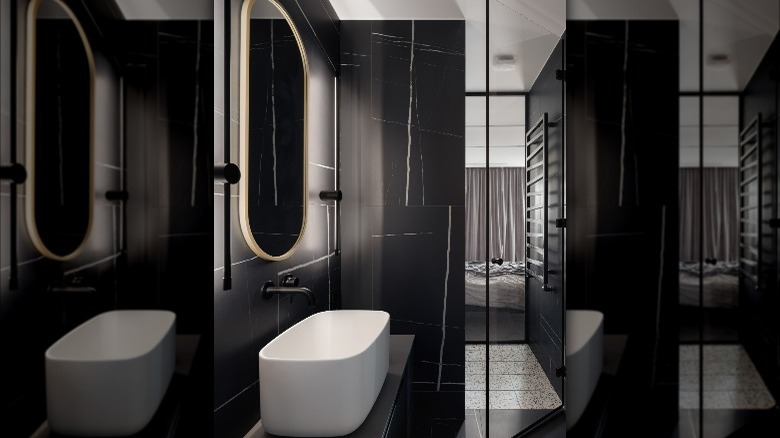 Dariusz Jarzabek/Shutterstock
For a more demure, sophisticated look, opt for black marble walls and a clean, modern white sink.
9. Floating cabinet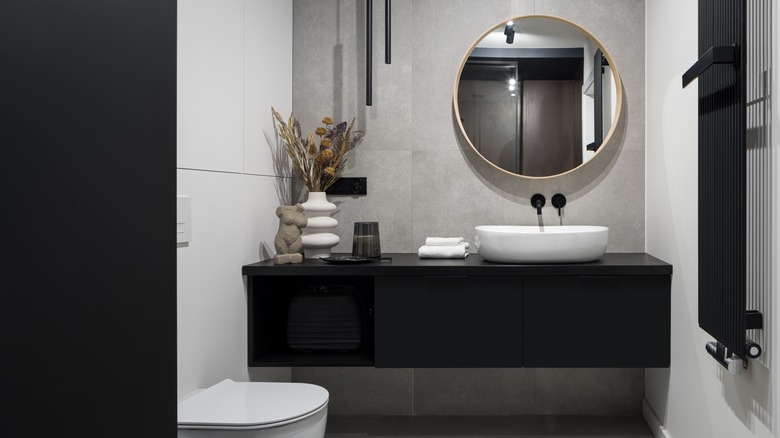 Dariusz Jarzabek/Shutterstock
Floating cabinets are already a very eye-catching and modern choice for bathroom design. Make it pop even more by keeping the rest of the bathroom white with a stark black floating cabinet.
10. Black-and-white marble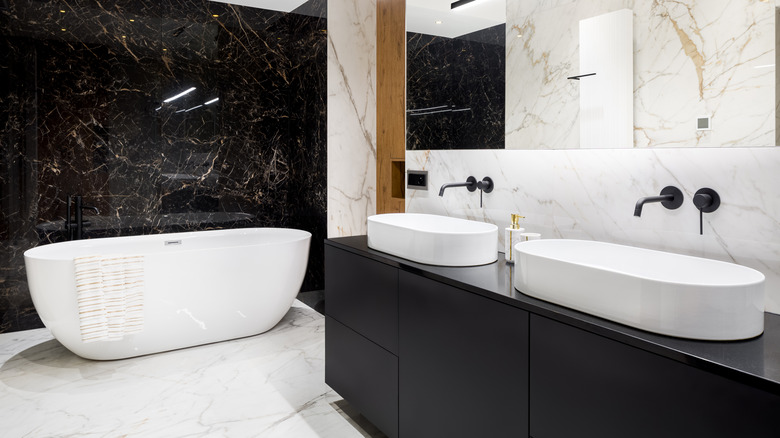 Dariusz Jarzabek/Shutterstock
You can't go wrong with marble in your bathroom, especially in sleek shades of black and white. Mix and match them as desired, and consider even looking for marble with gold veining.
11. Traditional monochrome
A lot of traditional or older bathrooms are already black and white, with simple white appliances, subway tiles, and black diamonds scattered throughout the floor tiles.
12. Contrasting tiles
Another option for pattern mixing black-and-white tiles is to add a feature tile wall in your shower. Make it contrast your main tile for it to pop even more.
13. Black base
A very modern, sleek and sophisticated approach to bathroom design is to go all black: appliances, walls, décor, etc. Lighten it up a little with white floors.
14. Stone accent wall
Tile isn't the only textile you can use in your bathroom. Help liven up a simple black-and-white bathroom with a featured stone wall.
15. Checkered floors
Another classic and traditional black-and-white bathroom design is an all-white bathroom with black-and-white checkered floors, which have a lot of potential for both modern and retro designs alike.
16. Matte black marble walls
Instead of a glossy, super-veined black marble in your bathroom, consider a more understated, refined matte-black marble, paired with simple white square floor tiles.
17. Gold accents
Add an elegant touch to a simple, or not so simple, black-and-white marble with sparkling gold accents throughout. Switch out your faucets and cabinet handles for a bright gold, matching it with décor throughout the bathroom.
18. Sleek and modern
For a minimalist, modern, and sleek monochrome bathroom, keep the contrast to a minimum. Gradually fade from soft whites to medium and dark-toned grays, avoiding harsh, saturated black or white shades.
19. Sleek black touches
Pavel Adashkevich/Shutterstock
Matte-black accents in a small white bathroom can do wonders to make it seem more put together and refined, like the faucet, shower head, soap dispenser, plant pots, and more.
20. Shiplap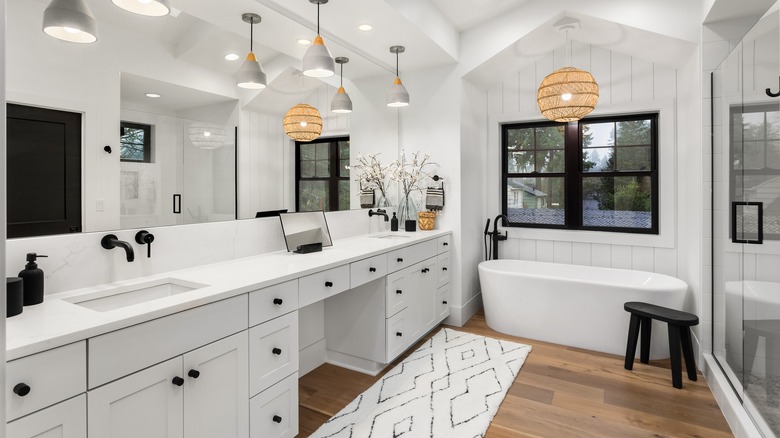 Justin_Krug/Shutterstock
Vary up plain white walls by adding a white shiplap accent wall. Paint main features like doors or window frames a sleek black for some nice contrast.
21. White cabinets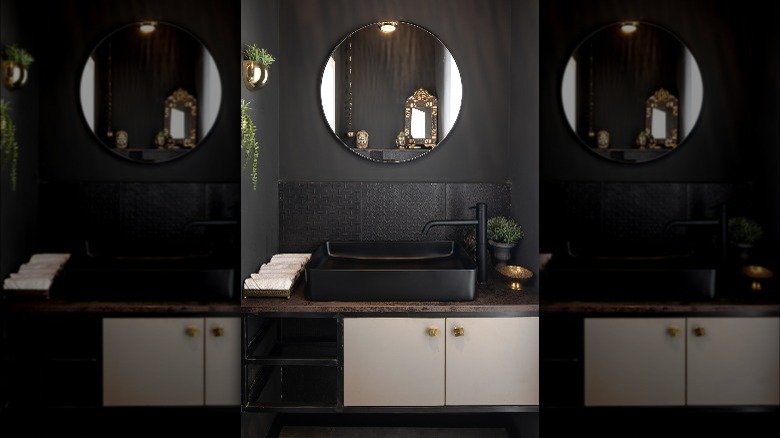 Shai.eps/Shutterstock
White is a very effective contrast color when paired with all black, and you only need a little bit for it to work. Add a simple white cabinet in a black bathroom for a dynamic look.
22. Luxurious monochrome marble
Go full out by pairing black and white marble together all over your bathroom in a luxurious, spa-like way.
23. Patterned shower tile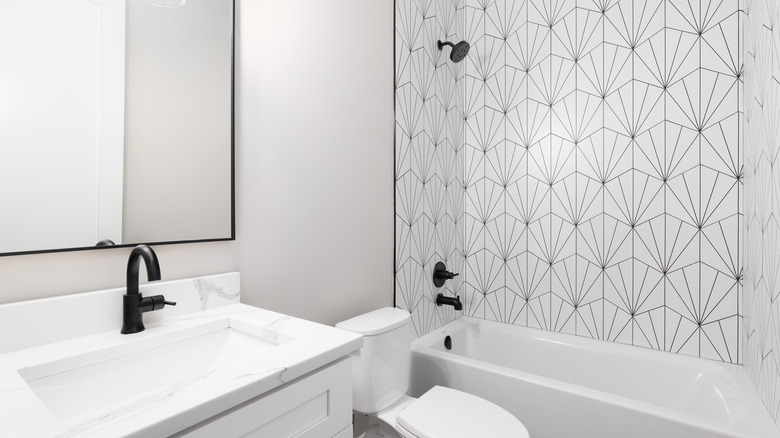 Hendrickson Photography/Shutterstock
Patterned tiles tend to be reserved for bathroom walls or floors, but it can be incredibly effective design-wise on your shower walls.
24. Elegant marble
Artazum/Shutterstock
White marble has an unequivocally elegant and luxurious look and feel in your bathroom. Help refine it even further with black accents like a tub faucet, glass pane edging, etc.
25. Copper touches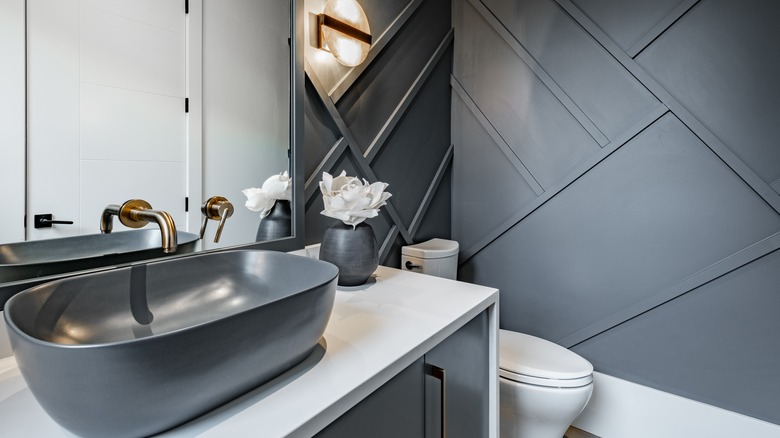 Sheila Say/Shutterstock
Copper is another great hardware accent color for a black-and-white bathroom. Go for a blue-based, almost gray-black shade for the best contrast.