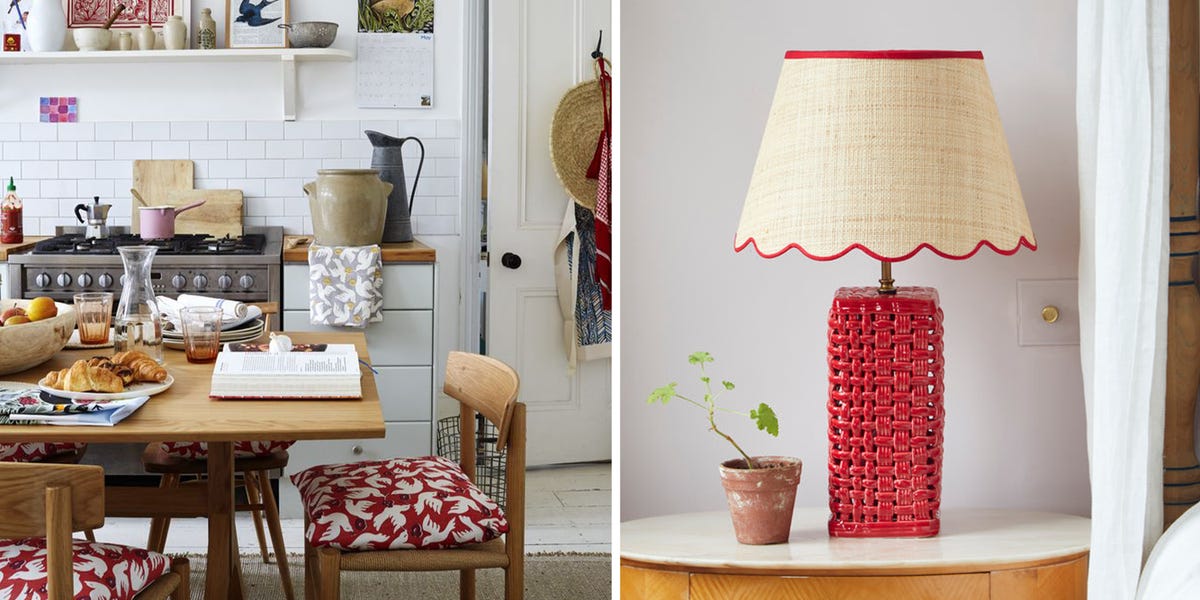 14 Pieces To Bring Cottagecore Decor Into Your Home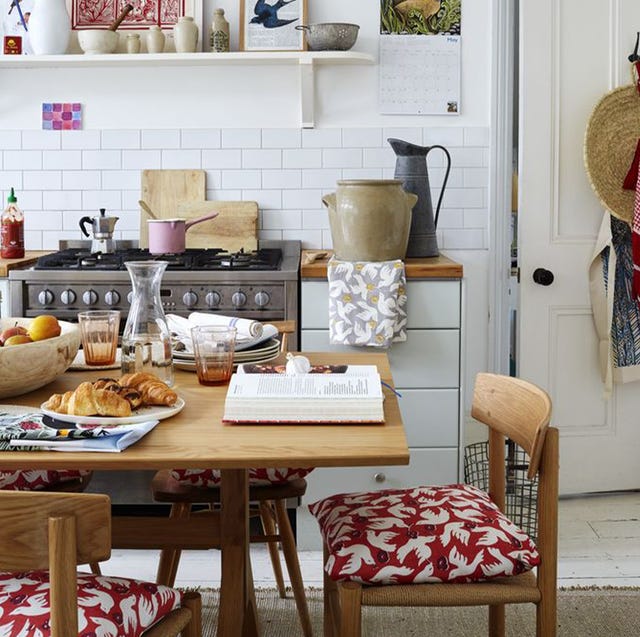 Brent Darby, Matilda Goad
Cottagecore is perhaps one of the prettiest of interior trends, with a romantic vision of rural living, complete with soft-focus wheat fields, dappled country paths and chocolate box cottages. Cottagecore interiors are infinitely appealing, as they are relatively easy to replicate, even if your home is without draughty cottage windows, heavy beams and creaking floorboards.
In expression, cottagecore focuses on decorative folk styles, natural materials such as wood, stone, and cotton, and a confident use of colour and pattern, mixing a rainbow of shades, and wrestling tartans, chintzy florals, and lace trims into a charming if messy union.
There are a key cottagecore pieces such as antique or inherited wooden furniture, and a wrought iron bed frame, but most important is a space that is well-lived, cosy, and welcoming. Cottagecore doesn't care much for anything pristine or too thoughtfully styled, it is relaxed and playful in equal measure and embraces the beauty in imperfections.
Below, we've looked at 14 key furniture and homeware pieces that bring cottagecore decor into your home…
Advertisement – Continue Reading Below
Cottagecore decor is meant to look and feel well-lived, and so newer materials like chrome or polished brass don't always sit comfortably in a cottage setting. Antiqued brass is widely used instead, along with darker metals such as nickel. The cherry on top of this Pooky light is a sweet pleated shade.
2
Country Living Croyde Stripe Cushion
Cottagecore tends to embrace a heady palette of colours and patterns, putting florals with stripes, spots, and tartans. It is the materials used that will provide some uniformity, you'll likely find a lot of cotton and linen mixes (like in this Country Living Croyde Stripe Cushion,) or wool and velvet for winter months.
3
Lacquered Frame with Pressed Delphinium
A quintessential country cottage flower, Delphiniums are always richly coloured in shades of blue, purple, dusky pink, red and white. Here, a deep purple Delphinium has been hand pressed in a sweet lacquered frame.
4
Country Living Charlbury Armchair
The furniture found in country cottages tend to have more traditional shapes – a lot will be inherited or antique – and for sofas and armchairs, this usually means rolled arms, turned wooden feet, high backs, and sink-in squidgy upholstery.
5
William Morris Exhibition Poster
Cottagecore draws a lot of parallels to the Arts & Crafts movement, and so any homage to William Morris will sit comfortably amongst cottage decor. Wallpaper can be pricey (John Lewis sell some brilliant examples if you want to splurge,) but his beautiful patterns and illustrations can be found on cushions, wall art, and even notebooks.
6
Ruffle Gingham Linen Square Cushion
Gingham is having a bit of a moment, thanks to the proliferation of vintage and antique marketplaces. This sweet blue and white gingham cushion by Rebecca Udall is made from linen with delicate ruffle detailing.
hobbycraft.co.uk
US$13.00
Cottagecore has a strong inclination towards crafting, mending and upcycling. Here, wooden apple crates have been painted (in Country Living paint colours,) to contain the bits and bobs that overflow in cupboards and onto shelves.
carpetright.co.uk
£124.99
The materials used in country cottages have a sensitivity towards the natural world – you see lots of wood, stone, ceramics, and unbleached linens and wool. Sisal is a natural and sustainable fibre, and a great option for flooring. We love the pretty red piping here, too.
9
Set Of 4 Kitchen Glass Jars
rockettstgeorge.co.uk
£95.00
A strong affinity for environmentalism means that you'll rarely find plastic packaging on display in a cottagecore home. Decant anything that can be displayed – oils, sugar, dried goods – into glass mason jars and pile them onto shelves and units.
10
Country Living Annabelle Cotton Drum Shade
It doesn't get more country than Cow Parsley or waddling ducks. Both are printed onto these sweet cotton drum shades in soft, natural colours. Both available in two sizes.
11
ANYDAY Spindle Dining Chair, Set of 2
Spindle-back dining chairs are a country cottage staple, and these affordable ANYDAY versions are a brilliant modern take. In true cottage style, they would likely be sat in mismatched pairs – John Lewis sell them in three colours if you want to recreate the look.
Two significant cottagecore themes at play here – quilting and paisley. A strong emphasis on layering – perhaps a way to stay warm in notoriously draughty cottages – sees cushions, throws, and rugs piled on top of one another.
13
Raffia Scallop Lampshade
Much in the way that gingham is on its way back, scalloped edges are too. Find them on lampshades, lacquered trays, and soft furnishings, frequently hemmed as you can see here in cheerful primary colours.
14
Set of Three Very Useful Elibris Trays
Styling is country homes is often haphazard and charming, with an abundance of treasures and trinkets. Collect yours into these canvas and wood trays for displaying on sideboards or shelves.
This content is created and maintained by a third party, and imported onto this page to help users provide their email addresses. You may be able to find more information about this and similar content at piano.io
Advertisement – Continue Reading Below