shenzhen qizhushe workshop and exhibition space by YI+MU
Shenzhen Qizhushe Workshop and Exhibition Place by YI+MU
Chinese observe YI+MU has done 'Shenzhen Qizhushe', a workshop and exhibition house located in the Shenzhen Art Style and design Centre, a transformed factory from the 1980s. The project serves as a generation hub for designers and artisans and a venue to screen primary furnishings and associated dwelling equipment. 
Made as a heat and nest-like inside, 'Shenzhen Qizhushe' physically expresses the inner workings of spirituality. Without a doubt, 'the whole house can be noticed as a convergence of households and a metaphoric illustration of retreat, a position exactly where lonely, wandering souls can come across repose,' notes the group. 

all images © YI+MU Structure Business office
Breath of Mild: Producing a Religious Knowledge
Employing metaphor as a structure procedure, YI+MU has (see a lot more listed here) organized the total construction all around a central column that symbolizes the unshakable 'core' of enlightenment. With the central column as the commencing level, the structure extends outwards into a virtual, cross-like format, nodding to the repercussions of our internal framework.
The ensuing spatial expertise offers the impression of remaining inside a nest that gently diffuses the farther it reaches. This sense of decrescendo is emphasized by making use of solid lights at the heart of the 'nest', symbolizing the interior shine of spirituality. Light is filtered by means of the nest's wood structure, making a sluggish flicker evoking the breaths of a dwelling overall body and morphological improvements of life forces.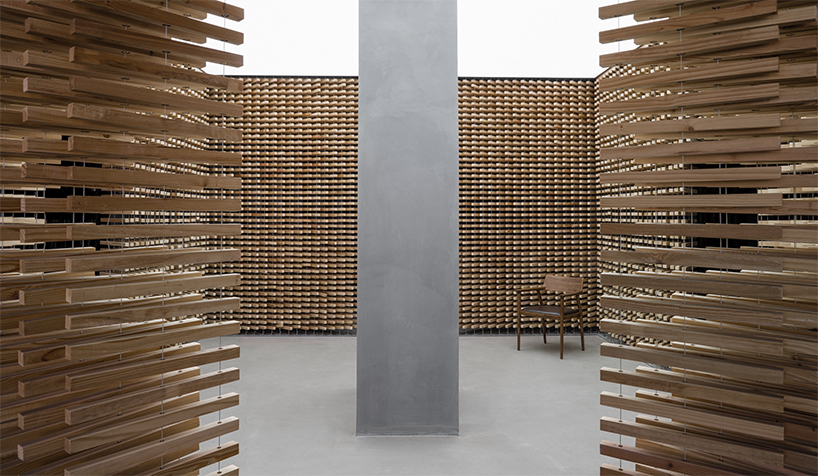 Wanting to maintain the focus targeted on the nest, lighting has been intentionally reduced at the corners of 'Shenzhen Qizhushe', letting the 'shine' to diffuse solely from the heart. 'With the subtle swaying of gentle and shadow, the digital and the real interlace, filling the house with a selected vitality and spirituality,' demonstrates YI+MU. 
a warm, nest-like main towards a metallic grey backdrop 
Material-intelligent, the nest is designed from picket scraps discarded all through furnishings creation, whilst the rest of the space reveals a dim-gray metallic backdrop. This sharp but harmonious contrast is specially punctuated by a 19-meter-lengthy block of suspended mesh racks that operates by way of the overall space. This juxtaposition of coldness and heat reinforces the sense of belonging within just the nest by producing a extremely tense spatial get.
Obtain clever, YI+MU freed up an abundance of indoor room to permit designers freely total artistic work and reception jobs, supply plenty of exhibit room, and permit uninhibited customization. The lobby also retains a screen wall of legacy home furniture creation equipment along with samples of contemporary furniture materials. These are specifically curated to persuade engagement and cultural conversation.