Razer Pro Type Ultra review
I've long argued that gaming peripherals double as great work-from-home accessories, but what happens when a gaming company actually makes productivity gear? That's exactly what Razer has delivered with the $169 Pro Type Ultra keyboard, $79 Pro Click Mini mouse and $29 Pro Glide XXL mouse mat: three subdued, designed-for-work gadgets from a brand whose stuff is typically laden with flashy lights.
I've been using Razer's new accessories as my main work tools for the past month or so, and have largely come away impressed despite a few notable caveats. If you're looking for some new gear for upgrading your home office — or returning to your in-person one — here's how the Pro Type Ultra, Pro Click Mini and Pro Glide all stack up.
An impressive productivity keyboard
Razer's Pro Type Ultra features responsive keys, useful productivity features and excellent wireless functionality.
A compact, quiet mouse for the office
The Razer Pro Click Mini is an excellent computer mouse with a compact design and nearly silent click buttons.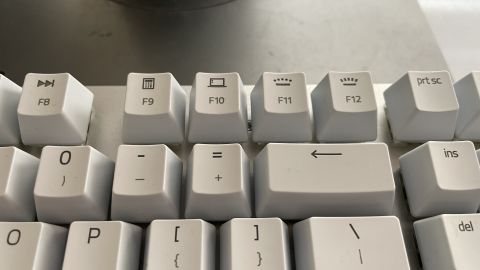 Mike Andronico/CNN
The Razer Pro Type Ultra keyboard is made with getting work done in mind, and that starts with its slick design. With its aluminum body and bright white keys, it looks like a modern take on those giant Mac keyboards you may have used in your school's computer lab (at least if you're like me and old enough to remember such a thing). When paired with the Pro Click Mini mouse and Pro Glide mouse mat, the Pro Type Ultra makes my home office actually look like an office and less like a black desk laden with RGB toys.
Fortunately, the Pro Type Ultra keyboard does more than look the part, with keys that are comfortable and responsive — even if they're not my absolute favorite to use. The Pro Type Ultra's keys are tall, offer a good amount of travel and deliver a satisfying level of feedback whenever I'm rapidly mashing away at my latest review. These solid keys are complemented by a wonderfully cushy leatherette wrist rest, which spans the entire length of the keyboard and has kept my wrist pain-free throughout prolonged use. I still prefer the lower-profile, less resistant keys on the Logitech G915 TKL that I typically use, but I've still been happy to use the Pro Type Ultra as my main keyboard for more than a month.
However, if working quietly was a priority for me, I might not feel the same. For a keyboard that has Razer's "Silent" keyboard switches, the Pro Type Ultra is about as noisy as most mechanical gaming keyboards I've used — and a hair louder than my G915 TKL. As someone who works from home and lives alone, this isn't a deal breaker for me. But I imagine that other people would be able to hear my clacking quite easily, and this model probably wouldn't be my first choice to bring with me back to the office.
Mike Andronico/CNN
If you can live with somewhat noisy keys, the Pro Type Ultra does have a handful of neat features built specifically to keep you productive. The function row has a lot of the usual shortcut buttons — including ones for volume and playback control — but it also has dedicated keys for things such as opening the Mail and Calculator apps, refreshing your web browser and opening your computer's file explorer. The latter features are exclusive to Windows machines, but you'll be able to utilize the media controls on either Mac or PC. While not all of these features fit into my personal workflow, I always appreciate dedicated media controls, and fast access to my overflowing inbox is welcomed.
Useful shortcuts are nice, but perhaps the most impressive thing about the Pro Type Ultra is its wireless functionality. This keyboard can connect over Bluetooth or via a 2.4Ghz USB-A dongle (that's included in the box) — I've been using the latter, and other than a few very small hiccups, I've enjoyed almost entirely lag-free typing. More crucially, I've been using the Pro Type Ultra and the Pro Click Mini mouse wirelessly for about a month now and have yet to have to charge their batteries. Razer is promising up to 200 hours of battery life for the keyboard and up to 725 hours for the mouse, and both gadgets are living up to those claims so far.
Mike Andronico/CNN
While I've enjoyed my time with the Pro Type Ultra, it's Razer's Pro Click Mini mouse that has really become the new star of my WFH setup. This thing is tiny and just feels great, with comfortable textured edges and a compact 4-inch-long design that I find incredibly easy to glide around when I'm bouncing between tasks.
And unlike the Pro Type Ultra, the Pro Click Mini is actually pretty quiet, with two primary buttons that provide a nearly silent but still very satisfying click. It also packs a very versatile scroll wheel — you can switch between tactile mode for rigid, precise scrolling or turn on free spin mode to smoothly glide down long documents. It also has useful tilt click functionality, which allows you to click the scroll wheel left or right to move horizontally through spreadsheets.
Mike Andronico/CNN
The Pro Click Mini also has all of the wireless benefits of its keyboard counterpart, meaning it can connect via either a USB-A dongle or Bluetooth and can pair to up to four devices at once. It's highly responsive, and its aforementioned battery life really is killer. Between the Pro Click Mini's pocketable design and truly silent click buttons, this is one of the few gadgets in my WFH setup that I can actually see myself bringing to the office.
It's also worth making a quick mention of the $29 Pro Glide XXL I've been testing, which is really just a giant mouse mat that covers most of my work desk (there's also a smaller option for folks with less space to work with). It feels as nice as any mouse pad I've used and makes it easy to slide my Pro Click Mini around, and it combines nicely with Razer's mouse and keyboard for an elegant-looking, all-white work setup. I wouldn't say you need to rush out and buy this if you're happy with your current mouse pad or mat, but if you want something reliable that will match the Pro Type Ultra and Pro Click Mini well, it's a good add-on.
Mike Andronico/CNN
I've been using Razer's gear to play games for years, and I'm happy to find that its hardware is just as reliable for getting work done. The $159 Pro Type Ultra is a very solid premium productivity keyboard, with responsive keys, a highly comfortable wrist rest, excellent wireless functionality and great battery life. Just keep in mind that its "silent" switches aren't so quiet before you bring it into the office. The Logitech MX is still our pick for best keyboard and is more affordable, but folks who prefer the clack of a mechanical keyboard will find lots to like about Razer's model.
That said, the $79 Pro Click Mini is the true standout within Razer's latest made-for-work lineup. If you're looking for a compact, comfortable wireless mouse that you can easily bring from your home office to your office-office, it's one of the best I've gotten my hands on. (Those seeking a bigger, more ergonomic design can check out our best mouse pick in the Logitech MX Master 3.)
And if you plan on buying either of these gadgets and want a reliable mouse mat to match them, the Pro Glide both looks and feels great. You're very likely due for some sort of office gear upgrade at this point, and Razer's latest lineup consists of three very strong additions to wherever you get work done.