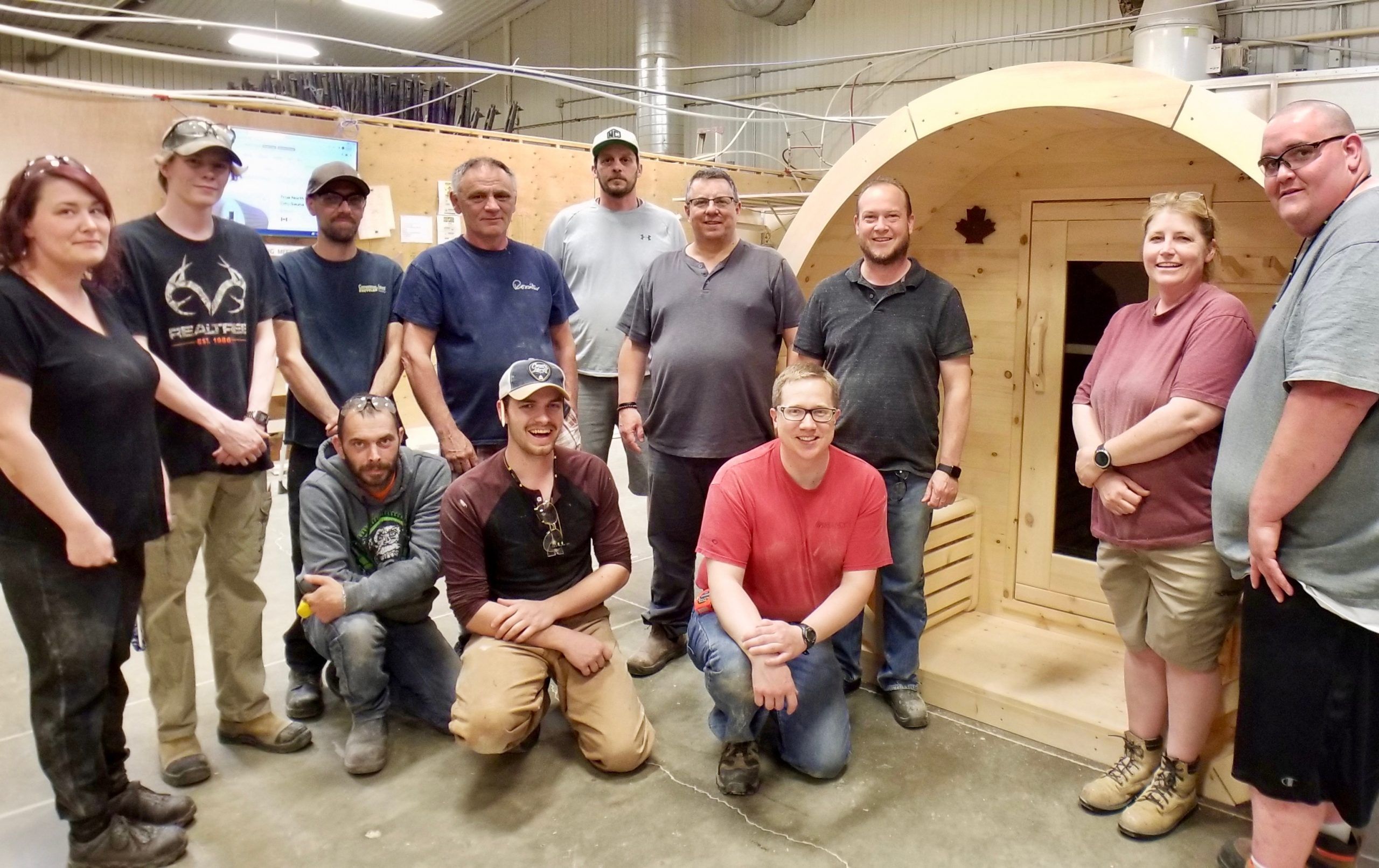 Local furniture maker retooling to meet hot sauna demand
Article content
Durham Furniture has purchased the local Vokes Furniture brand and now the former Vokes Furniture company has a new name and new mission to meet an exploding home outdoor sauna demand.
Article content
Mike Vokes has opened True North Saunas to build barrel-style outdoor saunas and others with less expensive pine in a market dominated by pricier western red cedar, he said Wednesday in an interview. "And that opportunity is huge."
Vokes, the company's president, employed 24 people at the furniture company before it shifted exclusively to saunas.
Seven or eight of them work at Durham Furniture now, in Durham. Ten employees stayed with Vokes and the rest found employment locally, he said.
Wednesday, all employees were shown how a sauna is put together. Mostly they'll be making parts to be crated as a kit, which will be assembled at the customer's site, Vokes said. One sauna weighs about 2,000 pounds.
The company will sell direct to customers through it website in a 120-kilometre radius of Owen Sound, and beyond that through North American and European dealer networks.
"Right now there is a huge under-capacity for sauna manufacturing, especially for North America and Europe," said Paul Oehm, a business consultant with experience in the backyard leisure market, who is advising Vokes.
"There's lots of little mom and pops, especially the Amish, doing maybe one or two saunas a week. There's very few bigger players like True North Saunas now that can produce volume now out the back door."
True North's advantage will be the ability to set up a distribution network and fill the market demand, he said. And they're entering a whole new market because they'll be selling at a lower price point, Oehm said.
Article content
He said some U.S. distributors are excited to offer this less expensive product. "As a few of them said to me, it's a working man's sauna now, not a wealthy person's sauna." Instead of paying $15,000 or $20,000, the pine saunas cost $7,000 to $10,000, Oehm said.
Vokes said a chance meeting at a furniture show in Dubai five or more years ago led to his decision to enter the outdoor sauna business. He helped a sauna vendor at the show assemble his sauna and they became friends.
He turned to Vokes to manufacture the saunas and so four years ago, Vokes Furniture began making saunas in addition to its furniture. Now that European sauna maker heads European distribution for True North Saunas.
The company can make two saunas a day. Within six months they'll be making more than five daily and within two years, 10 saunas a day, he said. He anticipates then having up to 20 employees.
"We can probably sell up to five saunas a day, every day. So we needed a bigger place and the opportunity was too hard to hold back on," Vokes said. "I think its people fixing up their backyards. They're looking for health benefits to make themselves feel better at home and we're trying to drive that."
Vokes Furniture's origins are with Alvin Vokes, who died last month at 74. He started working out of his garage in 1987. Son Mike Vokes joined him in 1989 and in the end, the company had $4 million in annual sales of solid wood bedroom furniture, 95 per cent of which were in Canada.
Article content
The company was named Frontier Furniture until it was sold in 2000, then Vokes Furniture opened. It's been in the Springmount Business park for about 12 years.
Luke Simpson, the president of Durham Furniture, said the Vokes Furniture brand complements the Durham Furniture lines.
"We make very similar products, just working at different price points. Durham's always been fairly high-end. Mike was targeting more, not the entry level but more the mid-price point, with different construction style, different finishes."
Also, Durham Furniture has a much larger dealer network than Vokes had, whose sales were largely concentrated in Ontario, Simpson said.
Simpson took on seven or eight employees of Vokes', who continue to make furniture as they did before, Simpson said.