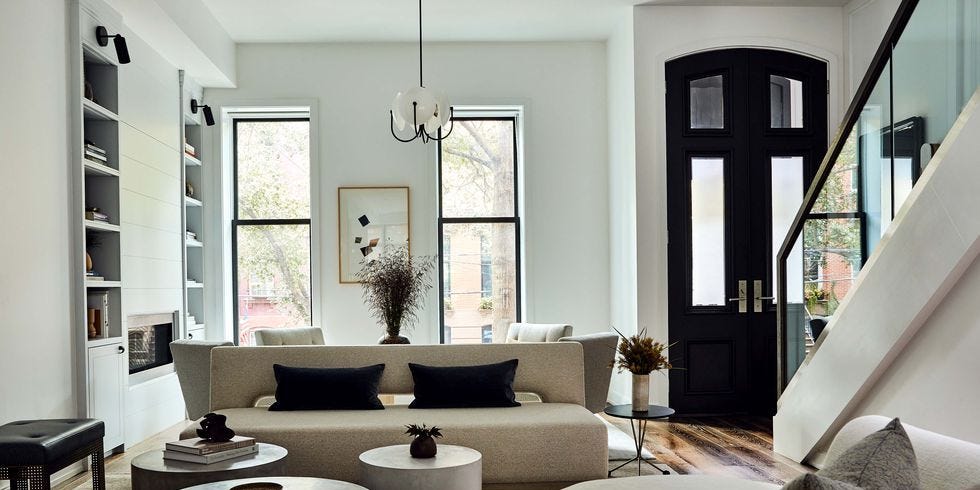 How This Hoboken Brownstone Became the Perfect Pandemic Retreat
When the owners of a Hoboken brownstone decided they wanted a home that felt more put-together, they called in Joan Enger, principal designer at J. Patryce Design & Company. Her style of "classic modern," blending clean lines with traditional twists, was a good fit for the clients, a busy professional couple (surgeon and marketing consultant) with twin pre-teen children. It didn't hurt that Enger had also designed and managed the renovation of her family's own four-story townhouse.
"They knew they wanted their newly renovated brownstone to feel more like home," recalls Enger. "They had a collection of mismatched furniture from their post-college days, as well as some newer pieces that didn't quite fit together. The couple yearned for a more designed, 'grown up' home that fit their current lifestyle.
"Our job was to create a more residential feel," she continues. "We aimed to provide additional warmth and lean into the historical references throughout, focusing on material selections that would enhance the home's original integrity."
However, even after a gut renovation, there were architectural weaknesses throughout—not to mention a poor lighting plan and a lack of cohesiveness, "which collectively took away from the home's grandeur and inherent grace." The designer responded to those challenges with the strategic use of millwork to conceal the less-than-ideal elements. And she bumped out the area surrounding the parlor-level fireplace to conceal uneven wall jogs and designed custom 10-foot bookcases with fire-resistant paneling to "transform the overlooked area into a stunning focal point."
Near the end of the project, the clients decided to expand the fourth floor to include a large open-plan media/homework/games room and convert the fifth bedroom into a custom milled home office/lounge. "We thoughtfully designed every inch including the white oak and blackened steel staircase to the roof, which included built-in storage and a beautiful desk nook for the twins. Little did they know that the lockdown would make this a very wise decision. The media room/lounge and spacious home office became the most utilized and 'favorite' floor of the house!"
Tour the entire Jersey home below.
---
Living Room
"The clients wanted elegant but livable for their young family," says Enger. "We sourced an L-shaped curved Dune sectional to break up some of the angles and designed an original armless settee with a partially open back to define the living room without closing it off to the sitting room. A hand-knotted silk and wool rug by Beauvais provided the perfect amount of texture and formality."
Sectional sofa: Dune. Fabric for sectional: Holland & Sherry. Armless sofa: custom workroom. Fabric for armless sofa: Holly Hunt. Rollerboys: Dennis Miller. Upholstered stool: custom workroom. Custom rug: Beauvais. Decorative pillows: Claremont.
---
Dining Room

"A substantial 10-foot steel and walnut dining table by Robert James is surrounded with graceful curved dining chairs by Cliff Young covered in a Joseph Noble faux leather," explains the designer. "A sculptural fixture by Atelier de Troupe floats perfectly above. The large graphic painting by Jean Wolf complements the palette and fills the large wall perfectly."
Dining table: Robert James. Dining chairs: Cliff Young. Faux leather dining chairs: Pollack. Overhead fixture: Atelier de Troupe. Rug: custom workroom. Art: Jean Wolf.
---
Family Room
"Arts and crafts and movies were important downtime activities for the family," notes Enger. "We incorporated a custom nook with linen wrapped homosote walls for properly displaying art and accolades. A custom melamine topped table in the manner of Saarinen with vintage/recovered Platner stools worked perfectly with the cheery blue and lime palette."
Upholstered stools: Nicky Kehoe. Fabric for stools: Robert Allen Duralee. Sectional sofa: Interior Define. Lounge chairs: vintage. Fabric for lounge chairs: Lee Jofa-Groundworks. Ottomans: Vintage Platner. Melamine table: custom workroom. Overhead fixture: Cedar & Moss.
---
Office
"Custom millwork and a custom desk finished in the same stain create the ideal workspace. A cheery Phillip Jeffries grass cloth brightens up the darker wood tones," says Enger.
Sleeper sofa: custom workroom. Fabric for sofa: Rogers & Goffigon. Custom rug: custom workroom. Fabrics: Holland & Sherry. Fabrication and upholstery of office chair: Vintage Jens Risom reupholstered. Side table: Theodore Alexander. Desk: custom workroom. Desk chair: Suite NY.
---
Primary Bedroom
"A watercolor-like velvet from Holly Hunt became the jumping point for the palette," Enger explains. "From there, we designed a custom tufted platform bed using a Holland & Sherry linen Jacquard anchored by simple oak nightstands in an earthy tone. Sconces from O'Lampia, a textured linen wallcovering from Aesthetics and bedding from ABC and Sferra finished off what feels like a Zen sanctuary."
Bed: custom workroom. Nightstands: custom workroom. Wall sconces: O'Lampia. Overhead fixture: Allied Maker. Bench: Interlude Home. Dresser: custom workroom. Wallcovering: Aesthetics.
---
Boy's Room
"The twins had been sharing a bedroom since birth, but as they were getting older they were ready for separate spaces as long as they were on the same floor," recalls the designer. "With very efficient space planning including a dropdown desk and custom millwork to utilize the 10-foot ceiling heights, we were able to create two very small but functional rooms out of one."
Carpet: Stark. Wall sconce and overhead fixture: Cedar & Moss. Bed and nightstand: DucDuc. Wallcovering: Dedar. Desk chair: vintage. Bedding: ABC Carpet and Home.
Girl's Room
"We turned to Duc Duc for the highly customizable furnishings," Enger notes. "Wall to Wall carpeting from Stark unified the spaces. Both rooms have painted walls (color direction from each child) with wallpapered ceilings to create a bit of whimsy."
Carpet: Stark. Wall sconce and overhead fixture: Cedar & Moss. Bed and nightstand: DucDuc. Wallcovering: John Rosselli. Upholstered desk chair: Bar Stool Co. Floating shelf: Bludot.
---
Games Room
Enger explains, "We custom designed all of the furniture pieces in the room with the exception of the vintage lounge chairs reupholstered in a Metaphores fabric and the Italian games table chairs from 1st Dibs."
Games table: custom workroom. Chairs for games table: 1stDibs sold by DUPLEX. Fabric for window seat cushions: Link outdoor. Fabric for throw pillows: Holland & Sherry.
---
Follow House Beautiful on Instagram.
This content is created and maintained by a third party, and imported onto this page to help users provide their email addresses. You may be able to find more information about this and similar content at piano.io