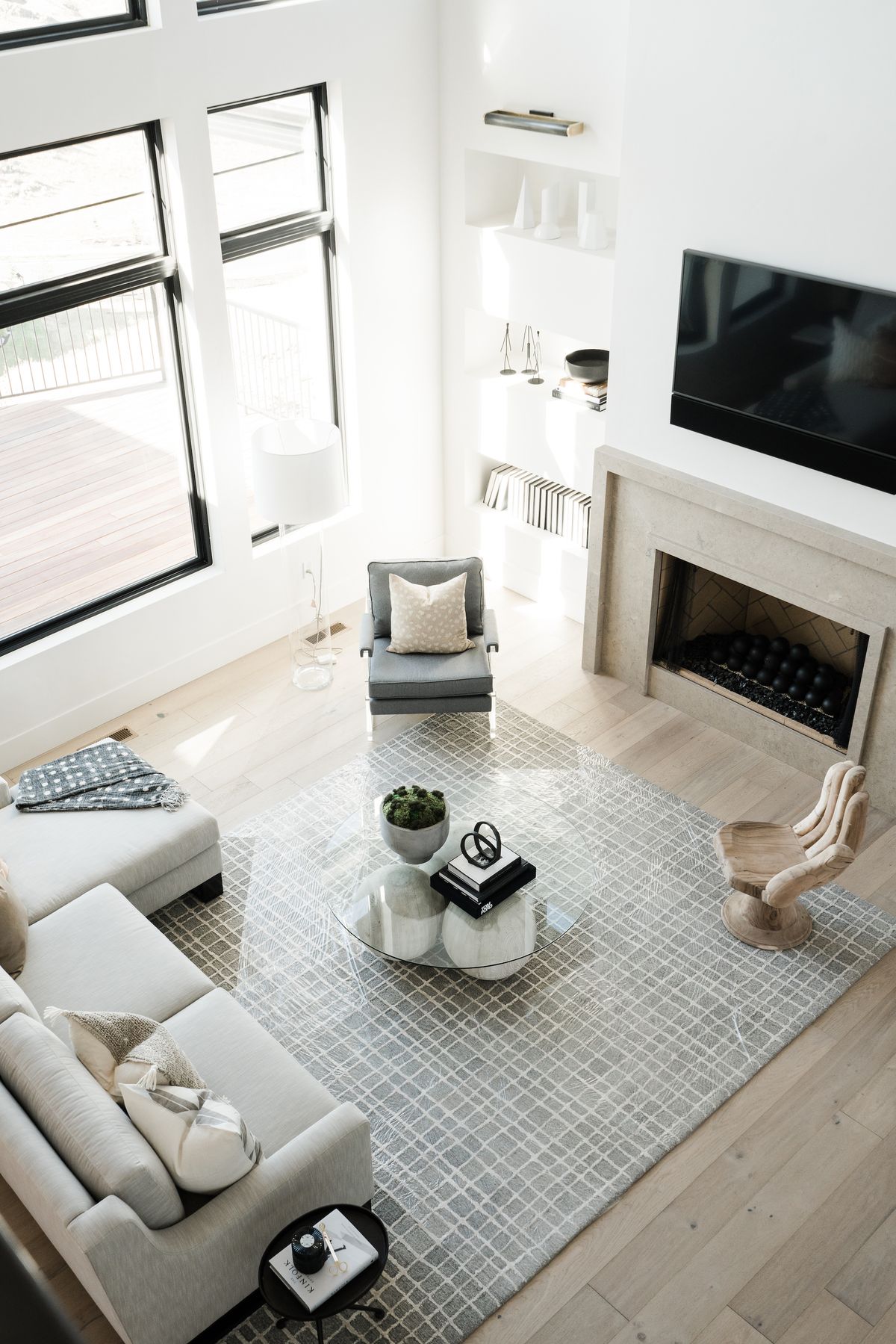 Experts explain how to arrange living room furniture properly
The way we arrange living room furniture is key to create a welcoming and functional space, as too many pieces put together with a haphazard approach can result in a room that's a little off balance.
The best living room layout for your home will ultimately depend on what pieces of furniture you are accommodating. You'll want to consider where to put your TV, the all-important couch, coffee table and more too. And, your arrangement will of course need to take into account how you and your household use the space.
How to arrange living room furniture properly
There are a few different ways to arrange furniture, and the shape of your room will naturally guide how you go about it. 
At the end of the day, living rooms work hard to feel cozy when required and welcoming when we are entertaining. Our expert advice will inspire you to have a play around in your own living room so that you can create a stylish floor plan that suits you best.
1. Always start at the beginning – with the couch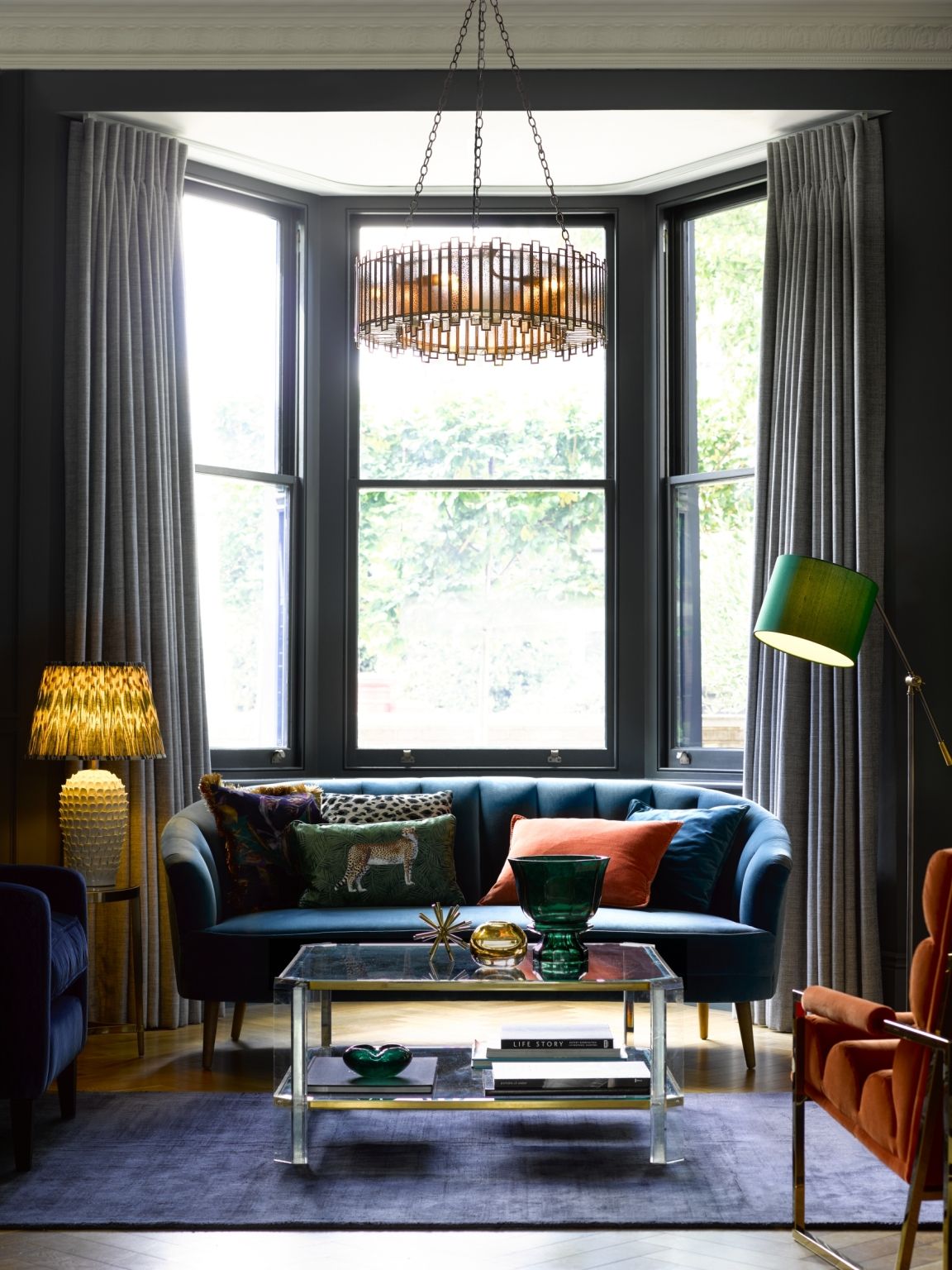 The couch is the main piece of furniture, and its placement is paramount. In front of a large bay window is a lovely position and as if it fits, push it back into the bay so you have more floor space to play with. 
If it is the only sofa you have then add in a couple of armchairs each side, with a coffee table in the center. Do choose seating that's similar in style, these three pieces shown here all have a curved lines which brings more harmony to the space.
2. Make symmetry your best friend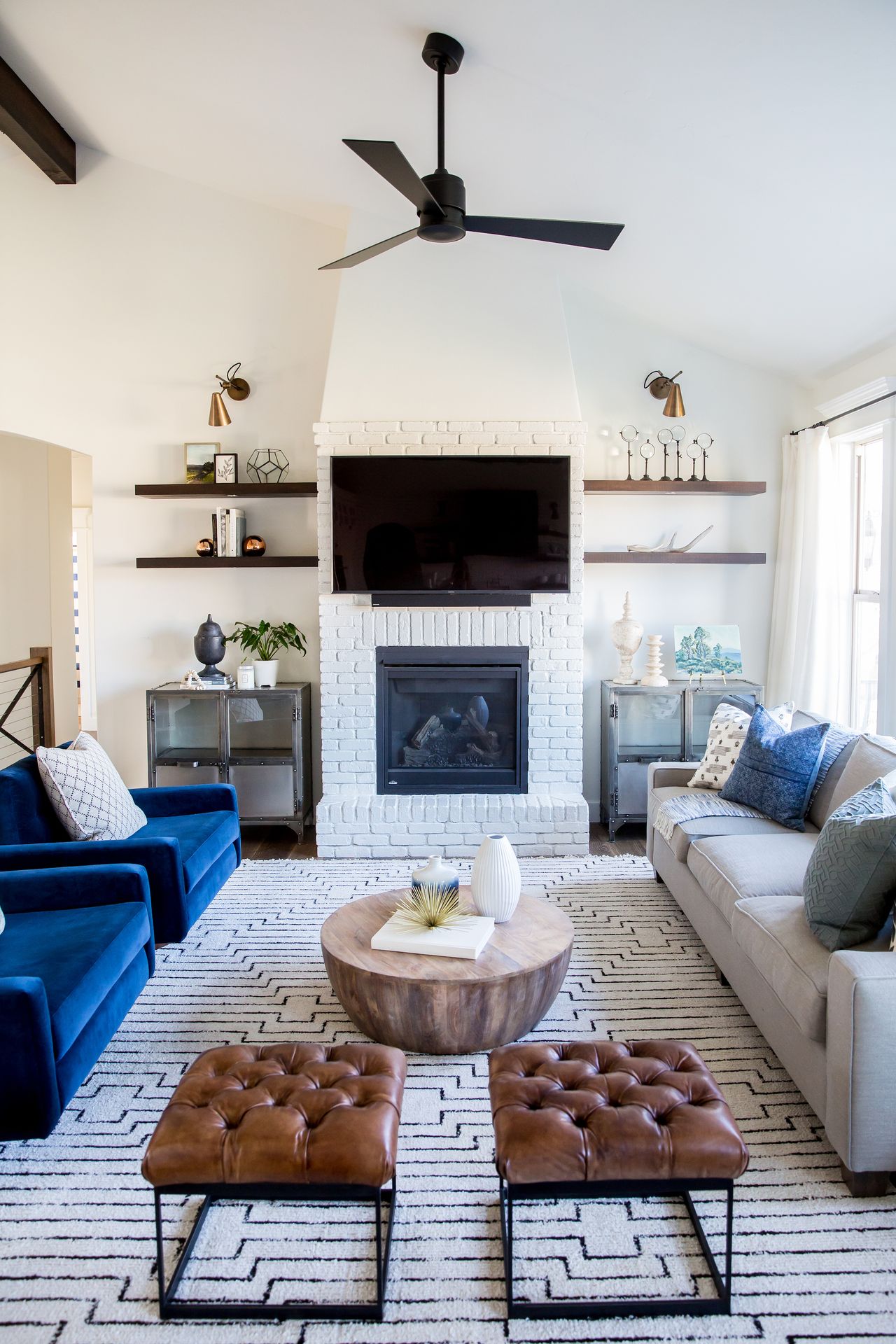 The finest living room TV ideas will see you enjoying the big screen, without it impacting on the finished look of your lounge. This space is designed to perfection. 
'One of the challenges of this space was getting adequate seating to view the t.v. The space between the kitchen and living room were tight and we didn't want to eat too much into the walkway and flow space. We decided to do a long sofa on one side of the t.v. and two blue swivel chairs on the other. The chairs are super comfortable and the swivel feature makes for great t.v viewing! 
When designing our #ridgerunnerproject, our goal was to turn the home into a modern farmhouse that leans more on the modern side,' explains Kirsten Krason, co-owner & principal designer at House of Jade Interiors.
3. Keep one side open if two rooms link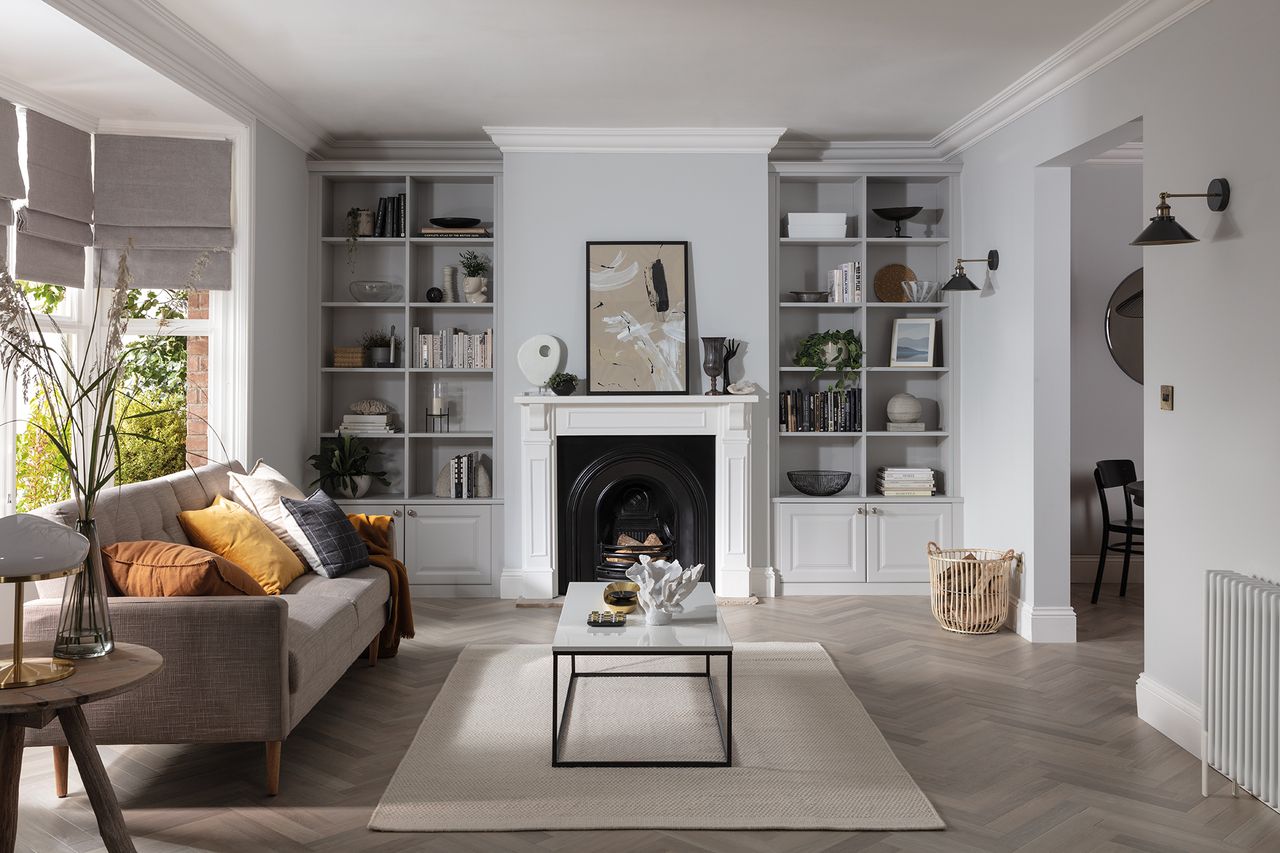 If you have a living room that has an open doorway to another room, then don't block it with another sofa, keep it open. If you need extra seating then place either another sofa directly opposite the fireplace or a couple of good sized armchairs. 
Keep side tables near the sofa so the doorway keeps clutter free, and add a simple coffee table that won't distract, this white topped one is perfect. 
3. Let your rug guide the layout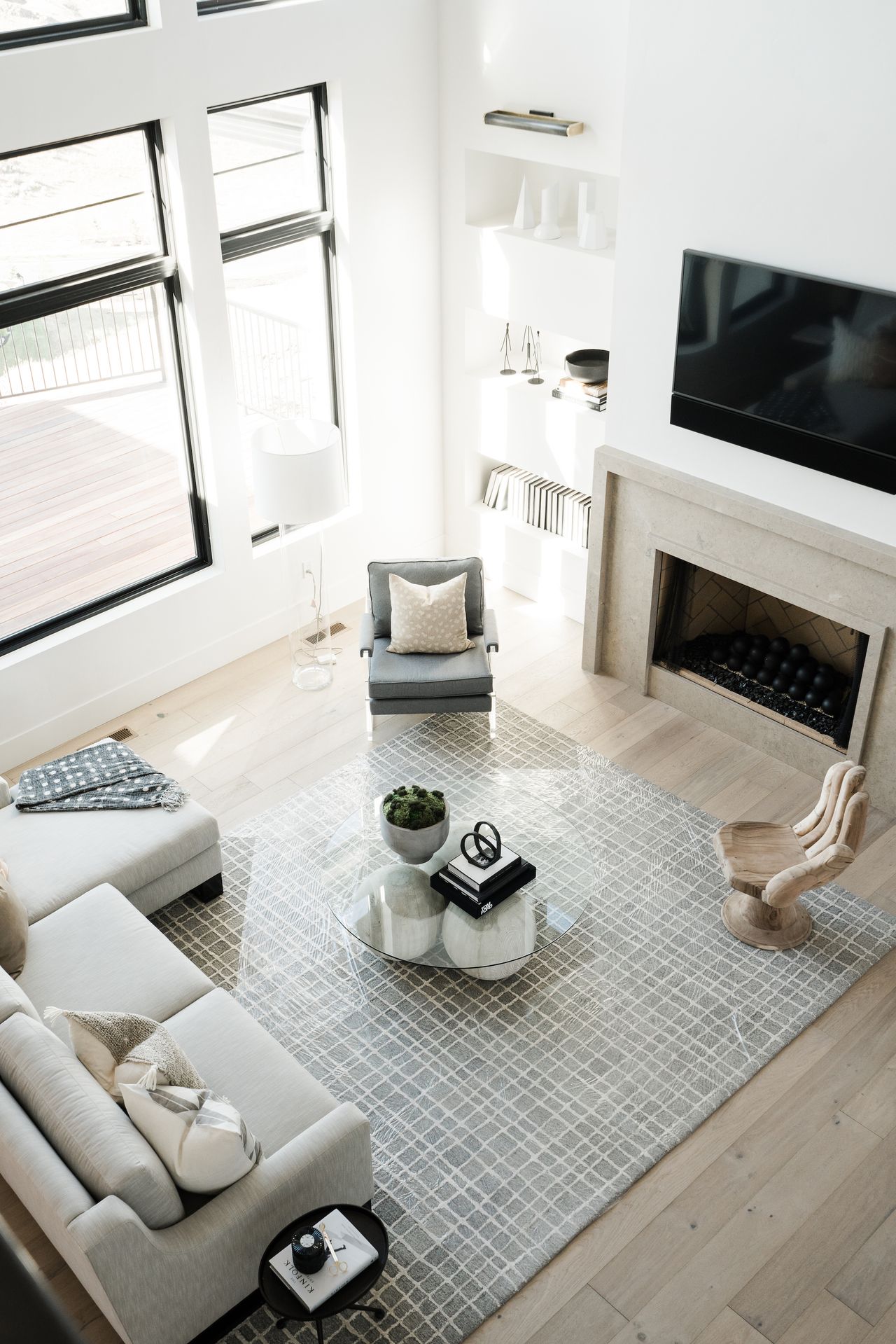 Use unusual pieces of living room furniture to add both interest and function:
'The living room is the heartbeat of this home. It has soaring ceiling heights and incredible views of Utah Valley. The acrylic lamp, chair and glass coffee table let your eye wander around the room,' explains Kirsten Krason, co-owner & principal designer at House of Jade Interiors. 
4. Accent furniture can be both decorative and practical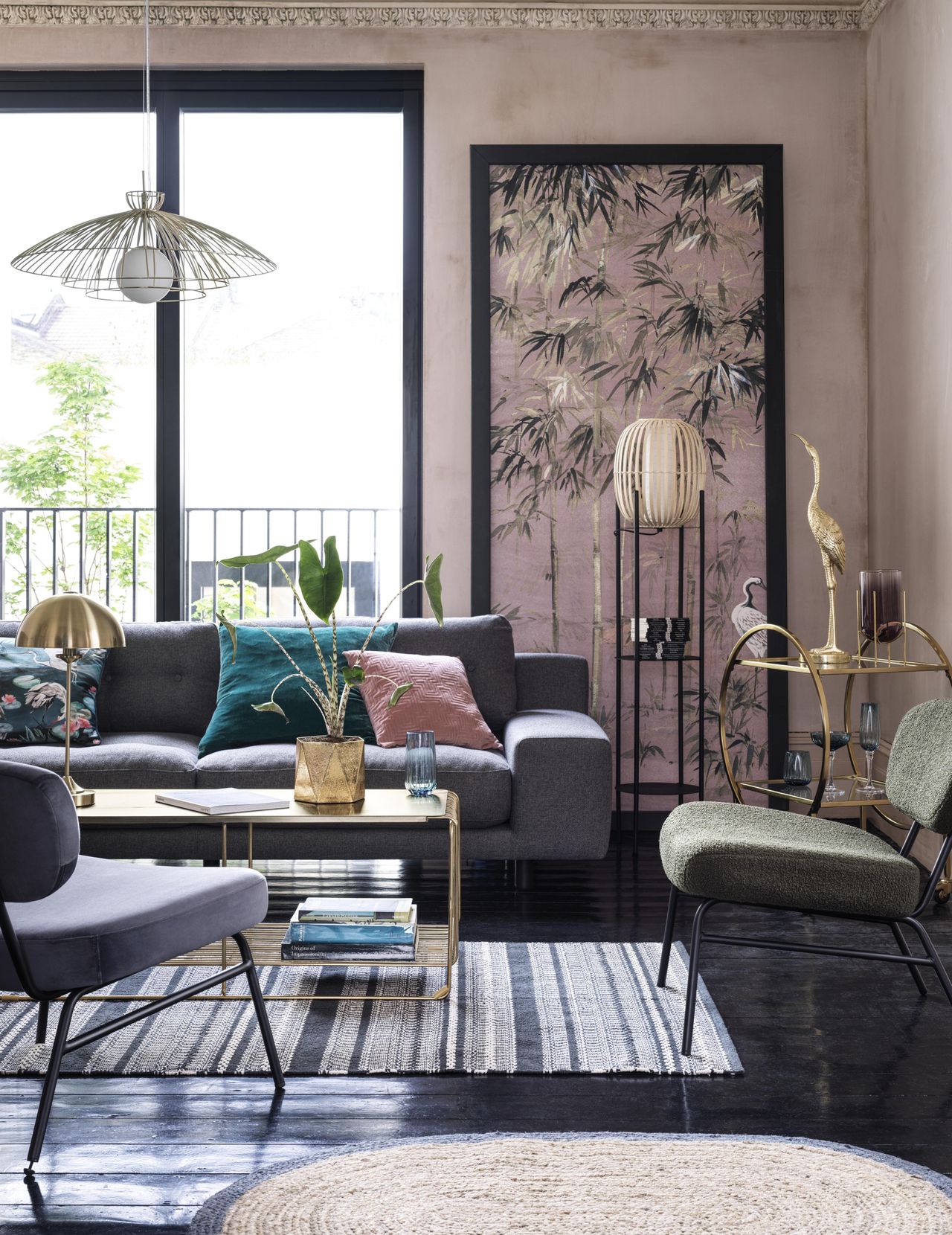 Aside from the main pieces like sofas and armchairs, there's also the smaller pieces of living room furniture to consider like consoles, coffee and side tables – and not forgetting a bar cart for special occasions.
They provide those extra surfaces for lamps, coffee table books, candles, vases and ornaments. Place them within reach of sofas and armchairs so they can be used for drinks too. Ideal when working with small living room layouts in particular. 
5. Low slung furniture creates a relaxed look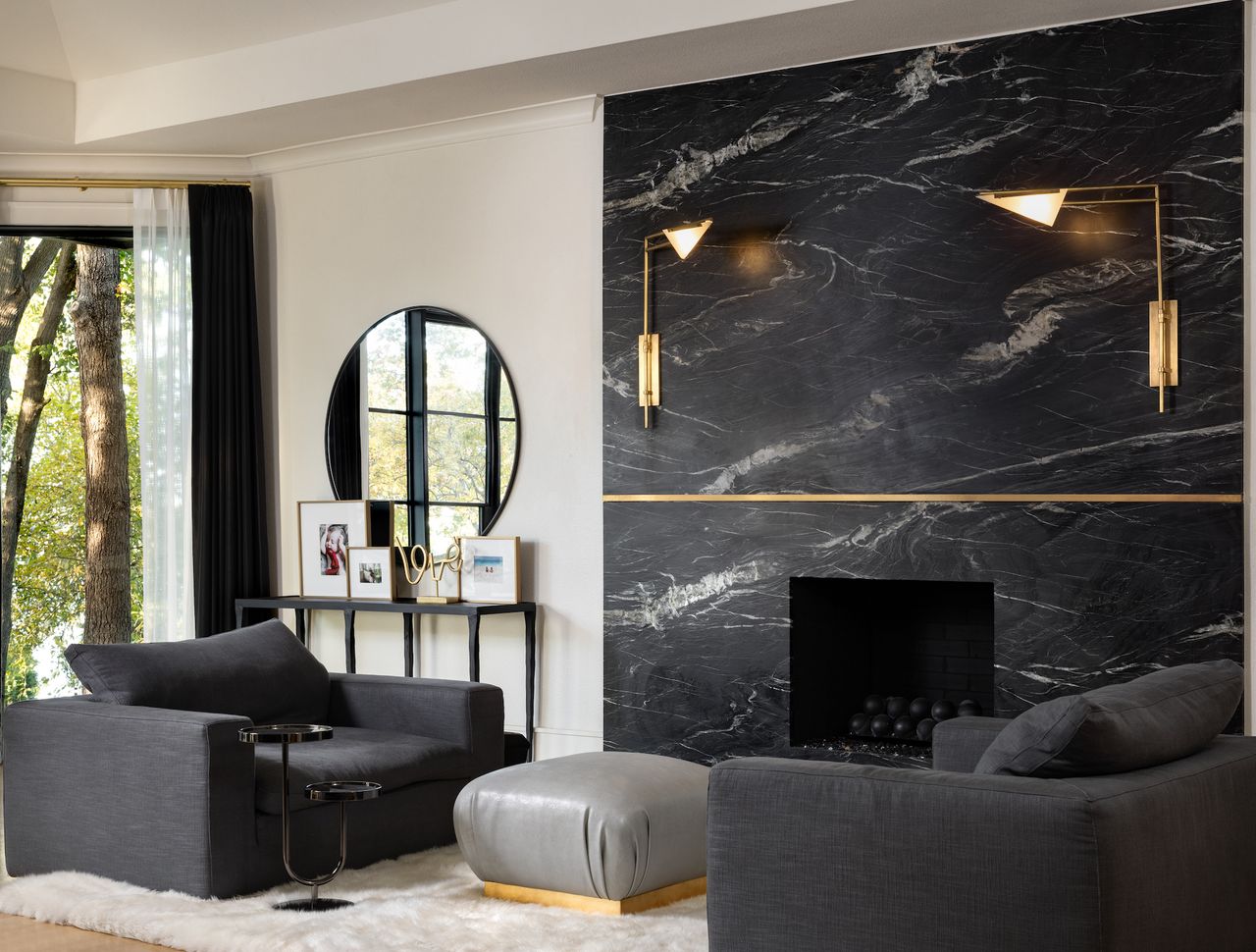 If you prefer a more modern low slung feel, then the same 'rules' apply, but do opt for lower coffee tables too – or a footstool so the proportions look right against the chairs. 
'We wanted the furniture to feel comfortable and casual without taking away from the fireplace as the focal point,' says Eddie Maestri, AIA principal architect and creative director and owner of Maestri Studio.
6. Create an L-shaped layout, without an L-shaped sofa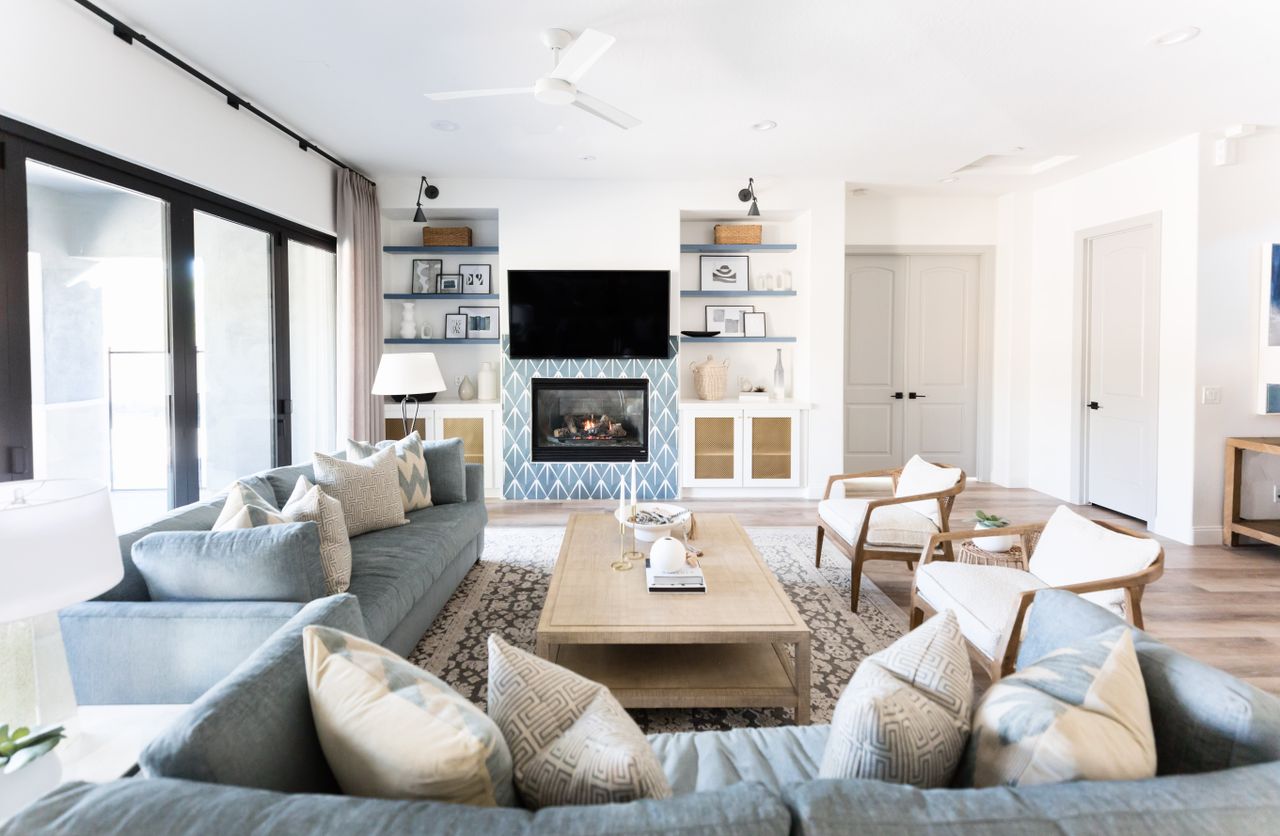 'We had so much fun creating this home for our clients,' says Lauren Lerner, founder and principal designer at Living with Lolo.
'They reached out to us wanting a modern farmhouse vibe and we pushed them outside their comfort zone to add some more modern elements. They love how it turned out!'
We love how Lauren has used two sofas to create an L-shape in this living room, and then placed the two wooden upholstered armchairs on the right side, which allows for conversation as well as tv watching.
7. Keep furniture well spaced out in a large living room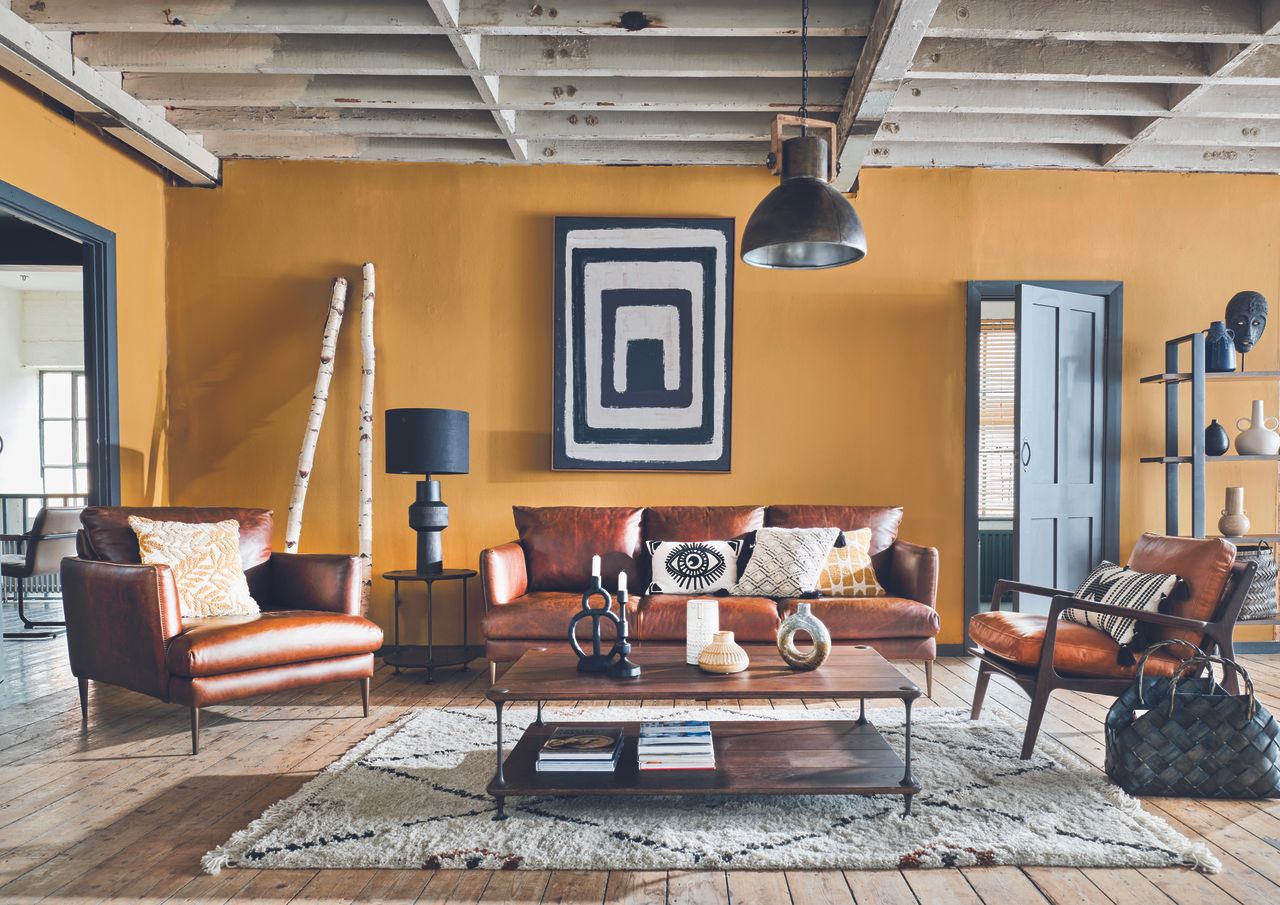 The beauty of a large living room is that you can be generous with how you position your furniture. Although a big space is always welcome, it can feel daunting when it comes to styling it up. Here, the large 3-seater sofa's pulled away from the wall and a big armchair on the left, with a smaller chair on the right – all perfectly placed to fill the space. A rug grounds the center with the coffee table positioned in the middle. The matching leather creates a cohesive look too.
8. Keep it compact with clever designs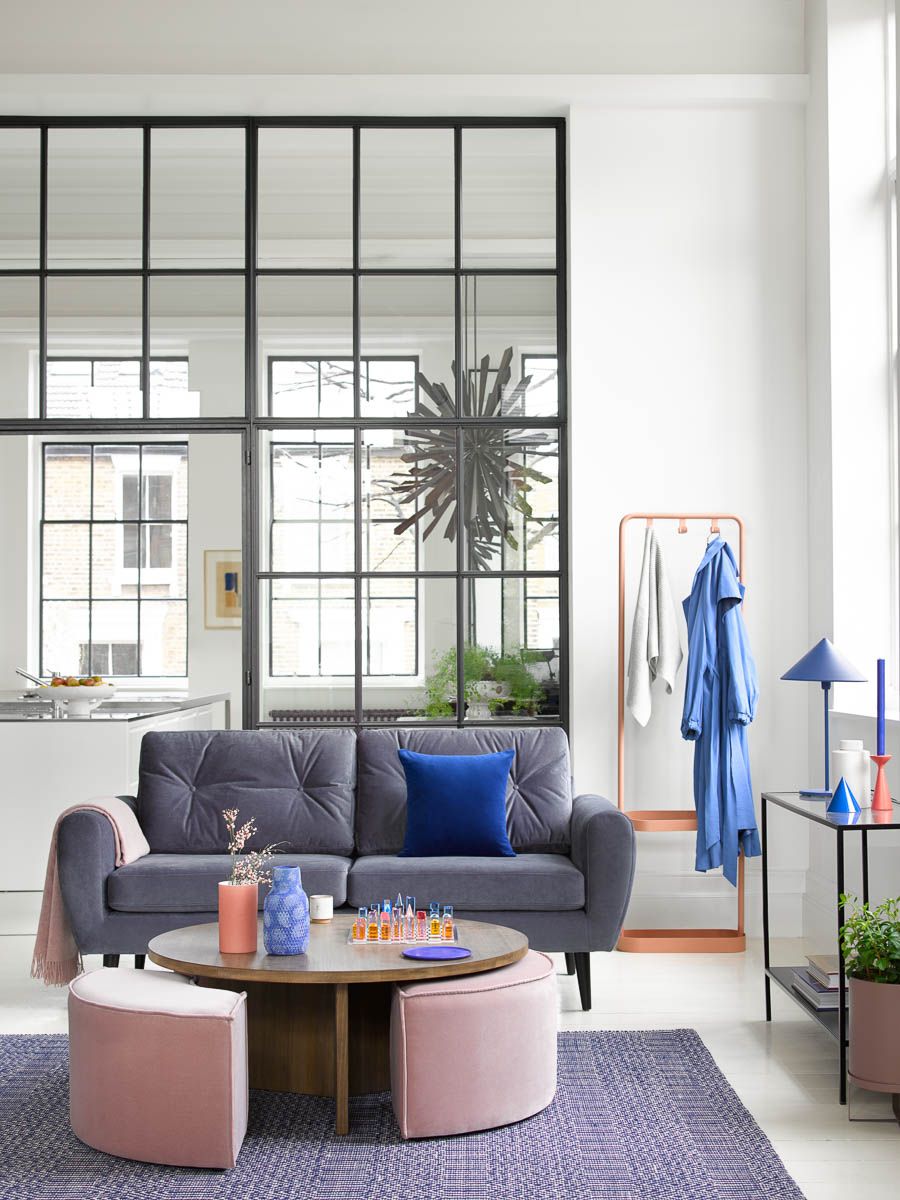 When space is at premium, opt for living room furniture that's nifty when it comes to space and storage. 
There are four key elements here: the sofa, decorated console, hanging rail and coffee table that also doubles as seating. Due to their slimline nature they all fit into a relatively small square footage yet the coffee table can be expanded when needed.
9. Create visual balance in twos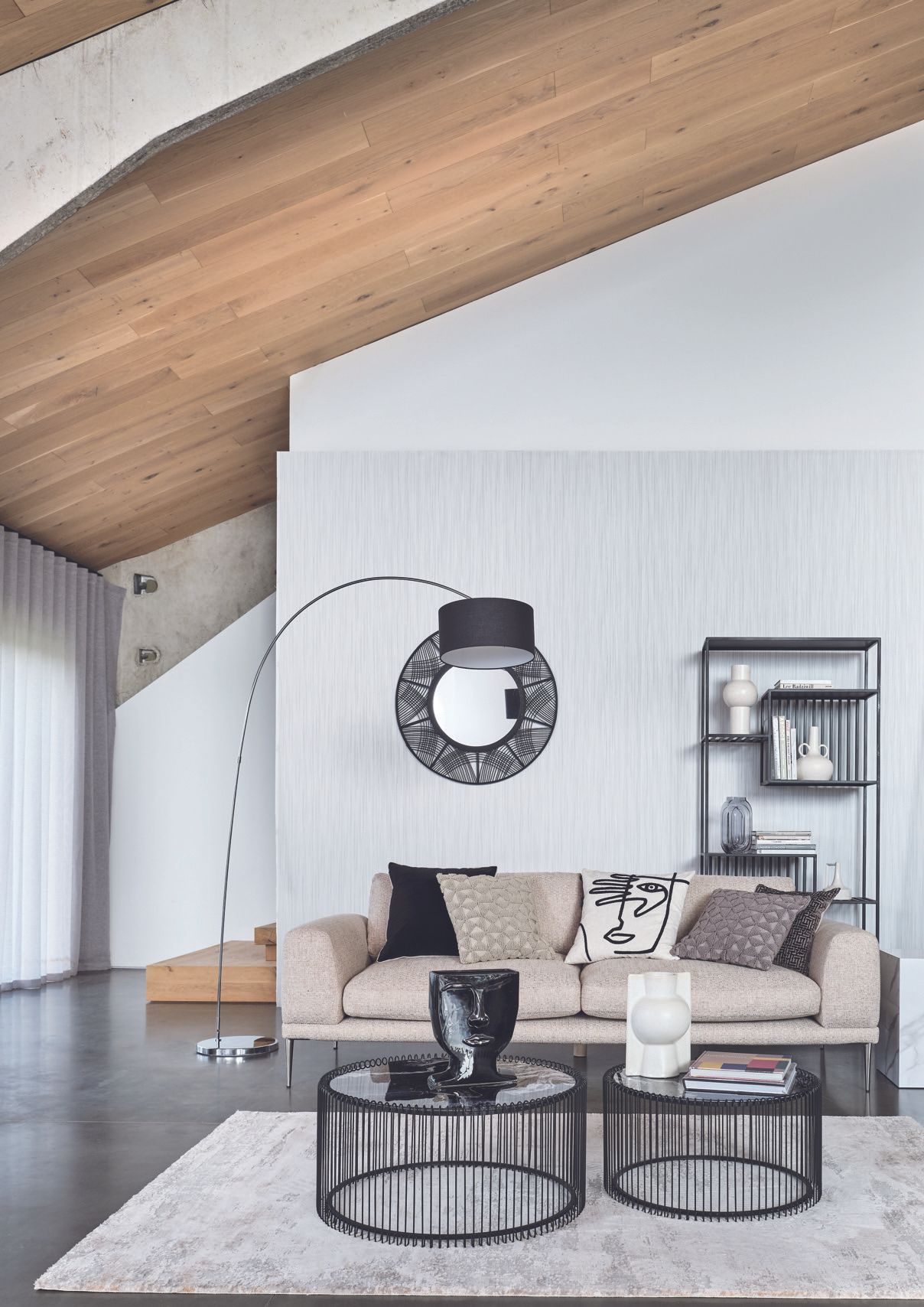 It might be that living room storage is more key for your space than seating, if this is the case then choose pieces that match visually like these two side tables and shelving unit. Their transparent design makes them ideal for a modern living room and note how they are positioned – the two side tables are placed together and the unit behind the sofa, this creates a unified look that's simple yet effective. 
10. Create an L-shaped lounging corner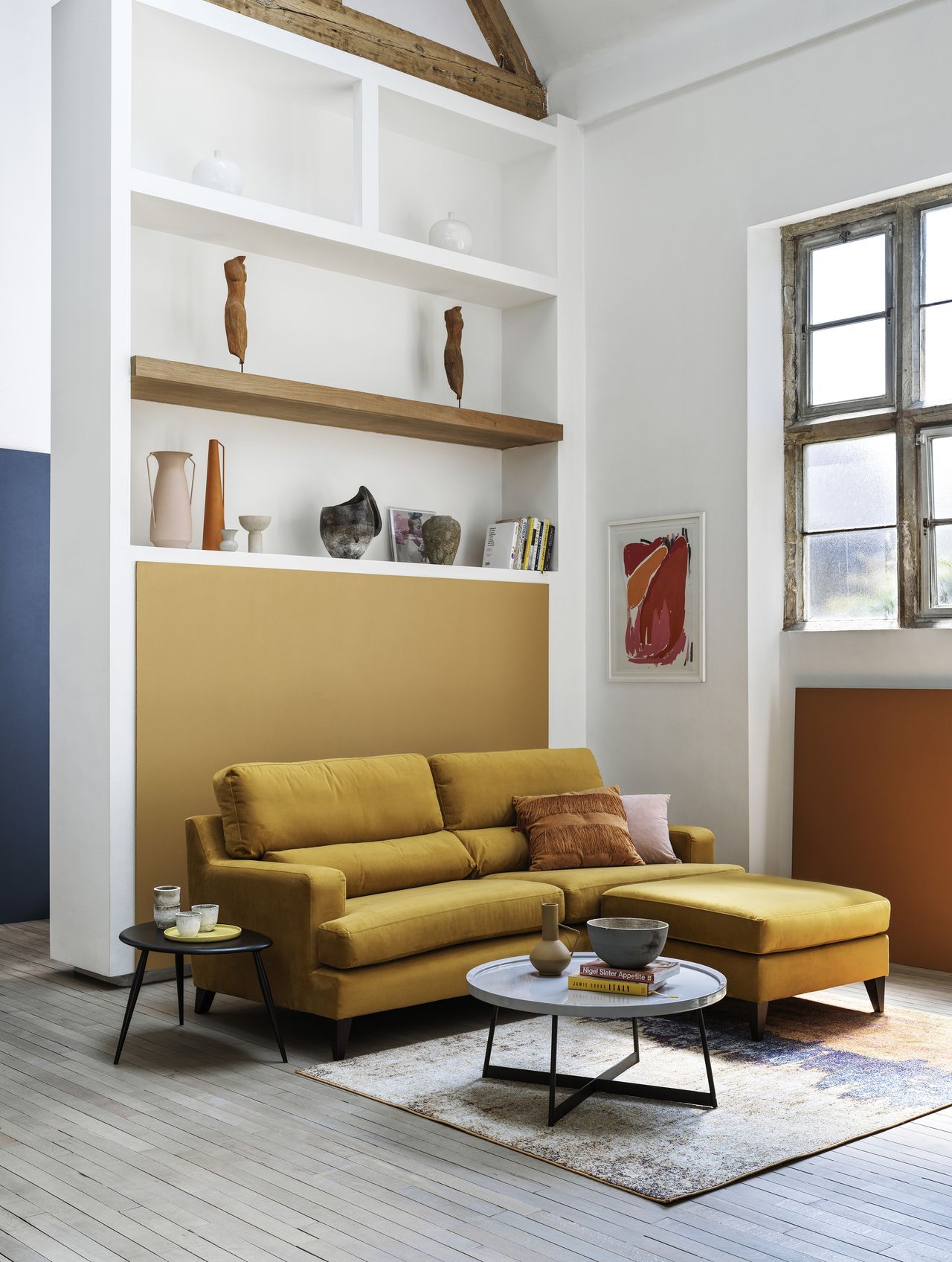 Although this sofa isn't technically L-shaped, you can build a makeshift one with a normal 2 or 3 seater and pouffe to then create a cozy living room corner. Team this with a rug and a coffee table for a zoned space which will work really well in an open plan living room. Add in some paint in matching colors and you have yourself a stylish seating area that's contemporary and smart.
12. Double up if you prefer sofas over armchairs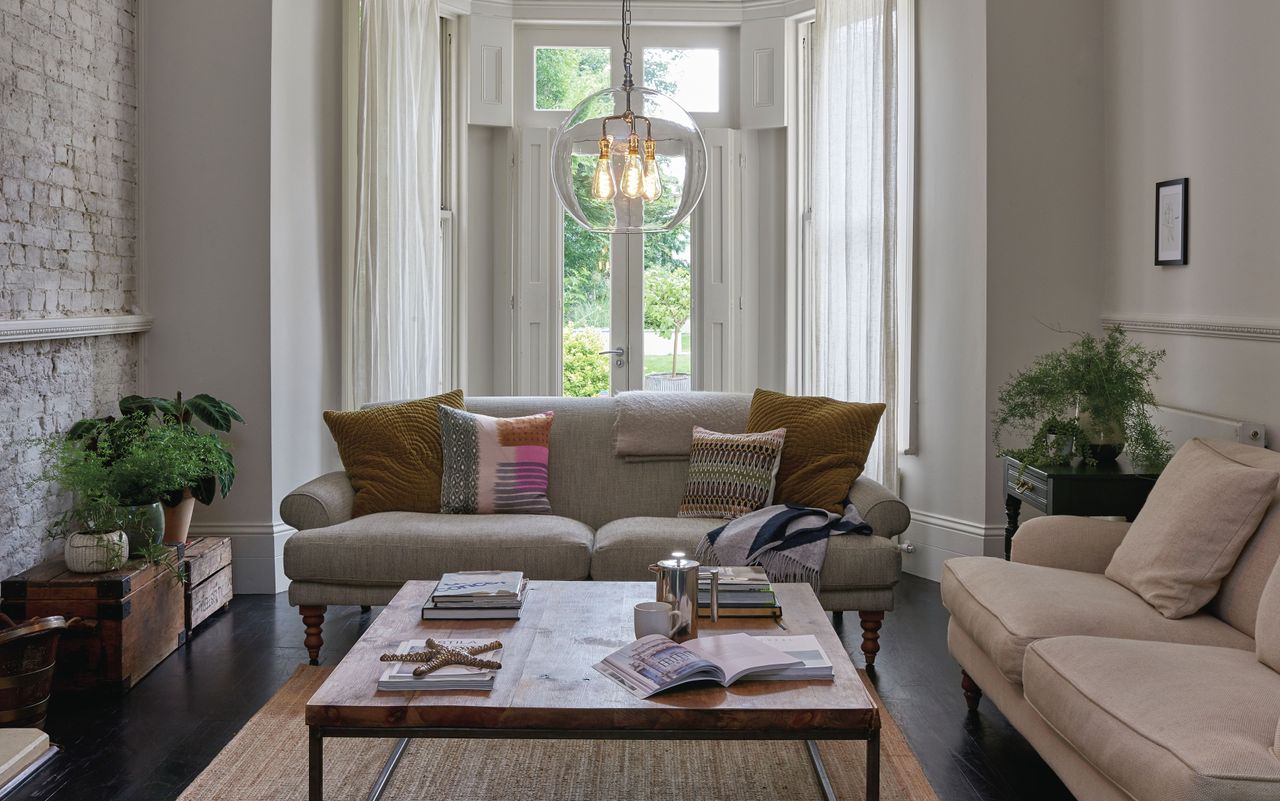 If your living room is big enough and you prefer the comfort of sofas to chairs, then opt for two sofas. These two are similar in size and shape though different fabric choices but are linked together due to the neutral colorway. They also create a square shape which is mimicked in the coffee table.
Where should I put my sofa in the living room?
Where you place your sofa is key to the whole look and feel of your living room. If you get it right, then your other pieces will be easy to place. After all, it's usually the largest item you'll have in there. 
Firstly, you need to establish the focal point of your living room – is it the fireplace? Or the TV? As well as being able to see these items it might be that you want to create a space where conversations flows, so a sofa facing another or two armchairs can work well. If the fireplace is your focal point then place the sofa in front of it but with a coffee table on a rug in between. Depending on how large your space is and your family, it might be that you need more than one sofa, or a few snuggler chairs to create a cozy ambience.
How do I organize my living room nicely? 
The key to successfully organizing your living room is to get your proportions right. If your space is small then choose furniture that fits visually – a 3 seater will take up too much space for example. A smaller sofa teamed with a snuggler or two will look much better. The same goes for side and coffee tables, keep them in check size wise, one way around this is to look for pieces that have a double use – a nest of tables, or a coffee table that has stool storage underneath. Console tables are a great option, they can sit behind a sofa and are used for table lamps and ornaments.