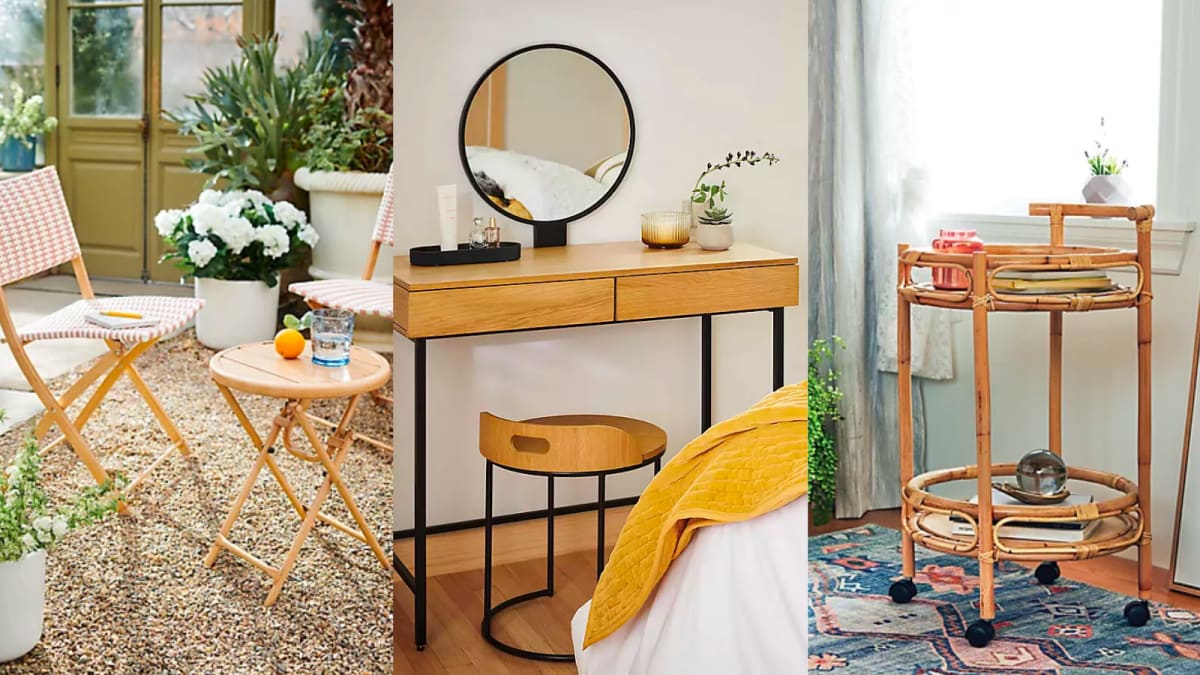 Bed Bath & Beyond private brands: What they are and which ones to shop
Bed Bath & Beyond, like a lot of big-box stores, is a bit of a grab bag in terms of brands. They have top-quality name brands (including many that we've tested at Reviewed), which are great for gifting, wedding registries, and more, but they also have many brands you may not have heard of yet.
Big-box stores aren't necessarily known for their own lines, but you've likely purchased products from their private labels before. Bed Bath & Beyond has launched ten of its own brands over the past few years, including maximalist homeware brands, linen retailers, and more—here's the breakdown.
What can you find among Bed Bath & Beyond's private brands?
Bed Bath & Beyond is currently home to ten owned brands. Most of the brands feature home goods, in styles ranging from minimalist to cozy maximalist. Studio 3B, for example, is home to trendy contemporary furniture in neutral color palettes, while Bee & Willow has more of an emphasis on decorative, comfortable accents. There are also a few brands that focus on bedding and linens, like Nestwell.
Most of the home brands within the Bed Bath & Beyond owned brands lineup retail for significantly less than name brands. When you search within the brands themselves, you can find prices as low as $6 for home decor, bedding starting at $30, and more.
Beyond+ members can also typically save a lot on Bed Bath & Beyond's private labels, since most if not all of the products in the lineup are eligible for deals and savings. Additionally, a lot of the homewares that come from them are featured on Bed Bath & Beyond's wedding registry services, so if you're considering updating your home setup after your wedding you can usually find great deals, and you can apply many of the wedding registry perks to your purchases.
We've broken down each of the private labels below, and what they have on offer for Bed Bath & Beyond shoppers.
1. Studio 3B
Studio 3B is home to contemporary furniture and modern home accents, from fake succulents to neutral knit blankets. You can also shop the furniture collection, which features trendy midcentury modern options like a pale wooden vanity, a gold-accented bar cart, and more. You can even get neutral area rugs on the cheaper end of things.
Shop Studio 3B at Bed Bath & Beyond
2. Everhome
Everhome provides neutral, easily styled home goods, including staple patio furniture for summer and spring. You can find cafe seating, indoor/outdoor linens like throw pillows, and more options to spruce up your backyard or patio setup.
Shop Everhome at Bed Bath & Beyond
3. Bee & Willow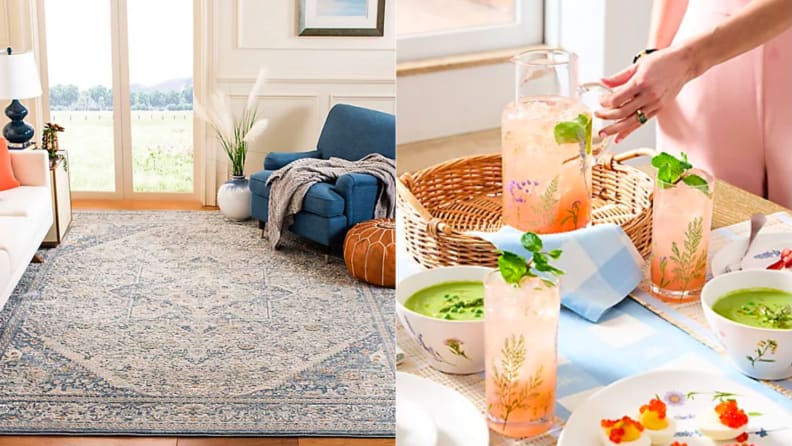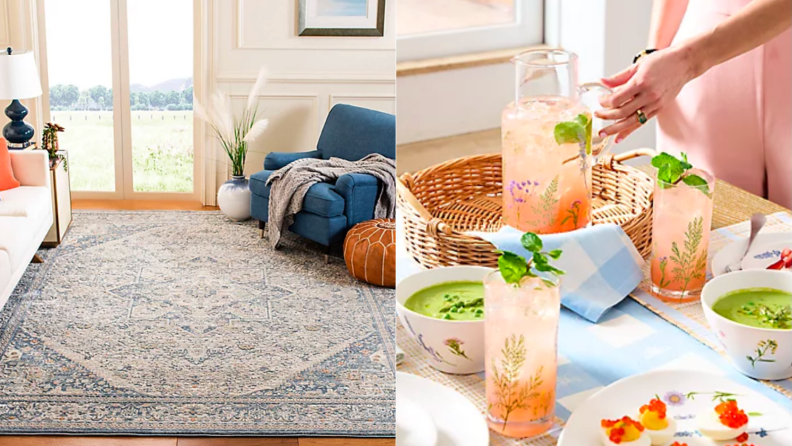 Is hygge still a thing? Bee & Willow Home features cozy, farmhouse-style home goods designed to evoke Mother Nature. You can shop delicately floral-patterned drinkware, lushly patterned rugs, statement curtains, and much more.
Shop Bee & Willow Home at Bed Bath & Beyond
4. Simply Essential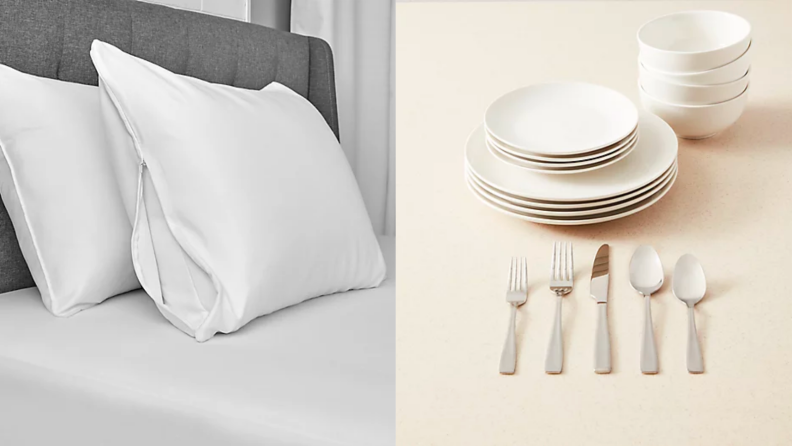 Simply Essential is home to, you guessed it, basic, simple home essentials. The brand isn't as stylized or specific as many of the other brands in the lineup, but it does offer well-reviewed, simple products designed to round out customers' homes and provide utility. You can find basics like pillow protectors, gauzy curtains, dish sets, and more.
Shop Simply Essential at Bed Bath & Beyond
5. H for Happy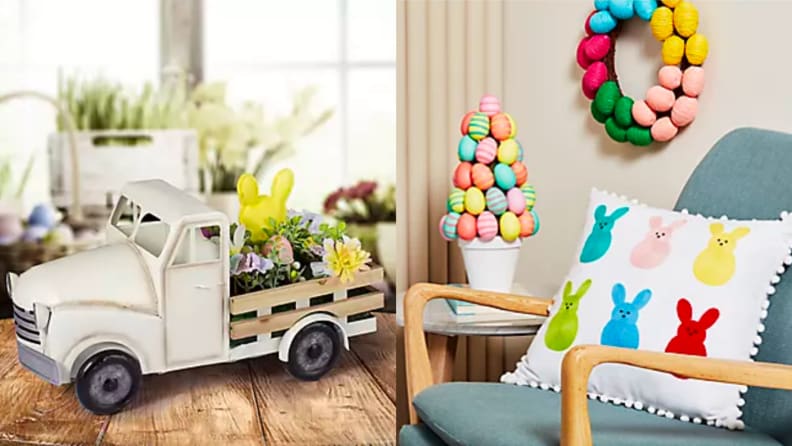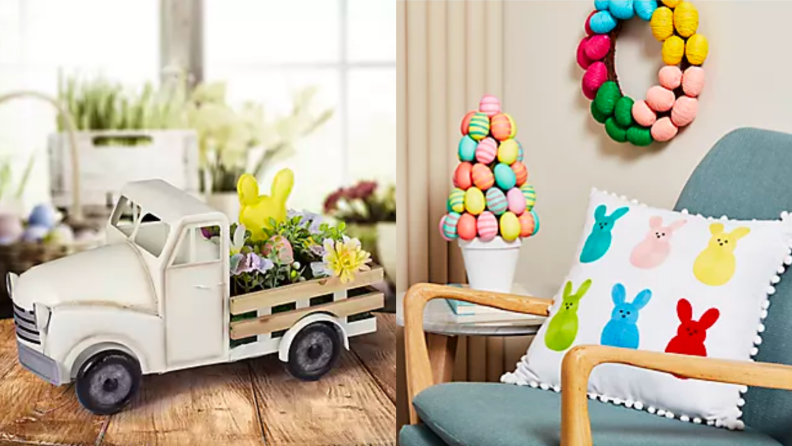 H for Happy is more rotational than most of the owned brands at Bed Bath & Beyond, offering seasonal decorations for your home. Right now, the brand is premiering an Easter collection, which features bunny doormats, table runners, napkin rings, and much more.
Shop H for Happy at Bed Bath & Beyond
6. Wild Sage
Trying to get in on the mushroom wave? Wild Sage may have something for you. The furniture and decor from the brand emphasizes warm, whimsical colors and patterns, with metallic accents scattered throughout. You can find shower curtains in fun prints, candles, brightly colored pillows, and much more.
Shop Wild Sage at Bed Bath & Beyond
7. Squared Away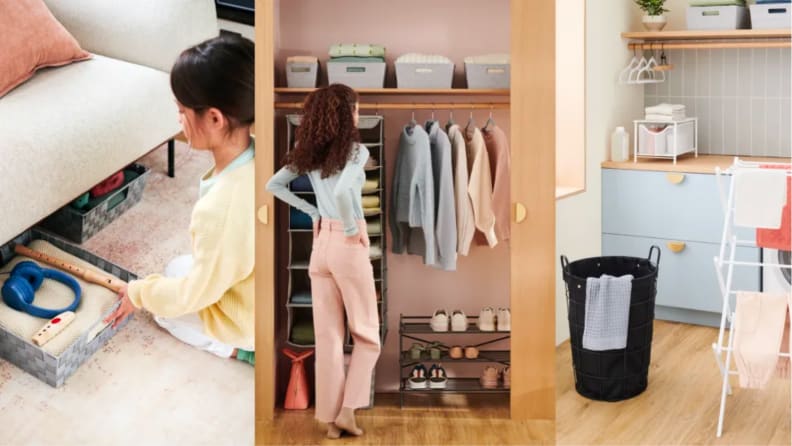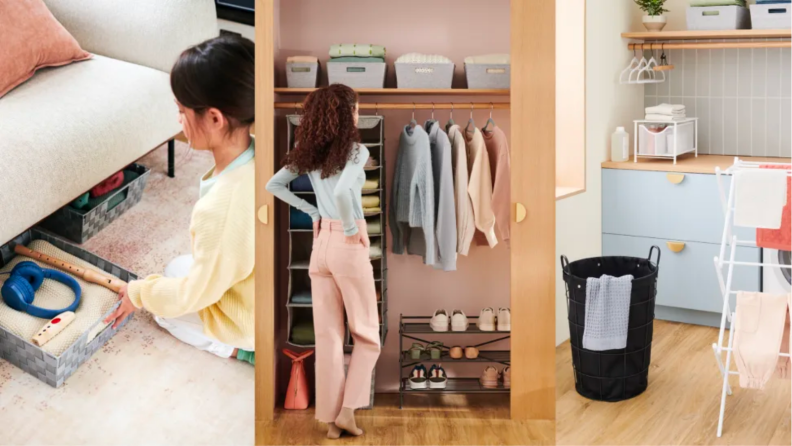 So many college dorm rooms could benefit and have benefitted from Squared Away. If organization is your thing, you might find yourself shopping from the Squared Away selection of home organizing tools, from hangers to storage carts and beyond. We reviewed Squared Away last year, and our reviewer concluded that the collection offered sleek, smart organizational products that offered affordable alternatives to other organizational brands.
Shop Squared Away at Bed Bath & Beyond
8. Our Table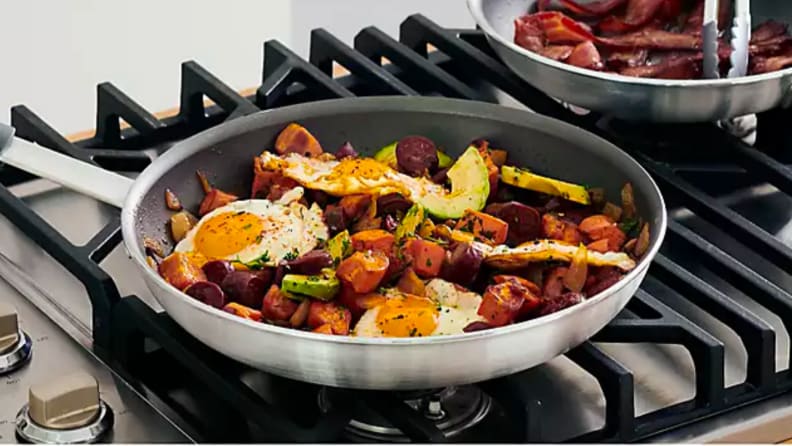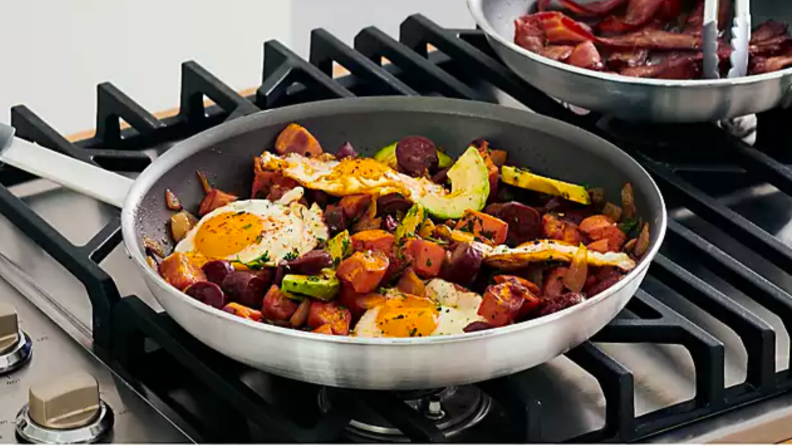 Our Table is home to serveware, dinnerware, cooking pots and pans, and more. Notably, Our Table has solid prices on starter dish collections (perfect if you're planning on moving or going away to school in the near future), and well-reviewed kitchen staples like a $40 stainless steel multicooker and $60 enameled cast iron Dutch oven.
Shop Our Table at Bed Bath & Beyond
9. Nestwell
You can also shop Nestwell at Bed Bath & Beyond. Nestwell is a bath and bed collection that features soft linens, pillows, comforters, and sheets designed to help you sleep better—there's even a quiz you can take to determine which of its products will help you sleep best. You can find luxurious fabrics for your bedding, like sateen, organic cotton, percale, and more.
Shop Nestwell at Bed Bath & Beyond
10. Marmalade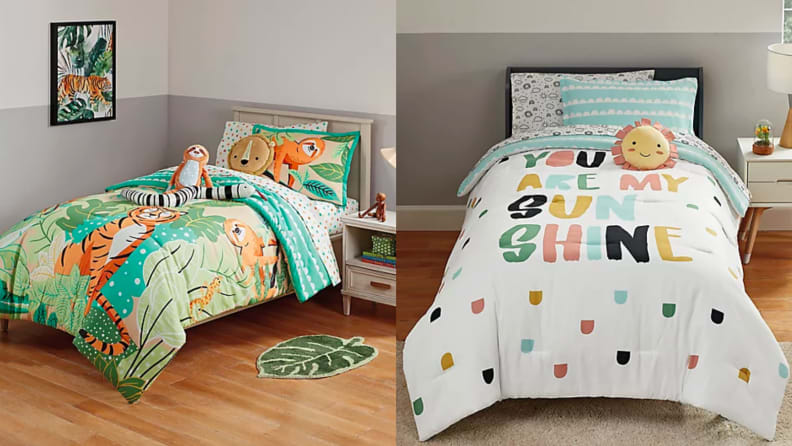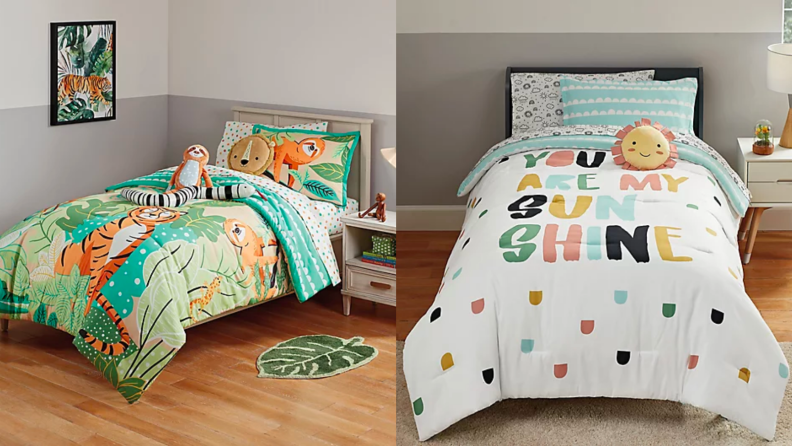 Marmalade is one of the newest brands from Bed Bath & Beyond. The brand features furniture and decor designed for kids of all age groups, from toddlers to teens. If you're looking to decorate your children's bedrooms, you can get whimsical duvet covers and bedroom sets, cute, cozy pillows, and more to suit your kids' tastes.
Shop Marmalade at Bed Bath & Beyond
The product experts at Reviewed have all your shopping needs covered. Follow Reviewed on Facebook, Twitter, Instagram, TikTok, or Flipboard for the latest deals, product reviews, and more.
Prices were accurate at the time this article was published but may change over time.