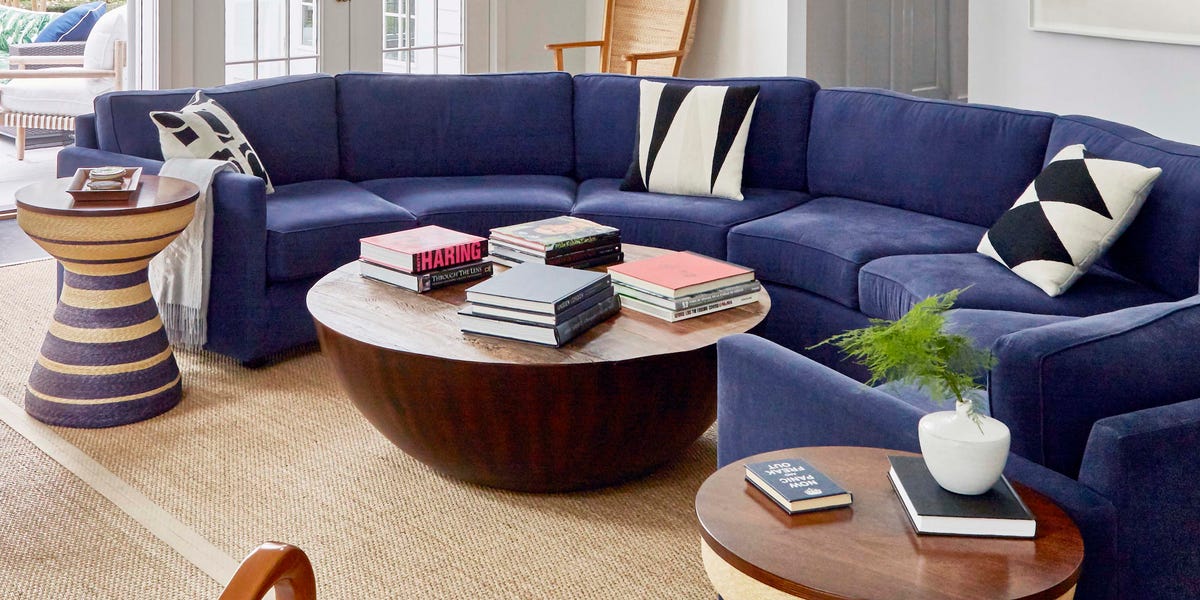 A Living Room Trend You Should Follow
Unlike their round bed counterparts, curved sofas are much less mythical. Design legends like Isamu Noguchi and Pierre Paulin dreamt up versions of the sculptural seating that continue to inspire more today. You'll see them everywhere—from a Vladimir Kagan floating curved sofa in a pool house designed by Leyden Lewis to a custom semicircle style inspired by Milo Baughman in an Aamir Khandwala-designed home that was featured on the cover of House Beautiful's September 2020 issue.
You see, designers feature curved sofas in their clients' homes for good reason: They're artsy and offer a certain softness that rectangular ones lack. Sure, they take up a bit more space than an average couch. But if you have the extra room, or are able to do a little rearranging…a curved sofa can bring coveted playful energy into your living room.
Naturally, to help you achieve this fun atmosphere in your own place, we've gathered some curved sofa and curved sectional picks you can easily shop for online. From sectionals with multiple seats to kidney bean shapes, we guarantee something from our list will catch your eye.
Advertisement – Continue Reading Below
1
Best for Small Spaces
Giselle Sofa
Mitchell Gold + Bob Williams
Not only does the Giselle sofa—handmade in North Carolina—have a generous bench seat, but it's also customizable and ideal for small spaces. You can select from 85-inch and 100-inch sizes and choose various fabrics and cushion fills.
2
Best for Large Spaces
Nouveau 4-Piece Curved Sectional
If you love to entertain, consider a four-piece sectional. It's just over 172 inches, and the cushions are soft yet firm. Better yet, it's upholstered in a performance polyester fabric made from recycled plastic water bottles.
3
Best Innovative
Lena Sectional Sofa
Our next sofa suggestion has a fun feature that many don't: Upholstered beam legs that give it an airy feel. It's available in 114-inch and 142-inch sizes, various colors and fabrics, and can be configured to be right facing or left facing–the options are endless!
4
Best Kidney-Bean Shape
Hampstead Sofa
For those who prefer a sleek, modern silhouette, consider a kidney bean-shaped sofa. The four-seat, armless piece is fully upholstered on all sides and boasts short natural ash wood legs.
5
Best Chesterfield Sofa
Venuti Velvet Rolled Arm Chesterfield Sofa
6
Best Two-Piece
Belmount 2-Piece Curved Sectional
With a modular sectional, the two pieces can be arranged next to each other for one long sofa or separated and arranged in any way you wish. It's a versatile buy you'll love.
7
Best Bench Seat
Ether Curved Sofa
Set on polished brass tapered legs, the Jonathan Adler sofa is 94 inches wide and would look stunning anywhere—from the middle of your living room to a sizeable corner in your bedroom.
8
Best Budget-Friendly
Camila Velvet Sofa
Whether you go for dark green or terracotta, you can't mess up with our rec that's about 91 inches. It has a wraparound back with tucked seaming offering an elegant ruched look. Additionally, the tapered wooden legs give it a mid-century modern touch.
9
Best Luxury
Floating Curved Sofa
10
Best Unique
1950s Bouclé Curved Sofa
For anyone on the hunt for a more unique item, head to 1stdibs for a stellar selection of antique curved sofas like a 1950s bouclé investment piece featuring a boomerang design and beige fabric (a combo that's hard to resist).
11
Best Customizable
Astaire
We can't forget about Room & Board's highly customizable curved sofa. You can select various shapes, sizes, and fabrics to ensure you get the right sofa for your space.
12
Best Soft Cushions
Onslow Velvet Curved Sectional
Available in 10 colors, One Kings Lane has a sofa complete with generous down-and-feather fill making it both sturdy and comfortable. The best part? It's upholstered in Crypton velvet, an eco-friendly fabric that repels stains, bacteria, and mold.
13
Best Modern
Roma 2-Piece Sectional Sofa
Designed by Ross Cassidy, CB2's two-piece sectional welcomes a minimalistic shape. It's framed out using an FSC-certified eucalyptus wood blend, and the color options include white and blush.
14
Best Leather
Giselle 3-Piece Leather Sectional
Mitchell Gold + Bob Williams
Leather sofa lovers will obsess over this sectional with a distinct design. It's available in more than 15 colors and measures 131 inches. On top of that, you can pick out the type of cushion fill.
15
Best With Pillows
Izzah 101″ Fabric Sofa
With Kardiel's sofa that basically looks like a work of art, you'll also get a pair of fun mid-century orb pillows to complete the look. If that's not enticing enough, it's on sale, too.
This content is created and maintained by a third party, and imported onto this page to help users provide their email addresses. You may be able to find more information about this and similar content at piano.io
Advertisement – Continue Reading Below