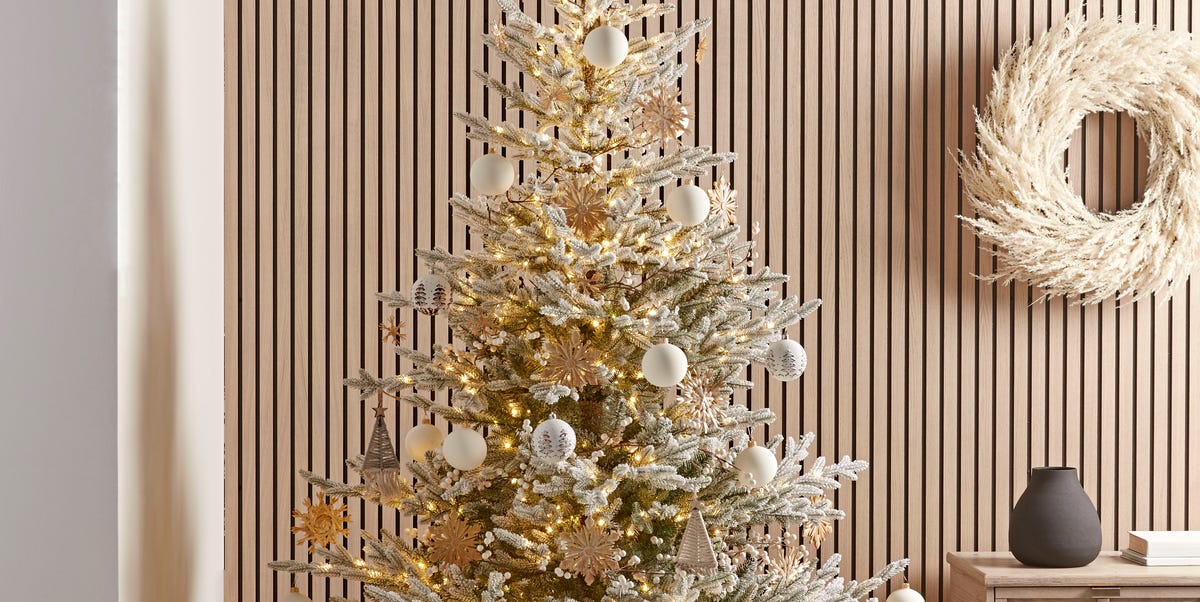 6 Mistakes to Avoid When Decorating Your House For Christmas
Prepping the home for Christmas is fun and exciting, but are you guilty of making common decorating mistakes? From not having a theme to going overboard, don't let your festive season end in havoc by running into these avoidable blunders.
'If you look forward to Christmas all year long, it can be easy to get carried away and decorate every corner of your home,' says Sylvia James, interior designer at HomeHow.co.uk. 'The basic rule is less is more. You run the risk of looking tacky if you over splurge.'
If you're worried about making some of the most common decorating mistakes, Sylvia has revealed what you can do to avoid them. Take a look at her advice…
1. Not thinking about the tree topper
Christmas tree toppers come in a variety of beautiful festive forms, but it's important to choose one that is the right size for your tree. According to Sylvia, leaving it until the last minute without any thought will result in a topper that is disproportionate.
'Invest in a few different shapes and sizes and continue adding more to the collection as the years go by,' explains Sylvia.
2. Not sticking to one theme
Christmas decorations are supposed to spread festive cheer, but one common mistake many households make is trying to incorporate various themes. Whether you prefer traditional styles or minimal modern decorations, choose just one consistent theme throughout your home.
Sylvia adds: 'Even if you have large spaces in your home, you can't have every theme take place. To make an impact, it's best to focus on one theme and pay extra diligence. Limit the use of textures and materials and stick to just one aesthetic for a consistent look.'
3. Starting without a plan
Christmas is the most wonderful time of year, yet it is often the most stressful. Starting without a plan is another common decorating mistake Brits make, so ensure you get organised ahead of time with a plan.
'Starting to decorate with no plan will lack consistency,' says Sylvia. 'It's important to know what you will put in each room and the colour schemes to work with. Walking around the house and putting holly bushes in the corner doesn't execute a well-planned design. A simple plan such as an all red and silver colour scheme or sticking to monochrome textures will help to shape your festive plan.'
4. Going over the top
Everyone loves decorating the house at Christmas, but another simple mistake is trying to cover every surface in the home — and going overboard. According to Sylvia, it's best to keep things simple to avoid a cluttered space. Instead of hanging every decoration, choose your favourites.
'You might need to remove lights or wreaths to tone down the look,' Sylvia suggests. 'If you want to add a festive touch to each area, add metallic accents. Simple additions like gold-faceted bowls have a subtle yet strong Christmas feel.'
5. Not adding personal flair
Give your home a touch of holiday flair by adding decorations that are personal to you. If your Christmas decorations can be in any house, you're doing it wrong, says Sylvia.
Some of the items to consider getting your hands on include personalised baubles, Christmas stockings with your name on the front, and special decorations passed down through the generations.
6. Forgetting to clean first
'It's important to have a clean slate to start with. If you start setting up your decorations around dust and clutter, you can ruin the finished look. Try to minimise the existing clutter before you add in the Christmas cheer. Take time to give your home a thorough clean and you'll notice the difference at the end.'
Follow House Beautiful on Instagram.
---
This content is created and maintained by a third party, and imported onto this page to help users provide their email addresses. You may be able to find more information about this and similar content at piano.io