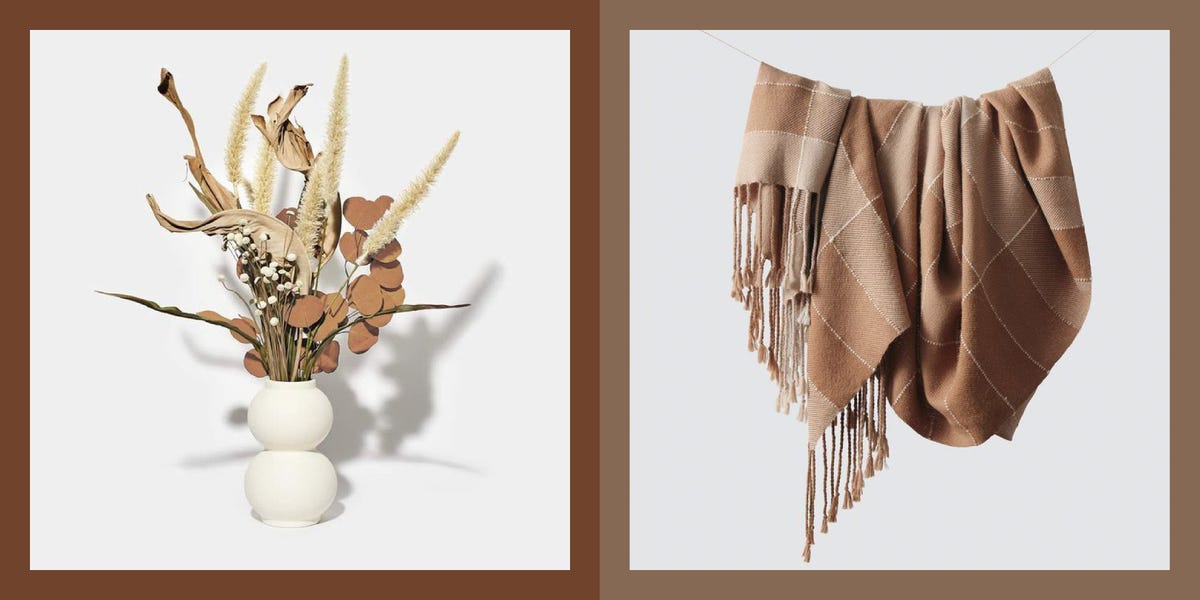 28 Home Accessories to Pumpkin-Spice Up Your Life
Pumpkin spice isn't just a latte flavoring: It has evolved into a time period occupying a sizable portion of the calendar year, demarcated by the onset of Libra season (though Virgos might beg to differ), protracted into decorative gourd season, and tapering off in earnest only once the winter holidays—and all the pie consumption that comes with them—have ended. And #PSL season isn't just about coffee and comestibles; it's a color palette of cinnamon, rust, and ochre; it's textures fringed and flecked; it's hygge-rising, cottage-core moon. What are you waiting for? Indulge!
1
Snowe x Afloral Tone Study
A mix of faux and dried stems elevates this quintessentially autumn palette—vase included.
2
Nola Robe
This PSL (pumpkin-spice loungewear) is made in Portugal from heirloom linen. Yes, please! 
3
Torn Paper Gift Wrap
A pretty PSL palette for packaging your pumpkin-spice giftables.
4
Abajo Alpaca Throw
A cozy alpaca throw is the sofa-layering equivalent of a dash of nutmeg.
5
Sol Oven Mitt Honey
Reach for your pumpkin-spice bars in style with this rust-and-honey-colored oven mitt.
6
Everything but the Beans
What would a latte-themed product roundup be without an artisanal coffee set?
7
The Olive Oil
Keep your kitchen pumpkin spice hued and your baking extra healthy with this gold-tinned olive oil.
8
Stoneware Pumpkin Salt and Pepper Shaker Set
Too literal? No such thing!
9
Cara Edged Napkins
Linen napkins edged in a warm cedar hue are just what the spice doctor ordered.
10
Pumpkin Chai Reed Diffuser
Pumpkin and chai? This reed diffuser hits all the right (scent) notes for the season.
11
Rust Pampas Grass Wreath
A pretty pampas grass wreath in a burnt umber hue is the seasonal accessory you can hang up all fall and winter long.
12
Face Mug
There's nothing like a cozy cuppa in a mug that looks like it's been speckled with cinnamon.
13
Rainbow Bottle Brush Trees
If you can't go apple picking this autumn, bring the forest home with a set of six brush trees.
14
Raj Mandir Pillow with Ruffle
A pretty print in a spicy hue gets taken to the next level with an on-trend ruffle.
15
Buchanan Fringed Bed
If pillows won't suffice, commit to pumpkin spice with a golden-hued bed, complete with an almond-milk-tinged fringe.
16
Alga Clementine on Paper
A subtle nod to the warm hues that define PSL season, this abstract work is as eye-catching as it is budget-friendly.
17
Terracota Sol Naciente Placemats
These marsala-hued fiber placemats are handmade in designer Johanna Ortiz's native Colombia.
18
Toasted Pumpkin Travel Candle
This diminutive soy candle smells of toasted pumpkin seeds, cardamom, nutmeg, clove, and cinnamon.
19
Vale Icelandic Sheepskin
A sheepskin throw in the color latte? It doesn't get more PSL-perfect.
20
Henri Glass
Use these mouth-blown glasses for a pop of pumpkin, or mix and match them with other colors for a whole latte fun.
21
Ombré Pink Coasters
Bring the warm, rosy hues of an autumn sunrise to your table with a set of four ombré coasters.
22
Zig Zag Napkin
These Egyptian linen napkins are hand-sewn by women at the tuition-free embroidery training center Threads of Hope.
23
Squares Baby Alpaca Throw
This graphic alpaca throw is basically the pumpkin-spice bars of sofa styling.
24
Baby Won't You Light My Legs? Candle Set
These terra-cotta gams are equally spicy and spooky.
25
Hayride Glass
Hayride booked? Pumpkin patch scouted? Cheers to that with these quirky, gourdful glasses.
26
Spiced Pumpkin Soy Candle
This soy candle smells like nutmeg, pumpkin, brown sugar, and cinnamon and comes packaged in a reusable amber jar.
27
Resin-Coated Tablecloth with Chili Design
Looking for a different kind of spice? Bring the heat with a chili-dressed table.
28
Stoneware Vase
#PSL season is also harvest time, aka a great time to drop by the flower market and pick up an arrangement that'll sing in this stoneware vase.
This content is created and maintained by a third party, and imported onto this page to help users provide their email addresses. You may be able to find more information about this and similar content at piano.io