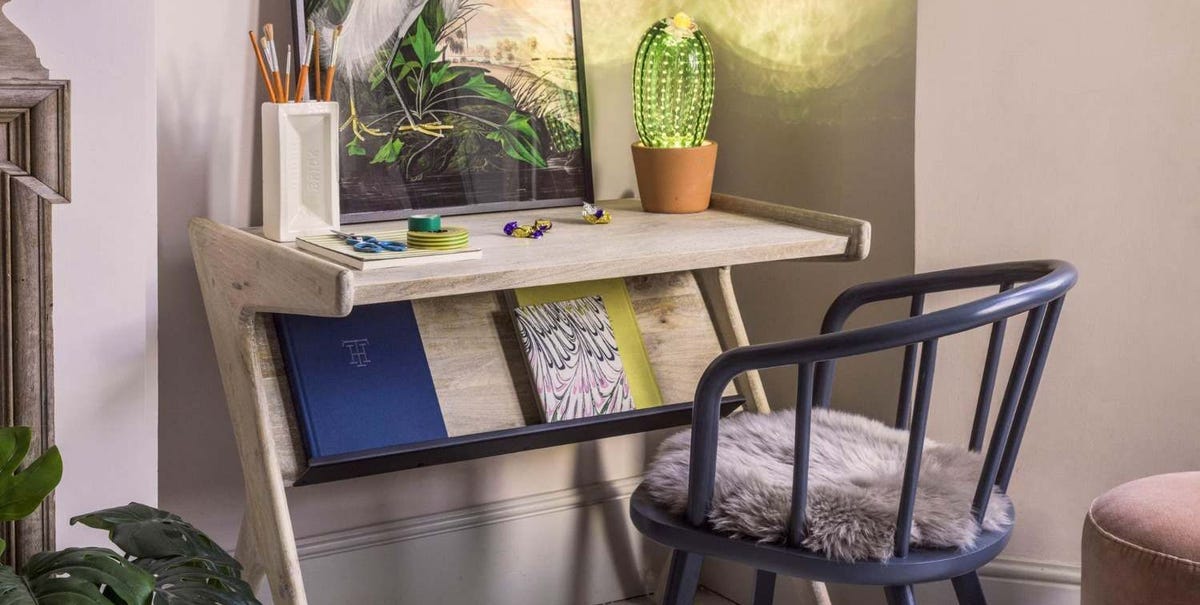 22 small desks for your home office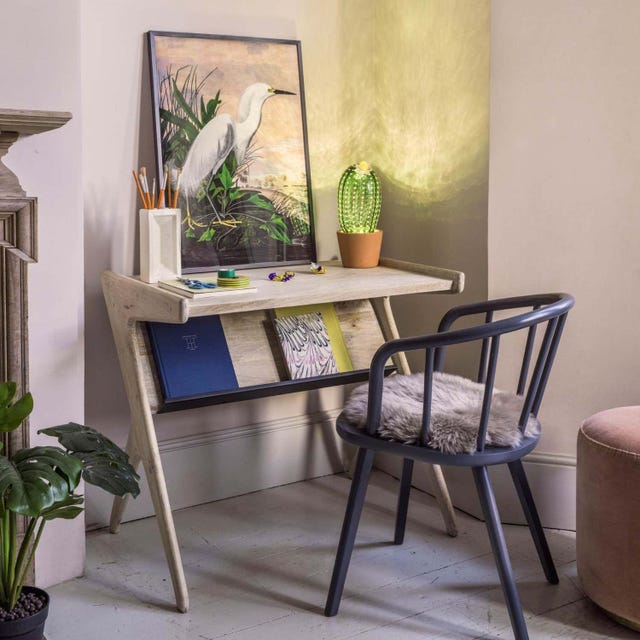 Graham & Green
Although the restrictions on our lives have dramatically lessened two years post the start of the pandemic, working from home at least a few days a week looks like it's here to stay. Hybrid working models are becoming increasingly commonplace and 55% of homeworkers say they concentrate better in their own study space. All in all, we think it pays to have a decent setup – and you don't need an impressive home office shed, either: a small desk will do just fine.
Even if you don't work from home, a dedicated place to sit and do your paperwork and other life admin will make everything run more smoothly. A small desk will give you somewhere to keep everything neatly together, rather than having to move piles of papers off the kitchen table every time you need to set it for supper, too.
You don't need a large amount of space to kit your office out, either. If you're short on space, there are plenty of small desks available to turn your poky spare room or gloomy unused corner into an attractive, useable work area. Here are our picks of the best small desks for 2022, so you can revamp your home office for our post-pandemic world.
Advertisement – Continue Reading Below
Hopkins Compact Desk
Sleek and slimline, this desk won't jut out too far into your room, making it a good choice for bijou spare bedrooms-cum-home offices.
Dimensions: H75 x W90 x D42cm
Ply Wall Mounted Desk
Or, for the smallest rooms of all, go for a wall-mounted desk. This one folds up when it's not in use, so it won't obstruct your space at all.
Dimensions: W60 x L12 x H40cm
Oliver Lift Top Dressing Desk
Dunelm
dunelm.com
£189.00
The ochre desktop and contrasting slim black legs gives this a lovely vintage/midcentury feel. Not bad for under £200!
Dimensions: H77 x W100 x D52cm
Charlton Small Acacia Desk
Roseland Furniture
roselandfurniture.com
£87.28
Despite its small size, the gold legs and deep wood top here makes this desk feel very statuesque. It's currently half price too, so act fast to nab a bargain!
Dimensions: H76 x W85 x D46cm
Bali Natural Rattan Desk & Dressing Table
Oliver Bonas
oliverbonas.com
£88.00
If your bedroom is working overtime as an office during the pandemic, this versatile piece will work as both a desk and a very trendy dressing table. Just add a leafy plant in a colourful pot to finish the look. It's massively reduced to £88 from £295 right now as well, which is a very impressive discount.
Dimensions: H86 x W90 x D45cm
Kinship Rattan Dressing Table & Desk
Oliver Bonas
oliverbonas.com
£545.00
Here's another multipurpose option – if you ever head back into the office full time, this can easily switch to dressing table duty.
Dimensions: H72 x W91 x D36cm
Ladder Desk
Marks & Spencer
marksandspencer.com
£229.00
If you don't want to drill into your walls, this ladder desk gives you a place for your decorative accessories and work files, without needing to put up shelving.
Dimensions: H185 x W90 x D45cm
Loft Compact Desk
Marks & Spencer
marksandspencer.com
£99.00
Small, stylish and under £100? We're sold. This minimal desk has been made from sustainable wood and comes in two colours. This isn't one for those who need to keep big piles of papers to hand, but if you only need your laptop to get down to work, it's a great choice.
Dimensions: H81 x W90 x D50cm
Holt Corner Desk
Marks & Spencer
marksandspencer.com
£199.00
Corner desks are a great option for maximising the usefulness of smaller rooms. They don't intrude on your floor space and turn unused nooks into clever, practical zones instead. This chunky option has a cable management hole to keep wires neat and a shelf to store your stationery tidily.
Dimensions: H75 x W80 x D80cm
Valence 1 Drawer Ladder Desk
Habitat
argos.co.uk
£120.00
If you want to inject a bit of glamour into your workspace, a flash of rose gold is all you need. This desk comes with a shelf for your decorative bits, too.
Dimensions: H145 x W65 x D48cm
Sammy 1 Drawer Desk
Habitat
argos.co.uk
£104.00
This all-white unobtrusive desk has two roomy concealed drawers and a glossy finish. If you like a clean, fresh look, this will fit your scheme well – and it's 20% off at the moment, too.
Dimensions: H75 x W80 x D57cm
Bramwell Folding Desk
This folding desk doesn't attach to the wall, but it still collapses when not in use, so you can tuck it away in a cupboard and reclaim your floor space (and you won't be reminded of work, either!).
Dimensions: H74 x W90 x D45cm
Ivana Desk
Captcha
wayfair.co.uk
£72.99
If you're just looking for an inexpensive way to turn a little corner of your spare room into a functional workspace, this is for you. It's not the most stylish option on our round up, but it's a bargain at just over £70 and it'll get the job done. It's available in a choice of black or white, too.
Dimensions: H74 x W90 x D50cm
Solid Wood Desk
George Oliver
wayfair.co.uk
£159.99
Midcentury style fans will like this one – those tapered legs will make a style statement in any room this desk is kept.
Dimensions: H80 x W82 x D42cm
Southwark desk
Swoon
swooneditions.com
£199.00
Another one for the minimalists among you, this mango wood number has a barely-there aesthetic with a single drawer that almost looks like it's floating. Smooth edges give it a soft, classic feel.
Dimensions: H75 x W90 x D50cm
Pembridge desk
Swoon
swooneditions.com
£229.00
This is small, yes, but perfectly formed: inside there is a number of clever storage solutions to house your stuff properly – a couple of pen pot, a little shelf and a spot for your laptop. Everything works more smoothly when organised just right.
Dimensions: W90 x D18 x H58cm
Whitewashed Irving Desk
Graham & Green
grahamandgreen.co.uk
£650.00
This one's got an arty feel – we love the tapered frame and dedicated book/magazine shelf (great for keeping all your Country Living issues!).
Dimensions: H76 x W86 x D59cm
Jimi 1-Drawer Desk
La Redoute
laredoute.co.uk
£210.00
This simple desk is available in a choice of five colours, but our pick is this sophisticated dark green. Pair with gold or brassy pen pots, and a dark leafy plant to maximise the effects.
Dimensions: L90 x H75 x D53cm
Palmieri Writing Desk
Canora Grey
wayfair.co.uk
£149.99
Another hardworking piece of furniture – this would work as a desk, a dressing table or a console for your hallway. The brass framing elevates this piece into something really chic. Choose from white or grey.
Dimensions: H80 x W80 x D50cm
Mid-Century Wall Desk
West Elm
johnlewis.com
£699.00
This is pricey, but it's really gorgeous. If you're going to be working from home for the foreseeable future, it might also be worth investing in a piece of furniture you're going to love looking at. Keep boring work documents tucked away neatly in the cupboards and use the shelf above for your house plants or pretty trinkets.
Dimensions: H178 x W96 x D37cm
Curl Wall-Mounted Desk
John Lewis & Partners
johnlewis.com
£129.00
Another wall mounted option but this isn't a folding desk. Go for a style like this if you want to set up a permanent workspace that's still minimal and unobtrusive.
Dimensions: H19 x W75 x D38cm
Spindle Desk
John Lewis & Partners
johnlewis.com
£199.00
Adding a splash of colour really lifts every room scheme. This cheery yellow desk will make sitting down to work much less of a chore.
Dimensions: H76 x W95 x D55cm
This content is created and maintained by a third party, and imported onto this page to help users provide their email addresses. You may be able to find more information about this and similar content at piano.io
Advertisement – Continue Reading Below