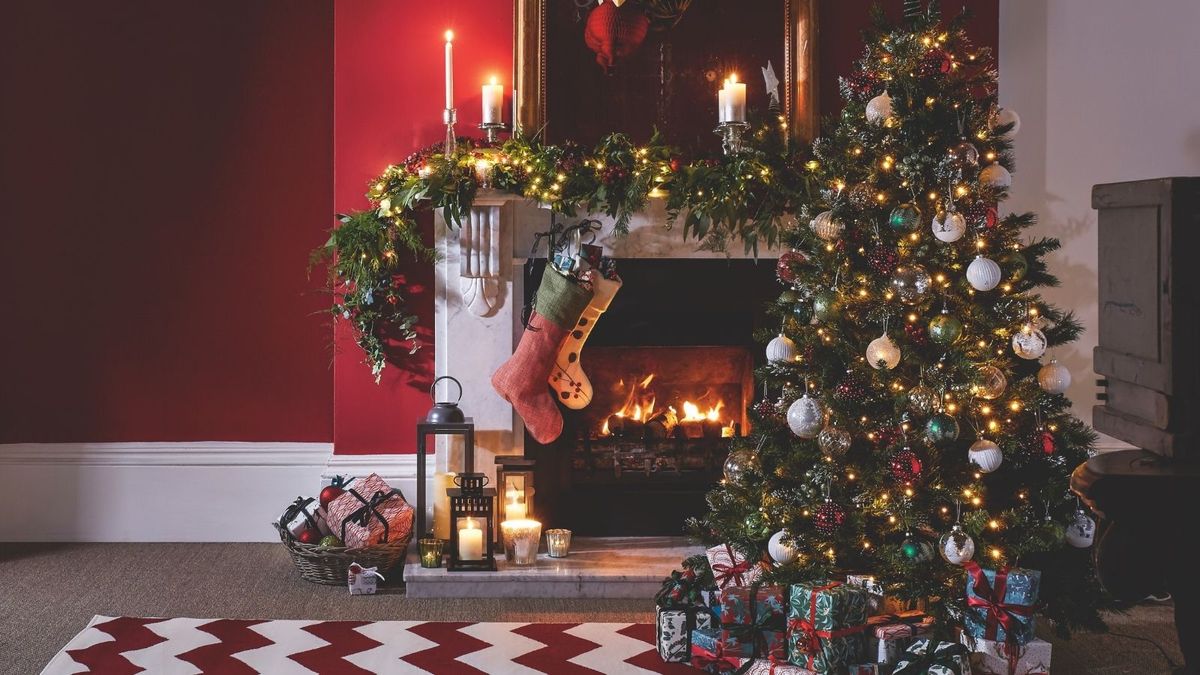 21 stylish Christmas tree decorating ideas
Use these Christmas tree decorating ideas from interior designers, florists and more for inspiration on how to make your tree look effortlessly chic, stylish and undeniably festive this year. 
Whether you prefer artificial Christmas trees or real Christmas trees there's no denying that your choice of Christmas tree decor is really what makes the tree. Some prefer a maximalist theme, with decorations aplenty—while others opt for a less is more approach, decorating their tree with the best Christmas decorations more minimally. 
However you plan to decorate yours, experts predict that this year, Christmas tree decorating will be bigger and more significant than ever before. Joanna Wood, an internationally-renowned interior designer, explained, "People are prepping for Christmas much earlier than normal this year. Tree-wise I think we're going to see less of an interest in the 'bushiness' of the tree—and more focus on what goes on it."
Christmas tree decorating ideas
1. Use gold and bronze accents for a classic festive look
No matter what the trends, gold will always be a failsafe color when it comes to Christmas decorating ideas. So, if you want something classic, why not embrace gold and bronzy tones on your tree this year? 
Opt for lighter, almost white colors for a more modern look, or choose bronze, deep gold and browns for a more traditional look. Interior designer Joanna Wood says, "an all gold or silver tree is understated and elegant."
Wood suggests opting for one color but varying the shades for a simple yet stylish scheme: "One colour when done properly can look very smart, depending on the interiors it is sitting in."
---
2. Try out an ombre color scheme
A tree where the color of the decorations descends from light to dark can look like a real show-stopper, giving the impression of colorful lights. An ombre tree is much simpler to put together than it looks, too. Just decorate your tree in four or five sections, taking a different shade of your chosen color in each section. It'll be easier to keep the decorations themselves simple, perhaps with just lights and baubles, to avoid clashing within each section.
---
3. Go for traditional red mixed with pops of white
When it comes to Christmas tree decorating ideas you can't go wrong with a classic red color scheme, punctuated by accents of equally classic gold or white. Let other colors take a back seat to the red if you want a more traditional look, or punctuate with white for a fun and festive 'candy cane' inspired color scheme. 
---
4. Adorn your tree with festive citrus fruit
Usually found in a mug of mulled wine, slices of dried orange and apple and sticks of cinnamon can also make for a beautiful, rustic, woodland effect when decorating your tree. It's also one of our favourite Christmas centerpiece ideas. For an easy way to achieve this, purchase some potpourri, which will come with dried fruit slices, and simply hang them on your tree using thread. To elaborate on this decor idea you could add other rustic elements to your tree, such as pine cones and cinammon sticks, or eucalyptus leaves. This is a more pared-back look overall, so be sure not to overload your tree—keep it simple.
---
5. Use oversized star lights for a unique take on lighting
Fairy lights are generally considered a must for trees, but oversized lights can be even more striking. A great way to do this is to use large star lights, which you can place on the surface of the tree to give the impression of an expertly decorated Christmas tree. And you needn't only use oversized star lights—any oversized lights would work to create a really impressive tree.
---
6. Decorate with oversized baubles in different colors
This Christmas is all about maximalism – bigger lights, bigger trees and bigger baubles! Decorating your tree with oversized decorations creates a look that will stop guests in their tracks and is great if your tree is placed in a larger room, hall or entranceway.  A bigger tree with bigger decorations can make the rest of the room feel small – so look for ceiling height and plenty of space if you've got big ambitions for your tree this year. 
---
7. Decorate a tree with faux snow and simple decorations
Snowy faux trees have grown in popularity over the last few years, and for good reason—they create a cozy, woodland effect whilst still looking very chic and stylish. 
White, grey, and beige tones are great if your style leans towards minimalist chic. Make things simple by purchasing an artificial tree with a faux snow effect, then finish off the look with a few neutral-colored decorations—we love the shimmery glass baubles above which compliment the white of the snow.
---
8. Embrace a 'candyland' theme with fun pastel colors
"'Decorated by the children' is a prevalent theme in many homes," interior designer Wood says. 
Opt for cool pastel colors like light blues, pinks and whites for a modern look—adding decorations, baubles, hanging decor, and lights. Turn the process of decorating your tree into a new family tradition by donning matching Christmas pyjamas and playing festive music while you work. 
If the idea of your tree being decorated by your little ones sends you into a spiral, why not get them decorating a different smaller tree? "If you can, have a big tree and then a smaller tree for little ones to go wild with", Joanna suggests, "otherwise you can end up with something very mismatched and overcrowded."
---
9. Place flameless candles on your tree for a dramatic effect
Flameless candles are a great way to decorate your tree, as they're totally safe and will create a really dramatic, manor house effect in your home. If you can, find ones that will hang from the branch above it, or if not, ones that you can secure to a branch. Best of all, these can be a super easy way of decorating your tree, as it's a dramatic enough look that you won't need to add many more decorations.
---
10. Use only a few decorations for a minimalist theme
Never fear—you don't have to go maximalist to have a lovely Christmas tree. Sometimes, paring it back can create a chic and soothing minimalist tree that you'll love having in your home. One way to do this is to use minimal decorations — try 10-20, depending on the size of your tree. Then, simply drape a long ribbon, fairy lights, or a garland, around the tree and voila—you're all done. This is an especially great Christmas tree decorating idea if you keen not to create a feeling of clutter and overwhelm with your tree.
---
11. Use dropped decor for an icy winter effect
Recreate the icy, cold, winter effect of real fir trees in Finland by using dropped or drooping decor, such as icicle decorations, thin ribboning, or icicle lights. Simply scatter them across your tree and decorate the rest of it with very cool, neutral tones such as whites and silvers—you'll be in the North Pole in no time.
---
12. Use pom poms for a really fun look
If color is your thing, then 2021 is your year. According to Wood, "colour is going to be a big one this year" when it comes to Christmas tree decorations. "Instead of just silver and gold, we're going to see pops of bright colour," she predicts.
Embrace the trend in a super easy way with oversized color pom poms. You can get these from any good craft store, and they'll quickly add a really fun look to your tree and home. Feel free to add more decor around it to build out the tree—but don't worry about too much, as you simply won't need it.
---
13. Use festive foliage and berries for a natural rustic look
Gail Wetherell from florist Rebel Roses, explained that foliage isn't only for the best Christmas wreaths—it's perfect for use on your tree too. "Foliage is a must for Christmas. By mixing different varieties, textures and tones, you can easily create a 3D showstopper," she said. 
Embrace the concept to create a natural, rustic looking tree that will look as though it's just been plucked from the forest. Layer berries, branches, moss and leaves throughout your tree (fake is best for longevity). The main color theme of this look is red, green and brown, so you could add a few more pieces of non-foliage based decor too to really make it come alive. 
---
14. Don't be afraid to go maximalist with multiple layers of decor
More is more for some and one way to create a gorgeous Christmas tree is to add as much decor as possible (all within the same color scheme of course). Take inspiration from this tree and add garlands, lights, baubles, flowers, stars and branches, to create a tree that's straight out of a fairytale wonderland. 
The key to making this look work is to space out each different type of decor item—for example, make sure baubles are strategically placed far enough away from one another, and branches face away from one another in different directions.
---
15. Use flowers for an unexpected twist
The poinsettia is traditional used in festive floral displays thanks to its red leaves and green foliage. Including this flower in your Christmas tree decor makes for a fresh twist on a traditional idea. 
If you want to incorporate additional flowers into your tree design, Anna Eklöv, Founder of LÖV Letterbox Flowers, suggests, "Add a couple of large red roses, dark red calla lilies or red Love-Lies-Bleeding (Amaranthus) in traditional themed decor. For decor in silver and white I would suggest sticking to white winter flowers."
---
16. Get a pre-lit Christmas tree for a simple minimalistic vibe
Sometimes, you don't need to do anything at all to have a lovely-looking tree in your home—if you've got no time or inclination to decorate yours, why not opt for a pre-lit tree which can look utterly fabulous all on its own? These days, you can buy some really beautiful ones that simply don't require decorations. Choose a fluffy, bushy tree to ensure it looks as impressive as possible, switch the lights on, and you're good to go—a minimalist, low-effort tree in a matter of seconds. We love this gorgeous Balsam Fir option from Balsam Hill—available from $447/£329.
---
17. Use luxury metal colors for a modern tree
Luxury metals such as bronze, copper, and platinum are predicted to be on trend this year over traditional Christmas tree decorating color schemes such as gold and silver. Embrace the new modern theme and opt for decorating your tree with luxury metal hues instead of the classic, traditional colors. Think bright and striking—the opposite of muted. This kind of tree can look really dazzling in modern white homes, where it will stand out.
---
18. Don't be afraid of black decor
Black at Christmas? Yes, really! Monochrome is a universally chic color scheme at any time of year, and can work just as well at Christmas time. Add a touch of white or silver to the look for some festive sparkle and use a Christmas tree skirt to hide the base of your tree so that the plastic pot doesn't interfere with your scheme. 
---
19. Decorate in a simple Scandi-style
Daisy Coombes, Marketing Manager at Sass & Belle, told w&h, "Often at Christmas we see traditional schemes, or more minimal Scandi styles taking pride of place in our homes." And this year is no exception. The Scandi style of decorating (read: neutral, simple and minimal), is hugely popular throughout the year, so why not at Christmas too? Keep it super simple with a small tree and a minimal amount of neutrally colored (but pretty) decorations. It's low-effort and low-cost, too. 
---
20. Use ribbons for a unified look
Instead of fairy lights or garlands, try decorating your tree with ribbons, big or small. Joanna Wood says: "Being a ribbon fan, a tree simply decorated in bows is one of my favorites. Less is more with fabric on a Christmas tree and if you want to keep things really simple, see what it looks like with no lights." 
---
21. Use blush pinks for a festive surprise
Pink might not be the first color that jumps to mind when you think of Christmas decor, but it can look gorgeous on your tree. Choose between different blush pink tones with your decor and pair with white accessories to compliment the pink perfectly. You could even add faux snow to your pink tree to really give it some texture.
---
Christmas tree decorating trends 2021
Christmas tree decorating trends for 2021 are all about embracing the festive season, with interior designer Joanna Wood highlighting that a Christmas spent in lockdown last year has people planning a more traditional festive decor scheme this year:
Cool, icy tones—if you generally prefer more neutral, cool colors when it comes to decorating your tree, it seems you won't be alone this Christmas, as Shaun predicts it'll be a popular trend this year. He said, "Go for turquoise, silver and icy white baubles with cool-toned white Christmas lights for a fresh take on December décor."
Decorating the base of the tree—Christmas tree skirts might not be something you've considering using previously, but they can really elevate a tree and are set to be big in 2021. Shaun told w&h, "Decorating the bottom of your Christmas tree/Christmas tree stand is also a trend that will come into play this year; whether it's a skirt made of corrugated paper, a cosy knitted stand cover, or simply some glitter paint. The different colours/textures will add a new dimension to your Christmas tree."
Nostalgic decor—it's been a tough year, so you might not be surprised to hear that our decor could well reflect the joy of Christmas past. Wood explained, "There's a certain nostalgia around Christmas this year—so why not bring out some older decorations that have been collected over the years. My favorites are the ones my children made at school." Pair with other traditional Christmas decorations such as velvet bows, nutcrackers and luxury Christmas crackers to complete the look. 
With thanks to interior designer Joanna Wood, Gail Wetherell from Rebel Roses, Anna Eklöv, Founder of LÖV Letterbox Flowers, and Daisy Coombes, Marketing Manager at Sass & Belle, for their time and expertise for this article.