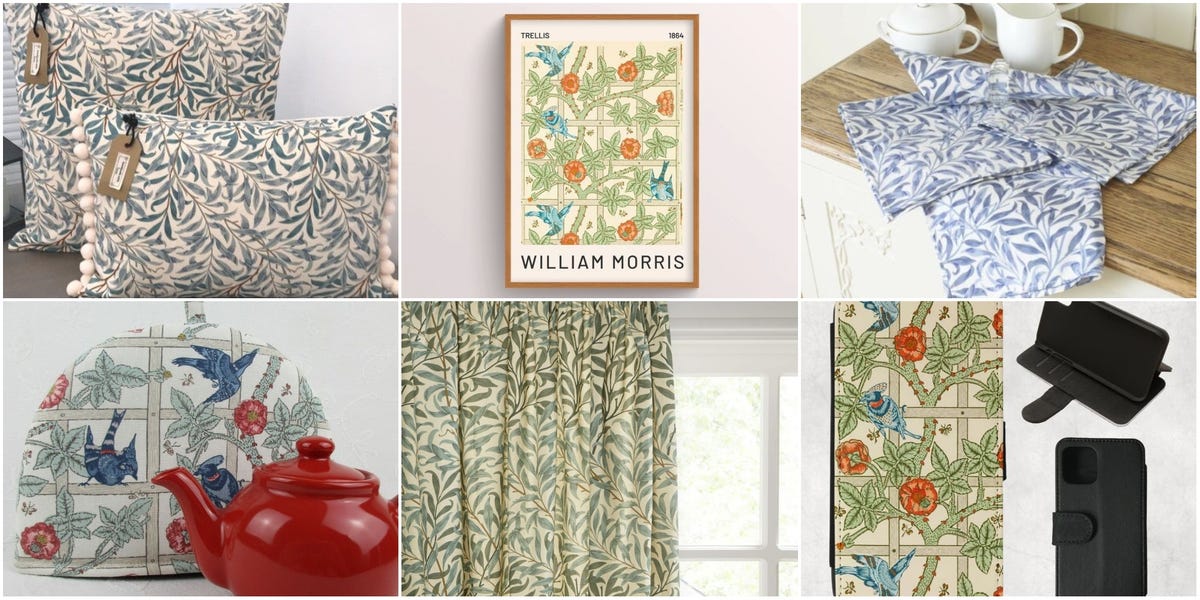 18 William Morris Home Accessories In Trellis & Willow Bough Prints
Landscape designer Ruth Willmott won a Gold Medal at the RHS Chelsea Flower Show this week with her Morris & Co. garden. Based on prints by the esteemed textile designer William Morris, Ruth used two of his intricate motifs –Trellis and Willow Bough – as the main inspiration for her winning display.
Trellis – Morris' first wallpaper design from 1864 – is a striking blend of ​​blue birds, red roses and thick green foliage. On how the print influenced her, Ruth told Country Living: "When I first saw [Trellis}, the layout for the garden immediately came to mind, inspired by the gridlines of the trellis which will be reflected in a series of interconnecting pathways around the garden."
The second print, Willow Bough, was conceived in 1864. One of Morris' most iconic designs, it's lined with curving willow branches and a soft muted backdrop.
To celebrate the winning garden, and bring the Chelsea look into your own home, we've picked out 18 stylish items adorned with the Trellis and Willow Bough patterns. From pretty placemats and soft cushions to floral napkins and elegant lampshades, they'll help to emulate the Morris & Co. garden perfectly.
Scroll down to see our picks. Which print will you go for?
Advertisement – Continue Reading Below
Willow Bough Pleat Curtains
Morris & Co.
johnlewis.com
£150.00
Frame your windows with this gorgeous set of Willow Bough curtains. The light green hue will look striking against neutral walls, creating an airy fresh feel. Available in six sizes, you can pick between tall curtains that stretch from floor to ceiling, or shorter ones for a rustic country cottage feel.
Willow Bough Handmade Cushion Covers
ScarlettMaeDesigns
etsy.com/uk/
£21.95
These elegant handmade cushion covers will look lovely anywhere in your home: pop them on a plush velvet armchair or place a couple on a window seat to maximise your comfort.
Morris & Co
johnlewis.com
£40.00
Another Willow Bough cushion, but it's in a rich orange and yellow hue. There are two more colour ways to consider: olive and turquoise or sky blue and leaf green.
FromRobsWorkshop
etsy.com/uk/
£3.15
If you have a special occasion coming up, treat a friend to one of these beautiful greeting cards. Or, you could frame it and pop it on a side table.
Willow Bough print with frame
East Urban Home
wayfair.co.uk
£39.93
Rather than fully decking out your room with William Morris wallpaper, go for a single print instead. The muted green and cream hues are incredibly soothing. A frame is included in the price and it's currently reduced to £39.93 from £43.99.
Willow Boughs fabric lampshade
BrightenUpUK
etsy.com/uk/
£15.00
Tuck this pretty lampshade (and an accompanying lamp) next to a reading nook to create a cosy ambiance in your living space. It's available in a variety of shapes and sizes to suit your taste.
Handmade Trellis lampshade
BrightenUpUK
etsy.com/uk/
£15.00
Here's another lampshade to consider, but in the Trellis fabric.
FaitparMoiUK
etsy.com/uk/
£50.00
This table lamp would look lovely in a home office setup.
William Morris Trellis Silk Long Scarf
David Watson
wolfandbadger.com
£160.00
Add a touch of sophistication to your look with this beautiful silk scarf. Drape it around your shoulders or use it as a hair tie in the summer months.
Willow Bough Placemat (pack of six)
Pimpernel
wayfair.co.uk
£11.38
Finish off your garden tablescape with these placemats. In a subtle white and blue hue, these are seriously smart and a little different to the iconic green design. Matching coasters are available, too.
Willow Bough Blue Napkins (pack of four)
Here's another one for your dining table. These blue cotton napkins will look gorgeous paired with a crisp white tablecloth and jute placemats.
Keep your brew warm with this sweet tea cosy. It'll look a treat in any countryside kitchen.
Trellis iPhone Wallet Case
Finest Gift Ideas
etsy.com/uk/
£14.99
This pretty wallet will help protect your iPhone from drops and scratches. A magnetic closing tab keeps the wallet secure, while a study case holds your device firmly in place. A small stand lets the phone sit at an angle, too, so you can watch all your favourite Netflix shows comfortably.
Majari Floral Cotton Duvet Cover
This isn't the exact Willow Bough design but it's very similar. Guaranteed to freshen up almost any scheme, this a perfect bedroom look for spring. Plus, it's 30% off right now.
DockATot
johnlewis.com
£160.00
One for the little ones, this Willow Bough baby pod is very sweet. Suitable for babies between 0-8 months, it helps them sleep, lounge and play safely.
Th3 Musketeers Decor
etsy.com/uk
£10.41
Decorate your wall with this beautiful Trellis print – it's destined to add some vintage flair to your space. There are more than 20 sizes to pick from.
Willow Bough Deluxe Journal
V&A
waterstones.com
£9.99
A contemporary take on the classic print, this vibrant hardcover journal will certainly brighten up your bedside table. With 200 pages, it's got plenty of space for all your notes and to-do-lists.
Replace your old ratty tea towels with this cheery option, featuring the Willow Bough motif.
This content is created and maintained by a third party, and imported onto this page to help users provide their email addresses. You may be able to find more information about this and similar content at piano.io
Advertisement – Continue Reading Below